Monochromatic Lempad: From Sutasoma to Kekayi In Copulation
AN exhibition of works by the late I Gusti Nyoman Lempad is currently on at the Salihara Gallery, South Jakarta. Lempad's pictures are wide-ranging, with inspiration from mythology, folklore, ancient Balinese script, and the daily life of humble Balinese folk. Lempad's interpretation of life was singularly unique.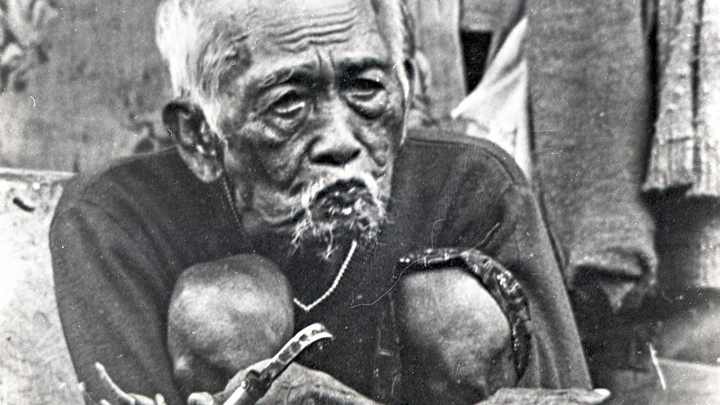 THE piece of art on display using video mapping was arresting. It was as if the very hand of the late I Gusti Nyoman Lempad himself had magically appeared and made an etching on the Salihara Gallery wall in South Jakarta in mid-June. The etching on the wall flowed and became a table bearing offerings, the mainstay of religious ritual by adherents of Balinese Hinduism.
The table of offerings on the black wall then transmuted. The hand unseen began to draw a day in the life of Men Brayut with all her children. The tales of Men Brayut in classic Balinese folklore tell of a mother with 18 children. In the picture she is depicted with a bare chest, breastfeeding two of her babies. In the piece on the wall, Men Brayut looks frazzled, but still sports a happy expression. With her infants swarming all over her, she has foregone her weaving and all other household chores.
The series of pictures of husband and wife Pan and Men Brayut was created by I Gusti Nyoman Lempad in the 1930s. He was then over 70 years old. Pan and Men Brayut is the saga of a poor Balinese family with many children. Experts deduce the popular folktales of humble villagers came from the Buddhist story of Hariti, a yaksa or female giant with many children with a penchant for supping on the bodies of her own offspring before she attained (Buddhist) enlightenment. Upon embracing Buddhism, Hariti instead became the protector and caregiver of children. Statues of Hariti in ancient Bali are thought to have been erected to ward off evil spirits intending to harm young children.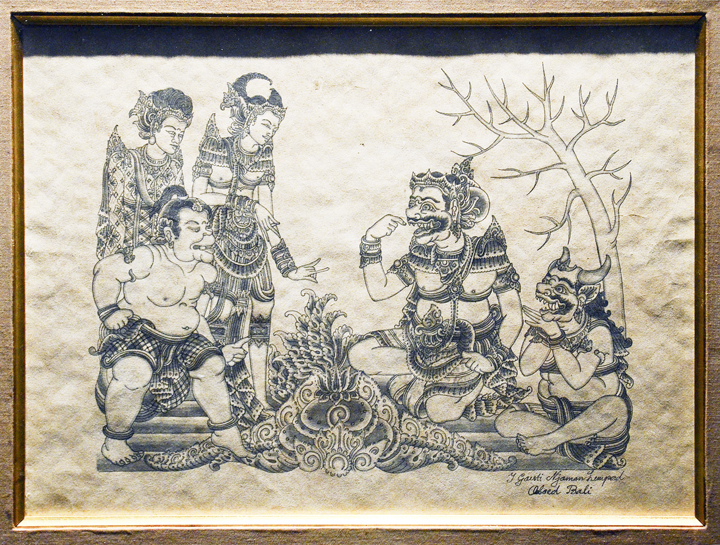 The Story of Sutasoma by I Gusti Nyoman Lempad titled Darkness is White at the Salihara Gallery, Jakarta, June 19.
Lempad made many paintings depicting the life and times of Men Brayut. They show the couple's daily life, from Men Brayut eating with her family, quarreling with her husband, making offerings, to her being crawled over by her many children all squabbling to be breastfed. Lempad drew the Brayut series after painter Walter Spies suggested he make drawings with mundane themes aside from mythology.
One of Lempad's pictures in the Men Brayut series was highlighted in the Lempad: The Darkness is White exhibition at the Salihara Gallery. The exhibition, held by the Bali Purnati Foundation in conjunction with the Salihara Community from June 19 to July 7, is engaging because not only does it display the original works of Lempad (though only 11 works in all), it also displays enlarged works of Lempad's in a video mapping format. In the video, there are Lempad works produced in animated form giving them movement. One is the picture titled Dance Lesson (from the Agung Rai collection at the Arma Museum in Bali).
A documentary of Lempad's life by John Darling is also shown in the exhibition. We have opportunity to see the legacy of Lempad's work, which comprised not only drawings, but also stone sculptures, statues, reliefs, and architecture: gateways and temples. Most fascinating is the documentation of Lempad approaching the end of his life. His fingernails were left to grow very long—much like the mythological creature, Rangda. The video also shows the exact moment Lempad breathed his last. When he passed, Lempad is estimated to have been 116 years old. The video shows Lempad's body going through the rituals carried out by the pedanda (priests) and members of his family.
To add ambiance, the exhibition's organizers enacted a table of offerings in the middle of the hall, very similar to the table in Lempad's drawing. The fragrance of incense wafts from the table together with the tinkle of Balinese gamelan (traditional orchestra) playing the Semar Pegulingan, which in former times was performed as night fell, as the king retired to his chambers. The offerings and gamelan music are part of an attempt to make Lempad's work come alive through three of the senses: sight, sound and smell.
Lempad's works the wedding of Arjuna and Dewi Supraba.
Lempad's themes are far-ranging. He explored mythological themes—the Ramayana and the Mahabharata; classical poetry (kakawin), such as Sutasoma and the Arjuna Wiwaha; the Panji tales; Balinese folklore, such as Rare Angon; animal fables in the Tantric cycle; tales from classical philosophy on Shiva, Brahma and Visnu; the horrors of hell from the Hindu-Buddha perspective; Buddhist tales such as Bubuksah and Gagakaking—right down to themes of daily Balinese life, such as silat martial arts, fight competitions, dances, trance during pangurekan (chest-stabbing with the kris in the Barong dance), and midwives providing assistance a the moment of childbirth. Only a miniscule portion of Lempad's prolific output is on display at Salihara, most of them works owned by collector Daniel Yusuf.
Lempad's paintings and drawings are spread out among collectors and museums, including the Neka Art Museum in Ubud; the Denpasar Art Center; the Tropenmuseum in Amsterdam, Holland; the Rijksmuseum in Leiden, Holland; and the Museum für Volkskunde in Basel, Switzerland.
Like the Men Brayut pictures, most of Lempad's work is monochromatic. He loved to paint in distinct black lines which flowed unbroken. "Basically, Lempad's creativity would not stop at any theme, but it stopped in his autonomous lines," said French anthropologist, Jean Couteau. Those lines, said Couteau, are memory lines because it was as if Lempad was putting down his entire memory on paper in the lines.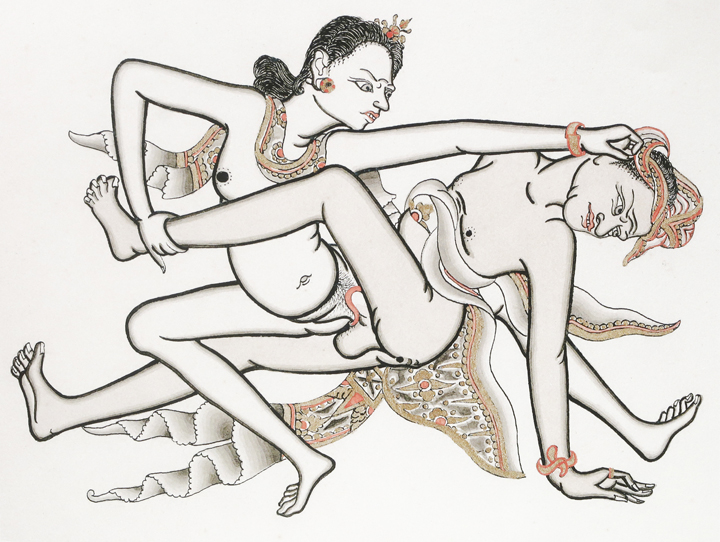 Ear Pinching
With two other scholars, Antonio Casanovas and Ana Gaspar, Couteau wrote the book Lempad: A Timeless Balinese Master. According to Couteau, Lempad's drawings look fluid because Lempad was versed in making rajah (ornamental decoration) in his line of duty as court undagi (architect) "Lempad may have been illiterate, but he was a genius," said Couteau.
The book highlights some samples of Lempad's paintings depicting the Arjuna Wiwaha and Sutasoma. Lempad was enamored with both epics. Sutasoma is a story by Mpu Tantular from the 14th century about Prince Sutasoma—the embodiment of Buddha—who goes wandering in search of wisdom. In his travels towards Mount Semeru, he meets Purusada, a wicked king who preyed on people. Sutasoma waged war against Purusada.
Lempad is known to have also created a long relief about Sutasoma (4.5 meters high and 11 meters long) in the Samuan Tiga Temple in Bedulu, the village where he was born. Couteau said, before him, there had been no Balinese artist who painted the wayang (shadow puppet) stories, such as the Mahabharata and Ramayana, the way Lempad did. Lempad did not feel the need to cover the entire canvas with depictions and patterns. All other painters of note before him could never leave any space empty on the canvas. "He (Lempad) was an innovator who could read the West through his Balinese memory and his Balinese eyes," said Couteau.
Lempad simply abandoned the Balinese kamasan painting esthetic. In the kamasan style, besides the tradition of filling up every cranny of the canvas, there were other 'conventions' that artists adhered to: the colors the used, the garb worn by the objects, the shapes of their figures, even down to their accessories. While the body of an adult was drawn seven and a half times the length of the head, Lempad totally ignored this ruling. He made the bodies of his objects even longer. While other painters also drew the Ramayana and Mahabharata, Lempad sought out new subjects to create from the stories.
According to Daniel Yusuf, whose collection is on display, Lempad had the ability to record the world with his senses. This was why, despite being illiterate, Lempad made etchings which were not only elegant, but showed marked distinction. "He had a strong photographic memory, which allowed him to draw with an unwavering hand," said the businessman from Malang, East Java.
I Gusti Nyoman Lempad is thought to have been born in 1862 in the village of Bedulu, Blahbatuh, in the banjar (village) of Lebah. His father, I Gusti Ketut Sedahan, was a man of stature. Sedahan was a sedan, a tax collector during the harvest season. He doubled as an undagi or architect, and a sangging, a mask and statue maker. For some reason, the Lempad family migrated from Sukawati to Ubud. There they were accommodated by the king and served at the Puri (court of) Ubud.
Fine arts lecturer at the Denpasar Institute of the Arts, I Wayan Adnyana, said it was at court that Lempad absorbed much of his knowledge. Each day Lempad not only could enjoy the chanting sung in the temple. He could also listen to and become familiar with the wayang epics of the Ramayana and the Mahabharata, which later came to inform many of his works. In his own home, his father would regale him with the ancient legends.
In the temple, Lempad also learned the lines of modre lettering. The script was used to write about all things magical, such as japamantra spells. "Everything became cultural fodder for Lempad's art," said Wayan Adnyana, familiarly known as Kun. Nevertheless, as a youth, Lempad did not immediately become a professional painter. "He originally worked as a painter only for religious ceremonies," said Kun.
Before becoming a painter, Lempad's vocation was architecture. Like his father, Lempad was the court undagi. In 1927, Lempad is recorded as having designed the house of Walter Spies, the German artist born in Moscow, Russia. Spies, often said to have had the most influence on Balinese and Javanese art, was a close friend of Lempad's.
It was only in his 60s did Lempad begin to focus on the art of painting. He started exploring painting styles uncommon in Bali. "He was an innovator for the 1920s generation," said Kun.
Lempad simply abandoned the visual artistic norms of his Balinese predecessors. Kun said, the Ubud, or Bali, style generally had a penchant for filling in every inch of the painting. Lempad, instead, allowed for spaces with no shape nor color in his compositions.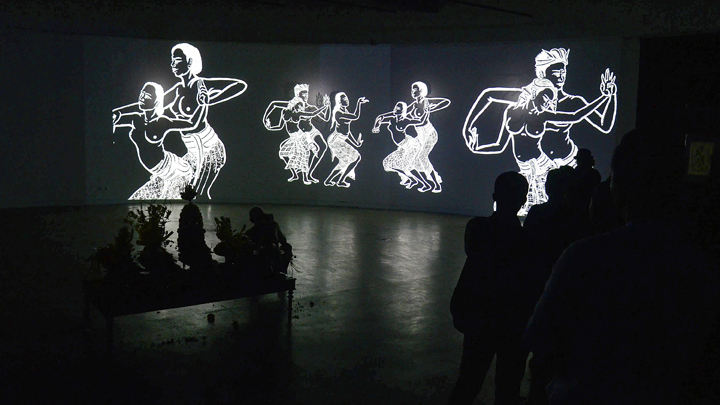 Visual mapping and augmented reality show in the exhibition of the works of I Gusti Nyoman Lempad at Salihara Gallery, Jakarta, June 19.
For his paintings, Lempad used ulantaga paper, imported from China. This paper was made from a variety of bamboo which only grew there. He made his painting brushes from the stalk of the shaggy enau (Arenga pinnata) leaf. This stalk is stronger than one made from palm fronds and could be sharpened to a point. Usually, said Kun, Lempad first made a sketch on paper using a pencil before drawing it over with ink. "But even the first sketch would already be definite and have distinctive flow."
Lempad's prowess as a sangging and undagi informed his drawings. As an architect, he paid much attention to composition. He would also put in beautifying features, such as wild grasses, into his paintings. His experience as a sangging led Lempad to draw characters differently from other artists.
Lempad's singularity can be detected in the wayang narratives in his paintings. Under Lempad's hand, the wayang characters became more human-like. Lempad also gave equity to both common women characters and goddesses. He drew bare-breasted female wayang characters, something that artists before him had never dared do. Before Lempad came along and shattered the convention, goddesses were always depicted demurely and elegantly garbed, or at the very least with the requisite kemben (swaddling corset) around their torsos. Bare-breasted women only appeared in paintings depicting ordinary folk (penyeroan).
A wonderful example of Lempad's work is titled Janji Sasarata kepada Kekayi (Sasarata's Promise to Kekayi), which appears in the book on Lempad by Gaspar, Casanovas and Couteau. The painting depicts Sasarata (or Dasarata), the king of Kosala whose seat of power was in Ayodha, in the act of copulation with Kekayi. In the Ramayana epic, Kekayi is Dasarata's third wife, with first and second wives being Kosalya (the mother of Rama) and Sumitra (the mother of Lesmana). When courted by Dasarata, Kekayi lay down the condition that any offspring she bore would be anointed king.
Kekayi did give birth to a baby boy named Bharata. When Bharata came of age, Kekayi demanded that Dasarata make good his promise. This was the original reason why Rama, the king apparent, was banished into the forest for 14 years. Sinta and Lesmana followed Rama in his exile. Lempad depicted Dasarata's copulation of Kekayi as occurring on a throne. Both are shown with not a single thread on their bodies.
Nudity was no big deal for Lempad. Writer and initiator of the Salihara Community, Goenawan Mohamad, stated that the erotica in Lempad's paintings took influence from everything around him. At the time, it was usual for Balinese women to go around bare-breasted. Some of Lempad's works do indeed portray men and women in the act of making love. According to Goenawan, Lempad's conveyance of erotica had no intention of serving up pornography. "In the (paintings of) the act of intercourse, Lempad highlighted the mood, not the bodies," he said.
In one of his works from the 1930s which appears in the book, Lempad of Bali: The Illuminating Line, by Bruce W. Carpenter, John Darling, Adrian Vickers, Kaja McGowan and Soemantri Widagdo, we even note that Lempad depicted a scene of homosexuality.
Lempad's novel vision is also apparent in his works depicting the humdrum lives of ordinary Balinese, such as in the Men Brayut series. According to Kun Adnyana, Lempad was moved to paint things other than from the epics not only because he was influenced by Walter Spies, but also because of the discovery of the ancient site of Yeh Pulu in Bedulu. The site, discovered in 1925, excavated reliefs conveying the everyday lives of ordinary mortals. Kun stated, as soon as Yeh Pulu was unearthed, Lempad would often visit the site and stare at the reliefs for hours on end.
Lempad also rebelled in the matter of color in paintings. He was no colorist who depended on the cheeriness of pigments. Rather than ponder over which colors to use, Lempad preferred to expend his energy on a new way of interpreting an old story. "His election to not focus on the strength of colors made it necessary for people to look at his work in detail, to read any possibility of another layer of narrative," said Kun.
The Lempad revolution was aided and abetted by his acceptance of and interaction with a plethora of artists. He was fast friends with Walter Spies, who lived in Campuhan, Ubud. Lempad met Spies when he was 40. At the time, Spies was astonished that Lempad had painted the tale of Rajapala, which told of seven fairies descending to earth to bathe. That very first painting of Lempad's now hangs in the Tropenmuseum in Amsterdam, the Netherlands.
Lempad also exchanged ideas with Rudolf Bonnet, a painter hailing from Amsterdam, who also had a house in Ubud. Together with Tjokorda Gde Agung Sukawati, they initiated the Pita Maha artist association in 1936. Its initial aim was to maintain a quality standard of works by artists. The organization led by Spies also functioned as a means for cultural exchange and opening for opportunities. Besides introducing Western artistic styles to the young painters of Bali, Pita Maha also promoted the works of local artists to the world through exhibitions at home and abroad. The Pita Maha movement sparked similar initiatives elsewhere in Bali.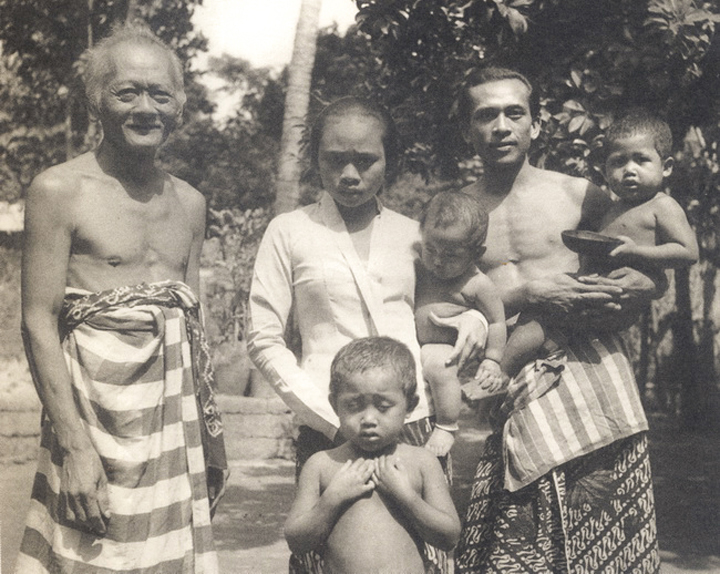 I Gusti Nyoman Lempad (left) with his son and daughter in-law, and their children.
Kun said, in its development, Pita Maha was not without criticism. "Some people accused Pita Maha of holding handicraft exhibitions, until the critic was approached in person (by a Pita Maha artist) to give extensive explanation," he said.
It also seems the works by Lempad and the doorway to artistic industry offered by Pita Maha provided inspiration for all manner of young artists in Bali. Among them were Gusti Ketut Sudara, who was none other than Lempad's own grandson. Because his work was so much like his grandfather's, Sudara was accused of blatantly copying Lempad's visual innovations. There was also I Nyoman Gunarsa, who also depended on the strength of lines. This 'Lempadism', Kun said, established Lempad as an artist par excellence.
Until the end of his life, it is unclear exactly how many paintings were created by the hand and mind of Lempad. It is estimated they number in the hundreds, not counting the reproductions of original paintings by the maestro. Kun said, in Lempad's house is an album filled with prototypes of his works. There had come a time, when visitors came and commissioned a painting, Lempad would make a copy from his album using tracing paper. "Lempad would do the tracing himself. This was when his vitality was beginning to wane in his advancing years," he said.
ISMA SAVITRI, SENO JOKO SUYONO