Taliban in the KPK Leadership selection
The Corruption Eradication Commission Leadership Candidates Selection Committee is working with the National Counterterrorism Agency to examine the backgrounds of candidates. Rumors of radicalism in the KPK are being investigated.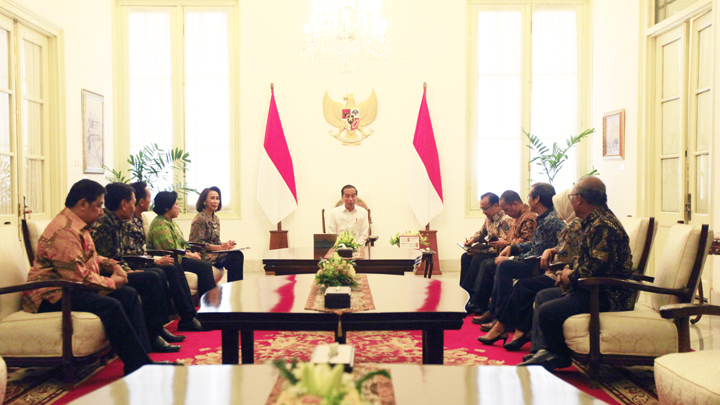 A week after their names were announced by President Joko Widodo, the nine members of the Corruption Eradication Commission (KPK) Leadership Candidates Selection Committee held a lengthy meeting on the second floor of the State Secretariat Building in mid-May. After several meetings they announced that they would be following up on some information they received about a rumor of a radical group existing inside the KPK.
The selection committee immediately assigned one of their staff members to go to the KPK to collect more information. At that time, the KPK was holding a discussion event with the theme "A Sincere Effort to Intertwine Brotherhood" on June 19. The discussion featured Yuke Sumeru, a former musician who is now a religious preacher, and Ali Fauzi Manzi, a former terrorist convict who currently manages the Yayasan Lingkar Perdamaian (Circle of Peace Foundation). After conducting a data search, this staff member reported back to the selection committee leader. "It turned out that there was 'taliban' and radicalism there," said Diani Sadia Wati, a member of the selection committee, on Monday, June 24, talking about the report from her subordinate.
The term 'taliban' was first used publicly by a police observer from the Indonesia Police Watch, Neta S. Pane. In his press release, Neta commented on an open letter made by over 50 police criminal investigators assigned to the KPK who had questioned the appointment of 21 preliminary investigators as independent criminal investigators at the KPK. Neta wrote that the KPK was divided into two camps, which he dubbed the 'Indian Police' and the 'Taliban Group'.
The 'Indian Police' refers to KPK investigators who originated from the National Police. The 'Taliban Group' refers to Novel Baswedan's investigators, who are supported by the KPK Staff Union. This latter group, as he mentioned in his press release, is seen as being militant because it often takes issue with the leader's policies. Later on, particularly in social media, a narrative has developed connecting Novel with the conservative Muslim group—only because he now grows a long beard and often wears a men's tunic.
Speaking to Tempo, some lawyers who often deal with the KPK said that they have heard of the 'Taliban Group' term being used at the KPK. According to them, this refers to a group of investigator which often handles big-name cases, such as the Setya Novanto case of suspected corruption in the electronic ID card (e-KTP) project. "If the case is handled by the 'Taliban Group' then big names will surely be involved. None of them get away," said one lawyer who is currently handling a case of suspected bribery involving a former boss of a state-owned enterprise.
After receiving that report from their staff member, the selection committee worked with the National Counterterrorism Agency (BNPT) and the State Intelligence Agency (BIN) to look into the backgrounds of KPK leader candidates. The selection committee said that they did not want any selected candidates to have been exposed to radical thought, which could exacerbate conditions at the KPK. "We want to take preventive action. The KPK is a super-body, we ask for the help of the BNPT and National Police," said Diani.
Some law enforcement personnel at the KPK received information that the rumors about radicalism are a way for the selection committee to undercut Novel Baswedan, who is often mentioned as going to be nominated by a number of anti-corruption activist organizations. According to them, this is the first time that not having radical ideas has been established as a condition to become a candidate in the selection of KPK leaders. According to other information, they said, this is an effort to strengthen the argument for the importance of police officers to become KPK commissioners. "Because the police is considered the most capable of fighting against radicalism," said one law enforcement official at the KPK.
Novel said that he was asked to step forward as a KPK leadership candidate by some anti-corruption activists. He has not yet decided whether or not to accept the offer. When asked about the condition to be against radical thought, he just smiled. "If no anti-corruption figures step forward, maybe I will consider running," he said.
Diani assured that the involvement of the BNPT and BIN does not target Novel Baswedan or in connection with the issue of profiling radicals. "We are neutral. We accept all information. We listen to it all and then discuss it. The issue of radicalism just came up," said that expert staff member for institutional affairs of the minister of national development planning.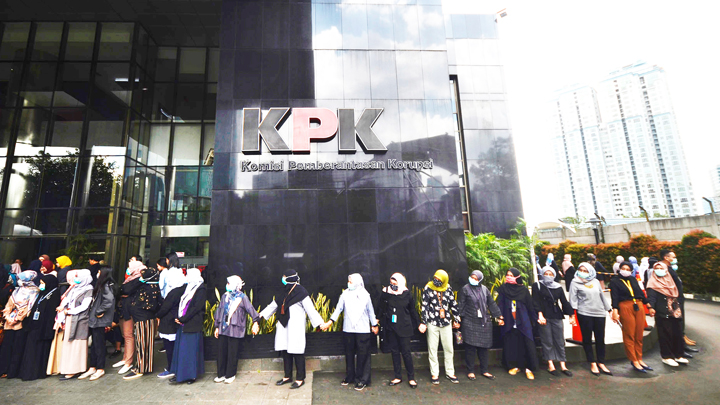 KPK Staff Union stages a solidarity rally against terror at the KPK building, Jakarta, in February. TEMPO/Imam Sukamto
Al Araf, also a selection committee member, said that the involvement of the BNPT in screening KPK leadership candidates came about during their second internal meeting. Unlike Diani, Al Araf said that it has nothing to do with current conditions within the KPK. "This came out of our discussions. It was the same as when we involved the Financial Transaction Reports and Analysis Centre (PPATK) to look into their track records," said that director of the Impartial organization.
KPK Deputy Chairman Saut Situmorang asked the selection committee not to apply prejudice against people who have beards or often wear hemmed-up pants at the KPK. According to Saut, they cannot automatically be associated with radicalism. "It is ridiculous to think that people with beards or hemmed-up pants are radicals," he said.
Saut asked that no parties make mistaken analyses about the presence of such people at the KPK. In his opinion, the discussion event they held with Yuke Sumeru and Ali Fauzi Mandi was only to deepen their understanding about the dangers of radicalism. "Some of them felt uneasy about this event. 'Has it gotten that bad here, Pak Saut?' I said, 'No. Just hear it out,'" said Saut.
Former KPK Chairman Antasari Azhar also said that the rumor about 'Indian Police' and 'Taliban Group' factions within the KPK are merely narratives of certain people who want to divide the KPK. "There is no problem in the KPK. The problem is when a narrative develops which says that there are 'Taliban' and 'India' police groups," said Antasari during a discussion with social media activist Denny Siregar in Jalan H.O.S. Cokroaminoto, Central Jakarta, on Wednesday, June 26.
Antasari feels that the KPK leadership candidates selection committee, which involved the BNPT in the recruitment of the KPK leaders, is being put into a narrative. "Because they were seen in such a light," he said.
Antasari said that Novel Baswedan, who is seen as being a part of the 'Taliban Group', is a criminal investigator who has handled many major cases. "Basically if we hold a case review it is like a teacher with his students. In the past, I always wanted to know why it was like this or that," said Antasari, talking about his experience working with Novel.
When visiting the KPK Building on Jalan Kuningan Persada 4, Jakarta on June 12, selection committee members also mentioned the 'Taliban Group' is a party which often holds views which differ from leaders' policies. They went to the KPK office to talk with its leaders about the problems they are currently facing. The selection committee also asked the leaders to regulate such behavior occurring among employees. "With incidents such as these, the KPK needs leaders who are commanding," said Diani.
Saut feels that it is unfortunate that some protests of the KPK employees to the leaders' policies have been seen as a form of opposition. According to him, a system of checks and balances has been implanted in the KPK. All KPK employees, including its leaders, cannot operate outside of this system. "This is actually how we remind one another. This system of checks and balances must be maintained," said that former expert staff member to the chief of BIN.
LINDA TRIANITA, ANTON APRIANTO, MUSTAFA SILALAHI