An Engineer from Kalijati
Para Wijayanto evaded the police for 16 years. During that time he managed to get a comfortable job.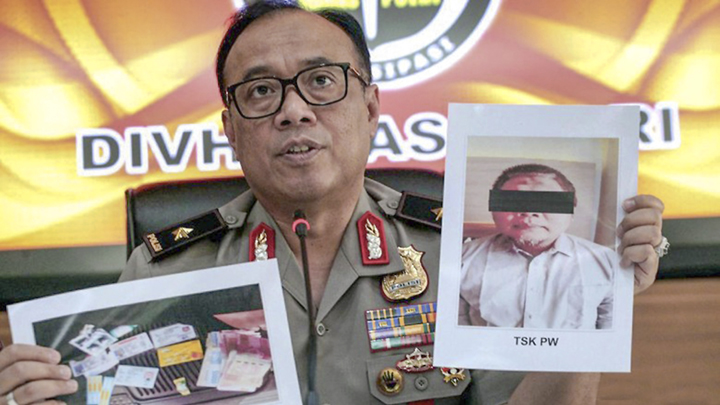 PARA Wijayanto's ability to go undetected for 16 years began when he eluded a police raid at his home in Gondangmanis village, Kudus Regency, Central Java, on July 12, 2003. On the morning of that day, a joint team from the Jakarta and Central Java Police Departments went to his house. They were going to arrest him for purportedly being involved in a series of terrorist bombing attacks in early 2000—one of them being the first Bali Bombing. But Para was nowhere to be found.
At the office where he worked, Para hastily excused himself, even though the work hour was far from over. He abandoned the Toyota Kijang car he usually drove from home to the office. His whereabouts have been unknown ever since. "We never knew where Para was," said Zaenuri, who was Para's neighbor for five years at the Muria Indah Housing Complex in Kudus. Para's house has since been sold to Asmuni, a lumber vendor from Pati.
In Kudus, Para worked at Pura Barutama, a private printing company which produces the material for paper money, holograms, and ink. He began working there on June 5, 1990. A year earlier he completed his civil engineering degree at Diponegoro University in Semarang, Central Java.
While working at Pura, he received a scholarship to study in Malaysia for six months, the expenses of which were not covered by the company. After returning to Indonesia, Para and his team went for comparative study about coffee bean shelling technology in Jember, East Java. Once there, their group was met by a bearded man who was in charge of the company. Para had a chance to speak privately with that man.
Later on, one team member suspected that the owner of that company was the terrorist leader from Malaysia, Noor Din M. Top, whose face was shown by the media after his death at the end of 2009 in Surakarta. "The person that we met strongly resembled Noor Din," said one team member to Koran Tempo newspaper in a story published on April 12, 2011.
Before graduating, Para was a university senior who routinely propagated religion on campus. When he was absent, a religious preacher named Mashadi, not from Diponegoro University, would replace him. Para learned how to proselytize by reading some books—one of them by Kasman Singodimedjo.
The religious propagation group Para was involved in often visited the Al-Mukmin Islamic Boarding School in Ngruki, Sukoharjo, Central Java. They used the code word 'south' when organizing trips to Ngruki. Even so, Para never went 'south' himself. He later learned that the caretaker of that Islamic boarding school was Abu Bakar Ba'asyir, a Jamaah Islamiyah (JI) figure, who was connected with some acts of terrorism carried out in Indonesia.
Born in Subang, West Java, on August 8, 1964, Para's father had served in the Air Force at the Kalijati Air Base in that town. At the age of 24, Para married Masitha Yasmin, now 47, the daughter of an ustad (Islamic cleric) in Kampung Begog, Tamanwinangun, Semarang. Masitha was said to be a teenager at the time of her marriage to Para.
Para's eldest son, Askari Sibghotulhaq, married the daughter of Abu Husna, a leading figure in JI. This marriage made Para and Abu Husna in-laws. However, Abu Husna later established the Jamaah Khatibul Iman, which pledged allegiance to the Islamic State of Iraq and Syria (ISIS).
When his in-law became an ISIS sympathizer, Para remained loyal to JI. Nasir Abbas, Para's mentor when undergoing military-style training in the Philippines in 2000, said that Para attempted to secretly re-organize JI after the group was disbanded by a court decree in 2008. His effort ended when he was captured by the police' Special Counterterrorism 88 Detachment at Hotel Adaya, Bekasi, West Java, on June 29.
This time, Para was unable to evade capture, like he did in Kudus 16 years ago.
RAYMUNDUS RIKANG