Keeping Mentawai Tattoos in Fashion
Young Mentawai tattoo artists are attempting to revive the region's dying tattoo art. The group documents traditional motifs and gives away free tattoos.
Edition : Tuesday, July 16, 2019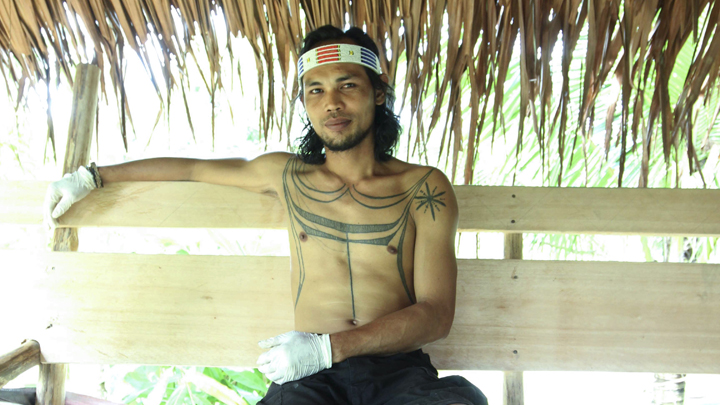 RHYTHMIC clacking came from the lilipat patiti as the traditional tool used by the Mentawai people to make tattoos formed shapes on the calf of 27-year-old Arnaldo Sababalat, known as Naldo. The needle had been dipped in liquid charcoal and soot.
At the open stilt house owned by the Titi Tradisional Mentawai studio on Jalan Kilometer 2 in Sipora, Mentawai Islands, West Sumatra, Bajak Letcu swiftly tapped the wooden tool with a mallet made of a small piece of wood, so that the needle pierced the skin according to the pattern drawn on Naldo's left calf. Meanwhile, Robert Choi Sakombatu, 31, and Sara Imelda, 23, took turns holding down Naldo's legs to keep them from moving.
The tattoo motif drawn on Naldo's calf is a Sipora Island motif, and a rare one. Today, almost no one has tattoos on the Sipora Island, one of the four major islands in Mentawai.
"This was the tattoo motif on my grandmother's legs. The motif was beautiful, with an image of a heart," said Naldo in June. "She said it was the Worship Flower motif. I wanted to have it." Naldo's grandmother is among the few left of Sipora's tattoo-bearing generation.
During the tattooing process, the Mentawai Public Works contract employee would grimace in pain. In two hours, an ivy and heart tattoo had been etched onto Naldo's left calf, which had become red and a little swollen. Bajak Letcu, whose real name is Viator Simanri Sakombantu, immediately put antiseptic on Naldo's calf, before administering Vaseline. The needle was then thrown away. "I only want to be safe because many outsiders also get tattoos. So, one person, one needle," said the 31-year-old man.
W251bGwsIjIwMjEtMDUtMDggMTQ6MjQ6NDciXQ
But in the inland of the Siberut Island, traditional Mentawai tattoos are usually made with needles fashioned out of copper, safety pins, or the thorns of citrus trees. The needles are also used for a long duration and for many person.
Bajak Letcu, Robert, Naldo, and Sara are young Mentawai people who have brought back rare Mentawai tattoos to life. Six months ago, they opened the Titi Tradisional Mentawai tattoo studio in Tuapeijat. Today, 11 young people have joined the studio. Two tattoo artists are always ready to work: Bajak Letcu and Agustinus Jumsen Sababalat. Anyone can get a tattoo done at the studio.
Tattoo is called titi in the Mentawai language. There was a time when almost all Mentawai people began tattooing their bodies in adolescence, both women and men. Tattoo motifs continued to develop. In Siberut, there is an estimated 160 tattoo motifs.
But the tradition suffered when the government banned the Arat Sabulungan faith, the heart of the Mentawai culture, in 1955. All activities having to do with the belief, including tattoo-making, were banned. Furthermore, a number of sipatiti (tattoo artists) were arrested. School students were also forbidden from wearing Mentawai tattoos.
Mentawai's rituals and traditions, including its tattoo art, came back to life after the fall of the New Order in 1998. The revival was even more visible when Mentawai Islands became its own regency on October 4, 1999.
Mentawai's younger generation, like Bajak Letcu and his friends, has continued to preserve the tattoo art. "We don't want Mentawai tattoos to go extinct," said Bajak Letcu. "Now we are racing with time to document and archive Mentawai tattoo motifs from tattooed elders."
At the end of last year, the graduate of the Primary Education of Universitas Terbuka (Open University) in Padang made a three-day journey by boat and on foot to Simatalu, the western part of Siberut Island, accompanied by Robert. Simatalu is the oldest village in Mentawai, believed to be the origin of the Mentawai people's ancestors. They wanted to see remaining Mentawai tattoos, their shapes and motifs.
As it turned out, many in Simatalu still had tattoos. There was one tattooed person in almost every family, unlike other areas in Mentawai, where tattoos have almost gone extinct due to a lack of interest. "Robert and I had tattoo supplies. They were surprised that we were able to make tattoos with traditional equipment. Many wanted to get tattooed," said Bajak Letcu.
According to Bajak Letcu, there are still two sipatiti in Simatalu. But many feel that the price of two pigs for the tattoo artist is unaffordable.
"In the old days, it was maybe easy to pay with two pigs for a tattoo because pig farming was popular then," said Bajak Letcu. "But today people have moved on to planting—fruits and vegetables—and rice farming. Pig farming was abandoned with only a few pig farms remaining. So the fee feels expensive."
Bajak Letcu and his friends did not charge for their tattoo service in Simatalu. The people eagerly greeted them. "We were even called tuan (sir)," said Bajak Letcu, who comes from north Siberut.
Bajak Letcu and his crew were pleased with the warm welcome. But to revive Mentawai's tattoo art, they must first overcome some hurdles, among others, the cost, as each sea journey can cost them over Rp10 million. "We also frequently trek into Siberut's interior, sometimes for up to three days, getting attacked by mosquitos and leeches. To save on the boat fee," said Bajak Letcu.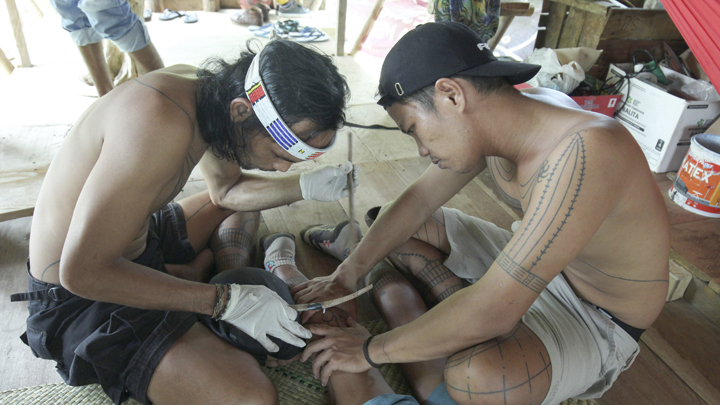 Making tattoo with Mentawai's unique motifs in Tuapeijat, Sipora, Mentawai Islands. Febrianti
Despite the challenges, the young people have continued to work. They have documented many unique Mentawai tattoos, even those that were previously unknown. They now use these motifs in their own tattoos. "In the past six months, many have returned to Mentawai's tattoo art," said Bajak Letcu.
Bajak Letcu has been interested in Mentawai tattoos since he was in middle school. "When I saw my uncle who had the complete set of Mentawai tattoos," he explained.
In 2014, he began to diligently study literature on Mentawai tattoos. But he did not yet dare get tattooed himself. In 2016, he learned Mentawai tattoo techniques from the oldest tattoo artist in Siberut, Teu Ron Nganga.
Bajak Letcu only tattooed his body last year. It was Durga, a Mentawai tattoo artist in Butui, south Siberut, who made his tattoos. "I told Durga, I love my culture. I'm offended when those from outside Mentawai show and wear Mentawai tattoos with pride. Then Durga tattooed my chest and back," said Bajak Letcu.
He then studied the Mentawai tattoo art with other sipatiti in several regions in Siberut. Apparently, many of his friends in Mentawai were also interested in the art. "It's true that getting a tattoo is painful, but it would be more painful to see Mentawai tattoos disappear," said Bajak Letcu.
Mentawai Regent Yudas Sabaggalet is pleased with their activities. "I'm happy that many young Mentawai people are returning to the Mentawai tattoo culture and wearing (the tattoos)," said Yudas on July 3. "Maybe one day we will create a regional regulation on Mentawai tattoos."
FEBRIANTI