Forest Means Light
Damianus Tony claims he can now sleep better. Electricity has entered his home in Lanjau hamlet, Batu Riam village in Sintang, West Kalimantan. "I sleep better now.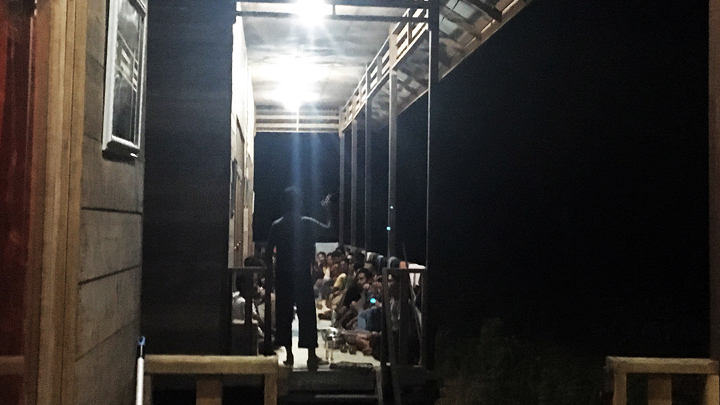 THERE is also a television, which means entertainment," said the 29-year-old man when we spoke to him at the Tamang Bersinar Micro Hydro Power Plant (PLTMH) in the Lanjau hamlet forest area at the end of June.
The Tamang Bersinar PLTMH management secretary remembers well how overjoyed he and his neighbors were when electricity entered his village. "Around 1-2 months later, some bought flat screen televisions," he said, smiling broadly.
Riam Batu village chief Sebastianus Muntai added that now children can study at night, thanks to the heavy water flow from the Tamang River.
Rivers in the Riam Batu village, sourced on the Saran Hill, are saviors to local communities. Not only do they provide water, they also provide light. But at the moment only two of the three hamlets can enjoy electricity, namely Lanjau and Lebuk Lantang. Meanwhile, Mulas hamlet residents still in the dark and most of them relies on kerosene lamps.
The people of Lanjau and Lebuk Lantang were only able to enjoy electricity recently. Several years ago, the village government sent a proposal to the Sintang Regency Government for the development of a PLTMH. But to no avail. The plan was only revived in 2017. This time, the budget did not come from the government, but from the West Kalimantan Green Economy Consortium, made up of West Kalimantan AMAN, Keling Kumang Group, and Millennium Challenge Account Indonesia. The group also funded the PLTMH in the Lebuk Lantang village, built on Rarak River where the hamlet's water comes from. "It was built in September 2017 and began operating in February 2018," said Muntai.
W251bGwsIjIwMjEtMDItMjYgMjM6MzY6MDAiXQ
In Lanjau, 22 Kilowatt electricity produced by the Tamang River, with a volumetric flow rate of 200 liters per second, is distributed to electrify 102 consumer homes out of a total of 119 families. Each consumer is granted a quota of 250 watts at a cost of Rp20,000 per month.
The quota does not allow for a great use of electricity. "Not a lot can be used for economic needs," said Muntai, explaining that the electricity can only be used to power lights and for entertainment needs, and even then with some restrictions as electricity is not available 24/7.
According to Damianus Tony, electricity is available 24 hours on Sundays, Mondays, and Tuesdays. Meanwhile, on Wednesdays, Thursdays, Fridays, and Saturdays, electricity is only available at night. "There is no electricity from 7am until 4pm," he said.
Riam Batu continues to make improvements. Muntai says his people are now ready to form a village enterprise to manage the PLTMH. Furthermore, the village government is planning to provide electricity for Mulas hamlet. "But not using micro hydro, but solar power," he said.
According to Aman Sintang Chairman, Antonius Antong, his institution assisted Riam Batu to obtain access to electricity based on the region's potentials, namely that the river allows for a PLMTH and is able to adequately fulfill the community's needs. "If they had waited for a supply from the city, who knows when it would have happened," he said. "The distance is close to 90 kilometers. There was little chance the government would pay attention." Water access had the same problem.
Another important factor, said Antong, is that building the PLTMH and water pipes means protecting the forests and mountain. "Automatically, the forest must be protected because it's a water source. The forest is the spirit of water," he said. "No forest, no water, no electricity."
PURWANI DIYAH PRABANDARI