Safeguarding Maleo in Bone Bolango
Villagers living on the fringes of Bogani Nani Wartabone National Park in Gorontalo help hatch maleo eggs. The population of the threatened birds endemic to Sulawesi is on the rise.
Edition : Tuesday, July 30, 2019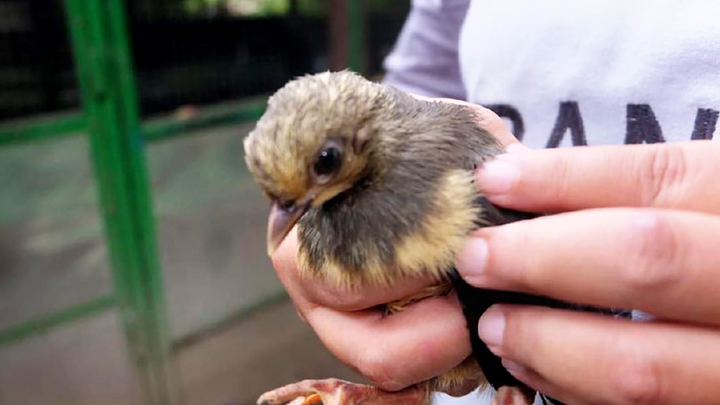 IT was 7am when Wahab Tamati was preparing some food and buckets to gather the eggs of maleo (Macrocephalon maleo) birds in the forest of Hungayono, Bogani Nani Wartabone National Park, in Bone Bolango regency, Gorontalo. "I have to reach the nests of maleo before 10 in the morning because the birds only lay eggs from 6am to 10am," Wahab told Tempo on Wednesday, July 24.
The 49-year-old man is a resident of Tulabulo village, East Suwawa subdistrict, Bone Bolango, in charge of hatching maleo eggs in the maleo bird population sanctuary of Hungayono. Every day he enters the forest in the Bogani Nani Wartabone National Park (TNBNW) zone in Bone Bolango to find and collect maleo eggs. On that day he obtained five eggs the size of his fist.
Wahab has collected the maleo egg since 2004, for the reason of being concerned over the widespread hunting of maleo eggs by people for consumption. At present, he is capable of gathering five to seven eggs daily or 100-150 eggs monthly. He even once managed to obtain 200 maleo eggs in a month. Wahab claimed it took only two to three hours for him to collect eggs. The search for the eggs is not so hard either because maleo birds always lay eggs in the same places.
One difficulty in gathering maleo eggs, in Wahab's experience, is only the digging of sandy soil due to the use of empty hands. The earth to be dug to find one maleo egg can be as deep as the waist of an adult. The maleo eggs already found are then taken to a hatchery. "The eggs should be laid in buckets carefully. The pointed parts of the eggs should be at the bottom," said Wahab.
The hatchery managed by Wahab is not far from the hot water spring of Hungayono. The place is not more than 150 square meters with a height of two meters. It has a zinc roof with iron louvers and its ceiling uses nylon nets. On its sand floor for hatching, small holes are created into which eggs are put. The holes are arranged at intervals of two spans of adult fingers. The depths of the holes are 30 to 40 centimeters. The holes already filled with eggs are covered with sand and marked with bamboo sticks.
W251bGwsIjIwMjEtMDUtMTEgMTg6MjI6MzkiXQ
---
Maleo Senkawor (

Macrocephalon maleo)
» Characteristics: Dominant black feathers, whitish pink lower-body side feathers, a hard crest at the top of the head
» Length: 55 centimeters
» Eggs: The size of an adult fist
» Conservation status: Endangered (International Union for Conservation of Nature)
» Population estimate: 15,000 birds
---
According to Wahab, one hatchery usually can accommodate 150 eggs. Four other hatcheries have been built. The total of hatching holes has reached over 2,000. In a year, the maleo egg hatcheries in Hungayono have a capacity of hatching more than 2,000 eggs. The eggs that hatch mostly come from those collected in the hot water area of Hungayono.
For the hatching of one maleo egg, Wahab claimed to have needed 60 days with soil temperatures ranging from 30 to 33 degrees Celsius. Newborn maleo chicks will emerge from the ground very slowly. It takes two days for the chicks to dig the sand until they appear on the surface. Then they will abandon the holes by scurrying to hatchery corners. Normally, the chicks will promptly be released into the wild. "In this location there are always eggs hatching every day and also chicks being released every day," said Wahab.
Maleo birds endemic to Sulawesi are terrestrial and the only bird species of genus Macrocephalon with a length of 55 centimeters. They have such characteristics as black feathers, yellow skin around their eyes, brownish red irises, gray legs, orange beaks and whitish pink lower-body side feathers. At the top of their heads are black horns or hard crests.
Previously, the population of maleo sharply decreased so that the International Union for Conservation of Nature put it on the endangered list. Maleo was also included in Appendix I of the Convention on International Trade in Endangered Species of Wild Fauna and Flora. The Indonesian government declared maleo a protected wildlife species based on the Law on the Conservation of Biological Natural Resources and their Ecosystem and Government Regulation No. 7/1999.
Bagus Tri Nugroho, Chief of the Gorontalo Region I National Park Management Section of the TNBNW, said 15 years ago maleo birds were very hard to find. "The biggest threat to maleo is actually egg hunting by men. Many people are hunting maleo eggs for consumption," said Bagus.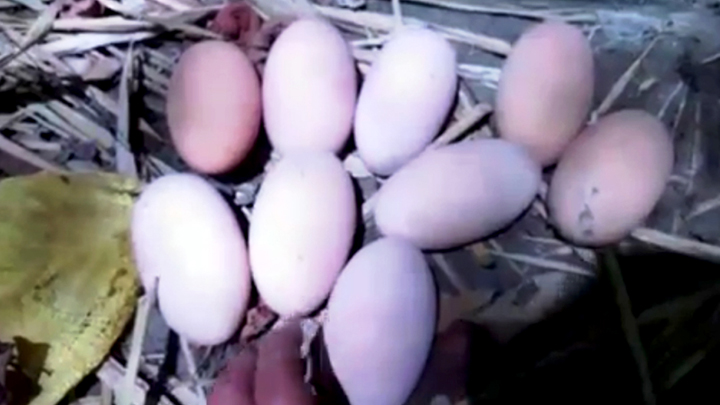 Maleo eggs collected by Wahab Talamati/Photos: Bone Bolang Gvernment Public Relations
Maleo birds in fact have high security intelligence. They will usually learn the security situation of their egg-laying places from trees. Male birds will dig holes for their female mates to lay eggs. After eggs are laid, they make other holes to disguise them from predators. Maleo birds are sensitive to sounds. Noisiness within a radius of 5-10 meters can make them fly to tree branches. "Maleo birds are very sensitive to all kinds of activity around their habitat," added Bagus.
Based on TNBNW data, the maleo population is predicted to increase in the last decade. Until June 2019, the maleo population was estimated to reach 17,270 birds from the previous number of only 6,000 in 2007. The population increase is calculated from the number of maleo chicks released after hatching and the total of eggs collected.
Supriyanto, Chief of the TNBNW Center, said five locations had served as maleo bird population sanctuaries in Gorontalo. Besides Hungayono, there are Tambun, Muara Pusian, Pohulongo and Batu Manangis maleo sanctuaries. The five places are known as maleo egg-laying nests due to their proximity to the natural hot water area. "So far thousands of eggs have been hatched from the five locations. From Hungayono alone in 2018, 2,700 maleo chicks were released," said Supriyanto.
The success of the Hungayono maleo sanctuary, said Supriyanto, was inseparable from the role and participation of village people who hatch maleo eggs independently. Today at least six villages on the fringes of the TNBNW zone have become independent maleo egg guardians and conservationists. "Residents of the six villages have also agreed to safeguard the conservation endeavor and participate in the restoration of the ecosystem independently," said Supriyanto.
The TNBNW with a total area of 282,008.757 hectares is the largest land national park in Sulawesi. The conservation zone established as a national park in 1992 covers two regions: Bone Bolango regency, Gorontalo province, with an area of 110,000 hectares, and Bolaang Mongondow regency, North Sulawesi province, with over 170,000 hectares. The TNBNW is an important habitat of typical species of Sulawesi, among others lowland anoa (Bubalus depressicornis), kuskus or Sulawesi bear (Ailurops ursinus), yaki (Macaca nigra) and maleo.
BUDHY NURGIANTO (GORONTALO)