Chair, Upstream Oil and Gas Regulatory Special Task Force Dwi Soetjipto: For Now, All We can Do Is Hang On
OIL and gas production in Indonesia are continuing to decline, while consumption continues to increase. Up to the first semester of this year, production realization of oil and gas lifting reached 1.81 million barrels oil equivalent per day. This amount fulfils 86 percent of the 2019 State Budget (APBN).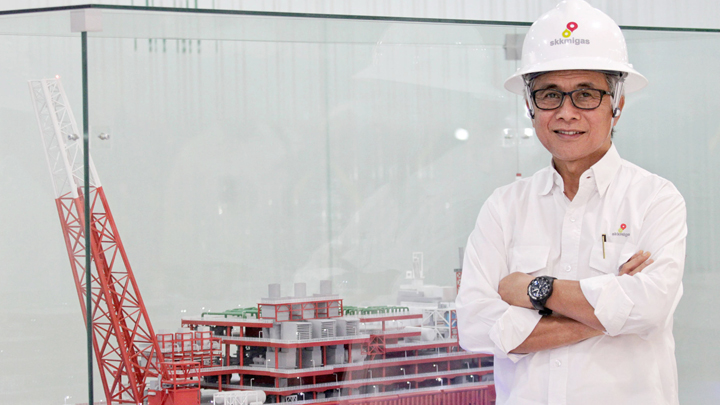 OIL production in 2017 only reached 838,000 barrels per day. Meanwhile consumption reached 1.69 million barrels. In 2018, with production at only 808,000 barrels per day, consumption was at 1.78 million barrels per day. Throughout Semester I in 2019, oil lifting dropped 3 percent compared to the same period of the previous year at 745,000 barrels per day.
Upstream Oil and Gas Regulatory Special Task Force (SKK Migas) Chairman Dwi Soetjipto admitted that oil and gas lifting targets are below level because, among other things, most of the wells in exploration blocks that have been Indonesia's main standbys for so long are now over 25 years old. To his mind, it is no easy task to extract oil from old wells. "But a decline of three percent compared to 2018 is not bad. Because, if we made no effort at all, the drop could be up to 20 percent," said Dwi in a special interview with Tempo at the SKK Migas office, in Mulia Tower, Jakarta, on Tuesday, July 30.
To Tempo reporters Retno Sulistyowati, Sapto Yunus and Nur Alfiyah, Dwi, who was appointed to lead the SKK Migas in December 2018, explained the matter of production decline and lifting of oil and gas, the decision to win in a consortium to manage the Corridor Block, and also the latest deal between the government and Inpex Corporation on the Masela Block. His deputy at the time, Sukandar, and the SKK Migas Deputy for Planning Jaffe Arizon Suardin accompanied Dwi and answered some of Tempo's questions. Sukandar, who had entered pension age, was replaced by Fatar Yani Abdurrahman on Monday, August 12. Excerpts:
Why is production of oil and gas lifting still on the decline this year?
One of the reasons is because 64 percent of our wells are over 25 years old. It's difficult to extract oil from old wells. For example, 98 percent of what comes out in the Rokan Block managed by Chevron Pacific Indonesia is water. There was a supply surplus in South Sumatra because absorption from its market, Singapore, was not doing well. In the Kangean Block, because the project was laggard in the first semester, average production came out low. In the Husky Madura Strait Block, a facility was delayed.
Are there other reasons?
In East Kalimantan Pertamina Hulu, there is a market problem. We were forced to cut production by more than two months because Pertamina returned 11 cargo lots which should have been used by the PLN (State Electricity Company). PLN suddenly didn't take the product. This was conveyed to us at very short notice. Therefore, when we sold the returned cargo, it became distressed cargo, the price fell sharply. Another big drop is at Pertamina Hulu Mahakam, up to 80 percent.
Why is oil and gas lifting production at Pertamina Hulu Mahakam so low?
First the transition (from Total E&P Indonesie to Pertamina Hulu Mahakam) did not happen smoothly. The old contractor's contract finished in early 2018, while the decision to appoint Pertamina was already made in 2016. The expectation was for the transition to have occurred in 2017. But, maybe because the old investors at the time were still hoping, but it turned out, they were not given another chance. The transition did not happen smoothly, making production drop in 2018. We hoped there would be an increase in 2019, but as it is, in the first semester things are still not looking up.
What does Pertamina have to do to improve things?
Investment needs to be increased in the Hulu Mahakam. This is now a Pertamina's working area, making it the responsible party for further exploitation. We analyzed the Mahakam's potential, and we discussed it with Pertamina. With such potential, they should invest. With no investment, well, there's no way production can be optimal.
With this decline, will there be a target decrease for the following year?
Yes, we will try to maintain it at 3 to 4 percent.
And what about the years after?
Until up to about four years from now, all we can do is first try to hang on.
What can be done so next year's production doesn't continue to fall?
We are assisting contractors to step up production in former reserve areas. Even if the Plan of Development (POD) is divided up into however many parts, that would still be fine. All efforts can be used to hasten resources to begin production. This is what we will be relying on until 2023, and maybe 2024.
What about the injection method or enhanced oil recovery (EOR), which can optimize the performance of old wells? Is that being done?
We're hoping EOR can begin in 2023. And then after that, exploration.
Jaffe Arizon Suardin: EOR and exploration create large volumes but need relatively long timeframes. Among other things, they needs field trials.
Learning from the Mahakam Block experience, what should be done in other work areas so production does not decline significantly following the change of contractors?
It would be good in a transition, if possible, to continue involving the old operator. Even though they're no longer the operator, at least they have a vested interest. They enjoy compensation if a transition goes well. There's a share percentage, in phases. If it's a total break-off as happened in Mahakam, they no longer would have any vested interest for the transition to go well.
Is this the reason the government chose a consortium which involved the old operator, ConocoPhillips (Grissik) Ltd, to manage the Corridor Block in South Sumatra, rather than handing it over to Pertamina in the new contract?
That was one of the considerations. For, if we want to maintain good levels of oil and gas production and lifting at the national level, well, any hand-over should also run as well as possible.
Was that the only consideration?
In the bidding process, the party giving the best bid wins. In this respect, the best bid came from Pertamina (Pertamina Hulu Energi Corridor), Repsol (Talisman Corridor Ltd), and ConocoPhillips together.
Sukandar: The consideration was whoever offered the best benefits to the state.
What were these benefits you are mentioning?
You can look at the value of the signature bonus, and of course the definite working commitments, because this impacts how large investment will be in the future. Also, how smoothly the transition goes, the shift from the old operator to the new one. These were the considerations the government looked at before deciding the consortium getting the winning bid.
Jaffe: The Corridor Block is a fractured basement. In Indonesia, not many parties can produce with this type (of reservoir). The Corridor Block is the largest. Involvement of companies with experience are badly needed.
What did they offer when they made their individual bid proposals, and then the joint one?
In their individual bid, initially ConocoPhillips offered management participant rights at 45 percent, Repsol 36 percent, Pertamina 10 percent. They then made a joint bid offer, with ConocoPhillips becoming 46 percent, Repsol 24 percent, and Pertamina going up three times to 30 percent. They offered a signature bonus of US$250 million and a definite working commitment of US$250 million. The operatorship is still held by ConocoPhillips three years after the contract is up. Then Pertamina will hold it until the contract period is up, 20 years after 2023.
What about production sharing with the regions? Does it all come from Pertamina?
No. ConocoPhillips will be deducted 4.6 percent, Pertamina 3 percent, Repsol 2.4 percent making a total of 10 percent.
What's the prospect for the Corridor Block in the future?
The Corridor Block is expected to produce gas. It is now the second largest block after the Tangguh Block, managed by BP. Its facilities can also support surrounding blocks because it has a facility to purify gas before it's put in the market, so investment is not too large. So Repsol, which manages the Sakakemang Block (not far from the Corridor Block), has a vested interest to stay in the consortium. It's asset synergy such as this that we want to develop. Of course, for the use of facilities by others, with the gross split profit-sharing scheme with the government, there's a possibility of rental costs being incurred. But at least the state is not burdened with additional investments for facilities in the surrounding blocks, because this is also part of cost recovery.
So, for the Rokan Block, what made the government select Pertamina over the old operator, Chevron Pacific Indonesia?
Sukandar: They made an offer of a US$784 million signature bonus, the highest in history.
Dwi: That was their commitment, to win over Chevron. It was not coercion. So long as they won't eventually ask for a commitment reduction. They need to prove themselves. Our duty is to conduct oversight.
Up to 2020, Rokan will still be run by Chevron. What's the transition process from Chevron to Pertamina?
The mechanisme is still under deliberation. The negotiation is still tough. This is business to business, which means we cannot force the hand. We do the coordination for the transition to occur as smoothly as possible. We're worried if the transition is not agreed upon soon, it will impact in production decline in 2020 and 2021. Then, to revive the downturn will be very difficult. Let's hope they can complete negotiations soon.
The government also recently approved a proposal to develop the Masela Block from Inpex Corporation. What were their terms that were approved?
First, replacing the time lost as a result of a development scheme change from offshore into a liquefied natural gas (LNG) plant, agreed upon for seven years. The first phase which ends in 2028 was changed to 2035. After that, from 2035 to 2055. Then the internal rate of return (IRR) of 15 percent was also agreed to. For an upstream project, this is considered a low-profile rate of return. Upstream projects are riddled with uncertainty. Usually the IRR is high, so if a miss happens, it's still economical. For comparison, the onshore Cepu Block, with risks far lighter than offshore (plant), has an IRR of 37 percent; ENI Muara Bakau which are also in deep sea, are at 18 percent; BP Tangguh at 20 percent.
With an additional timeframe of seven years, when will Inpex start production?
In 2027. They may no longer delay it. The rise and fall of project costs are mostly impacted by time. If it can be sooner, the impact will be huge. Going forward or back even a single year can add or subtract a total of around US$700 million. That's why, in the joint agreement between the SKK Migas, Inpex, and Royal Dutch Shell (in the Inpex consortium), we will tighten oversight. If project costs can be kept down, production sharing for the government can go up.
How big a percentage will the government obtain from production sharing?
At least 50 percent. If we can reduce exploitation costs from US$19.8 billion, production shares for the government will increase, and can reach up to 58 percent.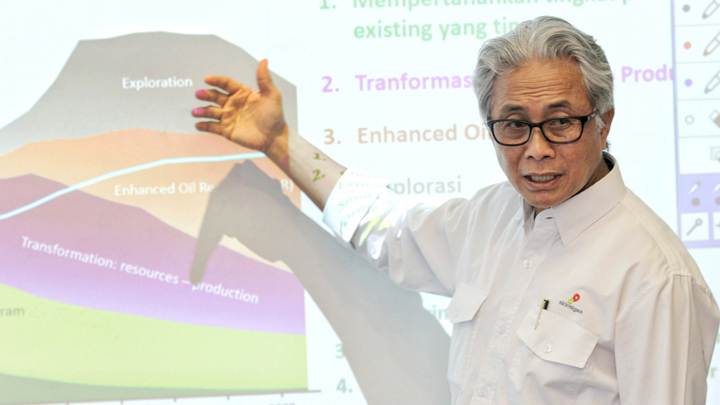 Dwi Soetjipto at the SKK Migas office, Jakarta, July 30./TEMPO/Hilman Fathurrahman W
After this agreement, what other challenges are there with the Masela Block?
Any investment in Indonesia always needs to deal with the community. From the outset, it is imperative that we go into the project smoothly. So, environmental activities need to be conducted far before the project begins. If the beginning goes well, we can hope project execution will also go well. To date, things are fine and good.
Is there a special team handling the Masela Block?
Yes, we designed it, the personnel are there. They are now in the preparation on the ground phase, dissemination with local government and the community. From the market point of view, Inpex will seek a buyer. We need a commitment from a buyer. This is important because, if we're not sure if there are buyers, the project will not run. We've also begun project design and are looking at costs. The SKK Migas will look at what items will impact the costs.
Some people doubt your ability to head the SKK Migas, noting you are no longer young. Your defense?
Being old or young is not determined by the number of years, rather by a person's productivity levels, achievements and performance. In this respect, other people should be the judge. Look at (Malaysian prime minister) Pak Mahathir Mohamad, who at 94 can head a government. Moreover, I move much faster than my colleagues in their 40s and 50s.
What makes you able to move faster than those much younger? Is it exercise?
I would think so. But, in life, a balance is needed between sports, exercising your mind, and exercising your soul. For this, praise God, I can still work at the SKK Migas office from 7am to 9 pm on average every day. Add to that visits to the field every weekend.
What sports do you do?
I've had a regular sports routine since I was very young. I am a former pencak silat martial arts athlete for East Java and was national silat champion in one one type of class. To this day I train and do daily silat exercises, and in fact am the chairperson of one of the pencak silat schools in Indonesia. (Dwi Soetjipto is the General Chair of the Perisai Diri National Silat Family of Indonesia for the 2015-2019 period).
Any other sports besides silat?
Nowadays I also bike regularly to work and on weekends, with a personal target of around 100 kilometers a week. I also pay tennis regularly twice a week. If I have spare time, I run. I can do 30 push-ups and 60 sit-ups, (laughs). No day without sports. To be in prime physical condition, an important factor is the mindset to enjoy and love what you do, and the work you are tasked with.