Embers in the Ashes
Issue of racism burned a long-hidden sentiment between Papuans and non-Papuan, overshadowed by horizontal conflict.
Edition : 10 September 2019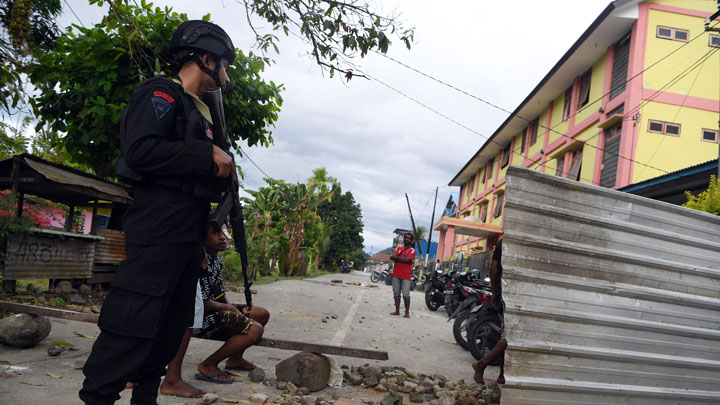 ASTUTI cast her sight towards the man who was sharpening a machete on top of scorched ruins of a building in Jalan Koti, Jayapura City, Sunday, September 1. Two crowbars, each a meter long, were laid right next to him, alongside another machete and a badik (dagger) whose edges seemed dull. Similar other items were scattered in front of Astuti, below a table on which she displayed her bottled drinks for sale.
The man is one of Astuti's six siblings who accompanied her that afternoon while selling her wares under a roof of tarpaulin. Her former shop was located across the road. It was destroyed by fire during the demonstration on Thursday, August 29. What remains of it now are little more than blackened, broken walls. Astuti was trying her best to remain in business, a little further away along the road. Her siblings kept her company in case another riot breaks out.
That past demonstration frightened her. For three days since Thursday, August 29, to Saturday, August 31, Jayapura was gripped in terror. Demonstration turned into riots, and then to conflict between residents. "This was not a peaceful demonstration," said Astuti, a woman who hailed from Enrekang, South Sulawesi, with trembling voice.
The demonstration was a second one after the first on August 19, to protest against racist treatment toward Papua students in Surabaya, East Java. Residents of Papua in Sentani and Abepura went down to the road demanding perpetrators to be brought to justice. "There were three groups. The first arrived at four in the afternoon. The last came after dusk," said Astuti.
At first, she explained, everything looked normal. Demonstrators were only marching down the road and yelling. Riot broke out when the last group passed by the Jayapura harbor, not far from Astuti's stall. A number of people forced their way into the stall and looted. "After that, they burned all the shops along this road," she said.
Having their properties damaged by demonstrators, the next day, some owners of the building, who are mostly newcomers, retaliated at groups of demonstrators returning home. Six were left dead while dozens were injured in this conflict between civilians. Astuti and other newcomers are wary the Papua native residents will strike back.
A week after the riot, Jayapura city gradually returned to normal. The roads, usually packed with vehicles, were empty. As the night fell, the city turned very quiet. Inhabitants would rather stay at home to avoid possible subsequent conflicts between groups. Some took the initiative to take turns guarding their neighborhood.
The Expo district in Jayapura, which became the initial staging point for the demonstration, was tightly guarded by police. At least three to five policemen stood guard at every road intersection, all of them armed with long-barreled guns. A particular attention was given to Perumnas II and III close to the Expo area, which are known to host pockets of the West Papua National Committee (KNPB), an organization promoting the independence of Papua.
KNPB Chief Agus Kossay had left his base and gone into hiding out of town. His name was mentioned by National Police Chief Gen. Tito Karnavian as one orchestrator of the demonstration that ended up in riot. Ever since he was marked, Agus admitted that he has had to move from one house to the other. "I know I am being hunted," he said to Tempo.
The stocky man refused to see just anyone. Agus was only willing for a meet up arranged by someone he knows. Even then, only at night and at a place at his discretion. When Tempo met Agus on Wednesday, September 4, he was escorted by at least seven persons, all of whom members of the KNPB.
Agus said the wave of protest may return because Papua residents are still upset about the racial discrimination incident in Surabaya. "Such inappropriate treatment suggests that Papua should separate from Indonesia and establish itself as an independent nation," he said.
As for the past demonstration that resulted in riot, according to Agus, it went out of hand because of the large amount of masses involved. The line of people in the protest reached as long as a kilometer. He said he does not know who is responsible for initiating the burning and destruction of buildings at the time. "How could one possibly control a crowd that big?" he asked.
In Abepura, a number of roads were being guarded by police officers clad in black uniforms. More policemen were dispersed in civilian clothing. They were on their toes all day, especially on hotspots like Abepura Kamkey. This area became a particular interest since a bloody clash on Saturday, August 31, left one dead and dozens of others injured.
However, not everyone is welcoming toward the extra security measure. Residents of Angkasa area, North Jayapura District, drove away the policemen sent to secure their neighborhood on Saturday, August 31. The rejection forced the Jayapura Resort Police Chief and members of the Papua Regional Parliament to intervene.
A resident of Angkasa, Herry Mambor, said one reason for their refusal was the traumatic experience most of them went through during the Papua Independence Congress in 2002. At the time, Herry explained, a resident targeted for capture by the authorities was killed. "We agreed that the police should not be involved in securing the area, we will handle it ourselves," he said.
The riot in Jayapura also took its toll on local economic activities. Some merchants in the business centre in the Entrop District were still closed for business. Some others had mustered the courage to open their shops while remaining on alert. Home furniture store Sagita Furniture, for example, had only been opening some of the doors in its shop since Monday, September 2.
Sagita Furniture Vice Director, 30-year-old Rianto Wijaya, said he had to change business hours as a workaround in light of the still-vulnerable security in Jayapura. Instead of opening the shop at 10am as usual, every employee now starts working at 8am. "Employees usually return home at 8pm in the evening, but now they can go earlier so it will not be very late," he said.
Rianto told that the business, first started by his parents in 2002, currently greets only few customers. During the time before, on each day, usually there would be at least six buyers who came by. His turnover dropped by more than 50 percent after the riot. "In situations like this, many customers think long and hard about buying furnitures," he said.
Rianto is still thankful because his shop is spared from the destruction. Tens of business in Entrop, which lined up along the side of the Indonesian Navy X Jayapura Main Naval Base, were turned into scorched ruins. Demonstrators burned a number of buildings and vehicles in the area.
Indonesian Navy X Jayapura Main Naval Base Commander Brig. Gen. Nurry Adrianus Djatmika said almost 10,000 refugees sought protection during the riot and conflict between residents. "We urge both victims and demonstrators to refrain so as to not trigger additional conflict," he said.
RIKY FERDIANTO