A Bittersweet Family Connection
In the name of national sugar self-sufficiency and to cover the 1.1 million ton shortage in annual demand, the government called on companies to invest in the development of sugar cane plantations and processing plants. Of 10 locations in Java, Sumatra, and Nusa Tenggara, one of the largest of these producers is found in Bombana, Southeast Sulawesi. The concession there is held by Andi Syamsuddin Arsyad, a man in the coal business. He is a cousin of Agriculture Minister Amran Sulaiman and a former deputy treasurer of the Joko Widodo-Ma'ruf Amin election campaign team. Amran was directly involved in taking care of authorization down to the regency level, an action which broke zoning regulations and went against the ministry's own program.
Edition : 10 September 2019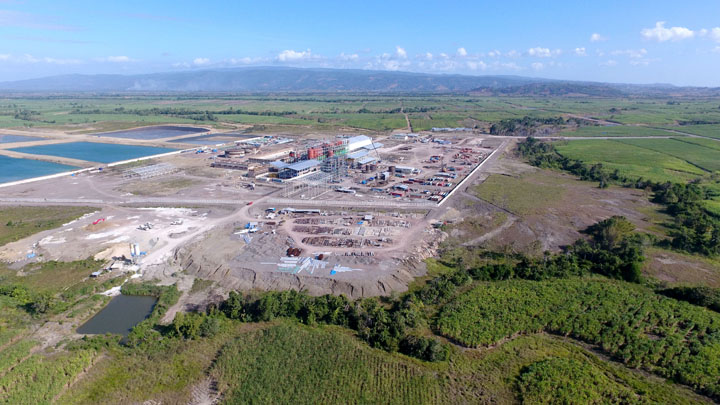 MOVING awkwardly, a man wearing a brown shirt approached Tempo. "If possible, delete the photos from the camera," he said. "Reporters aren't actually allowed in here."
He introduced himself as Brig. Tuji. He is assigned to the Southeast Sulawesi Police Department in Kendari, 150 kilometers away from where he was when he asked Tempo to delete photographs of the activity of gold miners at a Sultra Utama Nikel site in North Rarowatu, Bombana Regency, in mid-August.
He is the person in charge at this gold mining area. His 'office' is a wooden house in the middle of a savanna area. The miners call him 'boss'. "The (police) commander just asked me to keep watch here," said Tuji.
During this conversation, tens of mud-covered gold miners passed through this house being used as a headquarters, rest area, and eatery. Tuji has been 'on duty' in Rarowatu ever since Jhonlin Batu Mandiri bought out the stock in Sultra Utama Nikel in March.
Agriculture Minister Amran Sulaiman (in blue shirt) and Haji Isam (in white shirt) at the location of Jhonlin Batu Mandiri's factory in Bombana, December 2017. tribratanews.bombana
W251bGwsIjIwMjEtMDMtMDUgMDg6MTQ6MTMiXQ
Jhonlin Batu Mandiri does not actually have a gold mining license. The authorization held by this subsidiary of the Jhonlin Group which was established in 2014 is for a sugar cane plantation. This company owned by Andi Syamsuddin Arsyad, better known as Haji Isam, obtained a 10-year concession of 20,000 hectares to develop sugar cane fields and a sugar factory in Bombana. Isam is from the Mappesangka village in Bone, Southeast Sulawesi.
According to Andi Rasdi Sumange, a former Mappesangka village head, Isam is a cousin of Agriculture Minister Andi Amran Sulaiman. In 2017, Amran came to a public celebration in the village, featuring singers from the nation's capital. Amran contributed Rp100 million for construction of a mosque, while Isam donated Rp500 million.
Sugar cane plantation and sugar factory development is a major project of the agriculture ministry aimed at achieving national sugar self-sufficiency by 2024. This program was requested by President Joko Widodo during a cabinet meeting in 2016. Minister Amran acted on that order by inviting companies to invest in sugar cane fields and sugar factories in order to cover the annual consumer demand for 3.9 million tons of sugar, which is running a supply deficit of 1.1 million tons.
According to Mochamad Arif Efendi, Director of Jhonlin Batu Mandiri, the 2,344-hectare concession area of Sultra Nikel will be turned into sugar cane plantation after its mining business license expires next year. Excavators and 4-wheel drilling vehicles are parked in the yard of Brig. Tuji's makeshift office.
Sultra's gold mining concession began in 2010. Haji Isam purchased all Sultra's stock for Rp29.48 billion. Sugar cane has been planted on the land around Sultra office in Watu-Watu village, which has grown to shoulder height. "Eventually sugar cane will be planted on all of the land," said Arif Efendi.
In addition to purchasing Sultra's stock, Haji Isam purchased shares in Cahaya Gemilang Sentosa, which has a gold mining concession on 5,346 hectares in North Poleang, a village area with a Sultra concession. The miners, generally from Palopo, South Sulawesi, say they are paid a daily wage of Rp90,000, which is paid by police the Southeast Sulawesi Police Department.
Gold has been Bombana's top commodity for the past decade. There are about 30 companies which have been mining there, including Tiran Indonesia, a company owned by Minister Amran Sulaiman since 2014 that has 947 hectares mining concession in Rarowatu. As the gold reserves have begun to dwindle, the miners said that their daily incomes are uncertain. The miners and Brig. Tuji said that they do not know who purchases the gold mined from that savanna. "It's not my place to speak about that," said this police officer originally from Klaten, Central Java.
Senior Adj. Comsr. Andi Adnan Syafruddin, Chief of the Bombana District Police Department, denied that his men were mining in the area of Jhonlin Batu Mandiri. This was also the answer of Sr. Adj. Comsr. Harry Goldenhardt, a spokesman for the Southeast Sulawesi Police Department. "There have not been any orders for mining," he said. "If there is (such activity), please report it to the Profession and Security Division."
Arif Efendi declined to comment on the police being involved in mining activity on the land at Jhonlin's. "This (issue) is beyond my duties," he said. Haji Isam asked Tempo to report any police officers who are mining gold on his company's land. The thing is, he said, the presence of those miners has resulted in his company being accused of wanting to search for gold on the pretense of authorization for a sugar cane plantation. "I have no idea (if) there is gold there," he said.
Isam said that he was among those who offered to develop a sugar cane plantation in Bombana because he wants to help the government achieve sugar self-sufficiency. He refuted the idea that he went to Bombana looking for gold. Even though he does not have any experience in the sugar cane or sugar business, he was willing to provide the cash required to invest in the project.
As it so happened, after it was decided in a cabinet meeting in 2016 that Indonesia must achieve sugar self-sufficiency by, initially, 2020, Minister Amran Sulaiman created an opportunity to invest at 10 locations. There were 300 companies which were interested. After screening, 28 companies were being considered. "After further screening, 10 remained," said Amran. The combined white crystal sugar production of those companies comes to 1.1 million tons annually.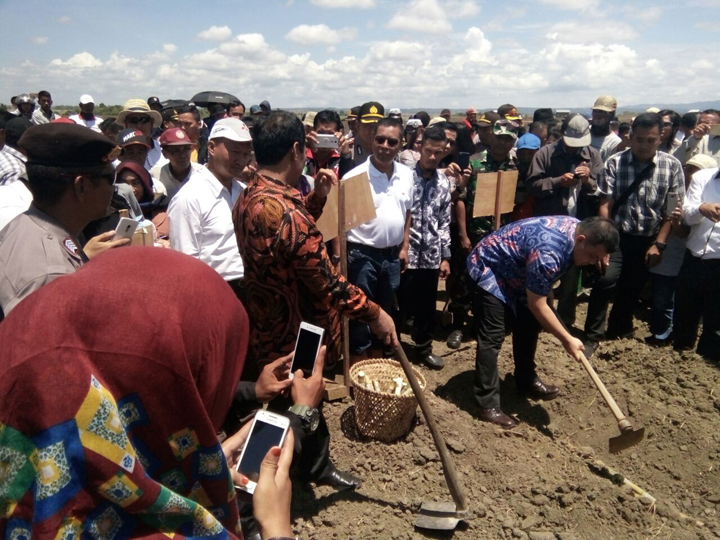 Amran Sulaiman (in brown batik) and Haji Isam (in blue batik) at the first planting of sugar cane in Bombana. sultra.polri.go.id
The importation of raw sugar in 2017 reached 4.47 million tons, with a value of US$2.07 billion or about Rp31 trillion. According to data from 2016, the national demand for sugar is 5.7 million tons annually, consisting of 2.9 million tons for industry needs, and the rest going to the consumer market. However, domestic production is just 2.2 million tons.
The main condition for a company to be selected to build a sugar factory, said Amran, was that they demonstrate their commitment by producing a bank guarantee for 20 percent of the value of the investment at each location, in cash. The investment of Jhonlin Batu Mandiri was listed as one of the largest, at Rp3.89 trillion, including Rp1.72 trillion to establish a factory. "He is ready with the money," said Amran.
Minister Amran said he had been traumatized by promises of investment from both local and foreign companies for plantation commodities. He said that sugar cane investment in South Konawe, Southeast Sulawesi, led to broken promises because the ministry did not set a bank guarantee as a condition for developing plantations. "I call such companies 'PT Will Do'," he said. "I am getting tired of such companies."
Driven by the desire to bring about sugar self-sufficiency, Amran fully oversaw the licensing process for those companies. Ten locations were chosen, in places like West Nusa Tenggara, East Nusa Tenggara, South Sumatra, Central Java, East Java, Lampung, and Southeast Sulawesi.
Most of the companies have not completed the factories building yet. "Our factory (construction) is only 35 percent finished," said Erwin Suryadi Setiawan, Head of Corporate Legal & Communication of Muria Sumba Manis in East Nusa Tenggara. "The factory is estimated to operate in June 2020 with a milling capacity of 6,000 tons of sugar cane a day." Stated in its proposal, Muria will have a daily milling capacity of 10,000 tons.
Unlike the nine other companies, Isam's company received special treatment. Amran personally took care of the authorization, right down to the Bombana government level.
Deputy Regent of Bombana Johan Salim said that Minister Amran invited all regency officials to Clarion Hotel, Kendari, in mid-2017. He introduced Isam as a potential investor who would create a sugar cane plantation and sugar factory. "We were asked to back this up because it was a Rp7 trillion investment," said Johan.
In addition to that open meeting held at a hotel, some government officials said, Minister Amran asked them to meet at the office of the Governor of Southeast Sulawesi, where the door to the meeting room was guarded by police. The meeting participants were not allowed to bring cellular phones into the meeting room. Amran repeated his wish that the province and regency governments make it easy for Jhonlin to have its investment authorized.
Amran verified that he had invited government officials from Southeast Sulawesi to discuss Isam's investment. According to him, at that time those regional officials approved of Jhonlin's presence. Amran emphasized that the land authorization for Jhonlin was facilitated in order to expedite company operations. "I went to see all of them right down to the regent," he said.
For authorization with the environment and forestry ministry, Amran assigned Syukur Iwantoro, a special staff member of the agriculture ministry for investment affairs, to take care of licensing for Jhonlin. Amran appointed him as deputy chairman of the cooperation acceleration team for the utilization of forested areas for food security. "He said that it must be done professionally," said Syukur. In March 2018, he was promoted to secretary-general of the of agriculture ministry.
Syukur is not the only one who has been busy in this regard. The Board of Directors of Jhonlin also went to Bombana Regent Tafdil to ask that the authorizations be expedited. Tafdil responded by immediately issuing a location license. "I also want it to happen quickly," said that politician from the National Mandate Party (PAN).
Tafdil has seemingly forgotten the plan he made in 2012, which was to turn Bombana into a center for raising cows. He was unconcerned that pastures in Balanteo were already being used by 19 rancher groups with over 400 members who were raising nearly 3,500 cows.
Villagers were also living on those 11,000 hectares. They were raising cows because they had received Rp3 billion in grants from the agriculture ministry in 2013, when Suswono was the agriculture minister. Today villagers and ranchers have been evicted by the police at the behest of Jhonlin.
The arrangement for this takeover is the cooperation between Jhonlin Batu Mandiri and the Tina Orima Production Forest Management Unit (KPHP) in Bombana. This was based on Regulation of the Environment and Forestry Minister No. 81/2016 regarding cooperation for the use and utilization of forested regions to support food security.
That agreements states that the provincial government is to receive a commission from Jhonlin's sugar production through a profit-sharing arrangement. However, the percentages remain unclear even two years since the signing of the cooperation memo. "We are still calculating it," said Rustam, Head of the Tina Orima KPHP.
Less than a month after Jhonlin was selected to be among those 28 companies on July 4, 2017, authorization was issued by the environment and forestry minister for cooperation to utilize production forest. A month later, on September 11, 2017, a memorandum of understanding between Jhonlin and the Tina Orima KPHP was signed by both parties. Amran Sulaiman and Haji Isam began planting sugar cane in Balanteo on October 1, 2017.
Agus Justianto, chairman of the cooperation acceleration team for the utilization of forested areas for food security, did not deny that authorization for the sugar cane plantation in Bombana was issued quickly. "The team's duty was in line with its name: a cross-institutional acceleration team for setting aside land for planting crops," said this Echelon I official with the environment and forestry ministry. "However, not everything went quickly."
The total amount of production forest land controlled by Jhonlin, combining the concession and the gold mining company it purchased, is over 30,000 hectares. This area extends beyond the 1,913 hectares of a limited production forest area through a land swap arrangement with the Tina Orima KPHP. It is on 224 hectares of this land, said Arif Efendi, that a factory is to be built.
On paper, the milling capacity of Jhonlin's sugar factory is to be 12,000 tons of sugar cane a day and is able to produce 104,400 tons of white crystal sugar in a year. This means that if the sugar is selling at the price of Rp12,500 per kilogram, Jhonlin is to earn Rp1.3 triliun in a year.
The problem is, Jhonlin's sugar cane plantation and sugar factory are not listed on the Bombana Regency 2013-2030 Zoning Plan. In that zoning plan approved by Regent Tafdil, Jhonlin's sugar cane plantation area is listed as a grazing area because the production forest there is a savanna. For this reason, since 2013, those grassy fields have been used by 400 ranchers for grazing 3,500 cows.
The Rp3 billion in grants from the agriculture ministry in 2013 have been used to build a livestock health center, breeding facility, and animal pens. Pollynarius, head of the regional technical implementation unit for seedlings and livestock feed at the Southeast Sulawesi office of plants, crops and livestock, said that the grazing land there has become the pride of Bombana. "Now we no longer have something to be proud of," he said.
When that zoning plan was confirmed with Tafdil, the regent said that the sugar cane plantation and sugar factory was in line with planning. He disagreed that there were any articles which mentioned pasture land. "The location license for that sugar cane has been discussed by the regional zoning coordination team," he said. "So it is not possible that it is not in line with the zoning."
There is no mention in the Province of Southeast Sulawesi 2014-2034 Zoning Plan of any sugar cane plantations for Bombana. The sugar industry and sugar cane plantations are mentioned in Article 40, but are to be located in South Konawe and the Muna Regency. Yesna Suarni, head of Southeast Sulawesi office of plantations and horticulture, verified that there is no mention of sugar cane in Bombana's zoning plan. "The public never developed that commodity," she said. Yesna was removed from her position at the end of August.
In fact, in Tina Orima's Long-Term Forest Management Plan (RPHJP), which was set in July 2016, the location of all of the production forests were to be converted into gold mining areas. In order to facilitate Jhonlin's plans, the Tina Orima KPHP revised its RPHJP in December 2017, two months after Amran Sulaiman changed the status of sugar cane for Jhonlin from a usage block to a utilization zone. This was the case, even though the RPHJP is ordinarily revised every 10 years.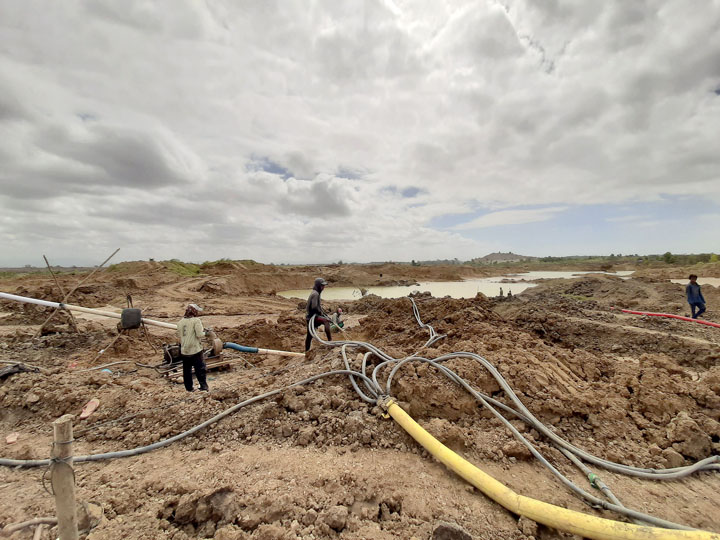 Gold mining activities near the sugar factory site in Bombana.
This change in status allowed Jhonlin to legally plant sugar cane. Rustam, chief of the Tina Orima KPHP, said that revising long-term plans is a matter for the provincial office of forestry. "The RPHJP was revised because the mining licenses of some companies are set to expire," said Sahid, head of planology at the Sulawesi Tenggara office of forestry.
Sahid's statement differs from that of Pollynarius. According to this official from the Southeast Sulawesi office of livestock, the land at the location of Jhonlin's concession is not suitable for a sugar cane plantation. It can be seen in the field that the sugar cane planted there is not growing well, due to a layer of minerals in the ground.
Jhonlin Director Arif Efendi said that initially it was difficult to plant sugar cane there because the dirt lacked nutrients. "Even grass would not grow," he said. Minster Amran Sulaiman also admitted the unsuitability of the land. However, he claimed that the land in Balanteo has been fertile since removing that mineral layer.
Even on fertile land sugar production will not meet targets in the near future. Jhonlin management calculates that with the current conditions in Bombana and the low quality of the sugar cane, sugar production will reach self-sufficiency targets in a few years. According to Arif Efendi's calculations, "The return on investment will take nine years if fully relying upon local sugar cane." However, Jhonlin's concession for growing sugar cane is only good for 10 years.
To compensate for this, said Arif, the government has promised an import quota of 600,000 tons of raw sugar for the 10 companies which are building those sugar factories. The industry ministry is currently dividing the shares for each company. "(This is) an incentive for those new sugar cane-based sugar factories," said Abdul Rochim, director-general of agro-industry.
This is being done based on Industry Minister Regulation No. 10/2017. It mentions that the import shares for seven years are for companies located outside of Java and five years for those in Java. According to Rochim, this incentive is being given to companies because setting up sugar cane plantations and sugar factories takes a long time and large costs. "The amount of the imports is the difference between the domestic consumer need for sugar and domestic production," he said.
---
Targeting Self-Sufficiency
TO the production target of an additional 1.1 million tons of white sugar annually, the agriculture ministry has created a chance for investors to develop sugar cane plantations. In Bombana, this project was awarded to Jhonlin Batu Mandiri, to manage 20,000 hectares of pasture land. Authorization was obtained quickly because Agriculture Minister Amran Sulaiman was personally involved in taking care of this process.
June 9, 2016
The block-based Long-Term Forest Management Plan of the Tina Orima Production Forest Management Unit (KPHP) in Southeast Sulawesi is approved.
July 13, 2016
A limited presidential cabinet meeting is held about Investment Road Map for Sugar, Corn, Cattle and Community Business Loans for Plantations. President Joko Widodo targets crop self-sufficiency as soon as possible.
July 25, 2016
A meeting of the agriculture minister, environment and forestry minister, and agrarian and spatial planning minister/head of the national land agency is led by the President regarding the provision of land for the food security program.
October 5, 2016
Regulation of the Environment and Forestry Minister No. 81 regarding cooperation for the use and utilization of forested areas for food security is issued. Jhonlin uses this regulation to obtain 20,000 hectares of forested land without purchasing it or securing its release.
July 4, 2017
The environment ministry invites the Jhonlin Group to present its plan to establish a plantation and ranch in Bombana.
July 13, 2017
Jhonlin Batu Mandiri requests the approval of the environment and forestry minister to cooperate in the utilization of a forested area to support food security.
August 2, 2017
A regional government cooperation coordination team in Southeast Sulawesi judges that it is feasible for Jhonlin to open a sugar business.
Gempita, an institution formed by Agriculture Minister Andi Amran Sulaiman, begins planting corn in Tina Orima. Two months later, Minister Amran officially opens the sugar cane plantation land held by Jhonlin.
August 3, 2017
A memorandum of understanding between the Tina Orima KPHP and Jhonlin Batu Mandiri regarding the utilization of forested area for food security is signed.
August 9, 2017
The environment ministry issues cooperation approval and approves the request of Jhonlin to plant sugar cane and raise cattle in a forested region.
September 11, 2017
A cooperation agreement is made between Rustam, the acting head of the Tina Orima KPHP, with Jhonlin Batu Mandiri Director Maman Gunawan. Rustam initially declines because he is still the acting head, but the head of the Bombana office of forestry provides a guarantee.
October 1, 2017
Planting of sugar cane in Bombana is begun by Minister Amran Sulaiman.
December 14, 2017
The environment and forestry ministry changes the forested block in the concession area from mining to a plantation utilization zone.
---
Investigation Team
Team Leader: Bagja Hidayat
Project Head: Erwan Hermawan
Editor: Bagja Hidayat
Writers: Erwan Hermawan, Dini Paramita
Contributors: Erwan Hermawan, Dini Paramita, Riky Ferdianto, Rosnia Fikri (Kendari)
Photography: Jati Mahatmaji
Design: Djunaedi, Ahmad Fatoni
English Editor: Luke Edward