I Chased It Down to Regencies
AMRAN SULAIMAN, AGRICULTURE MINISTER:
Edition : 10 September 2019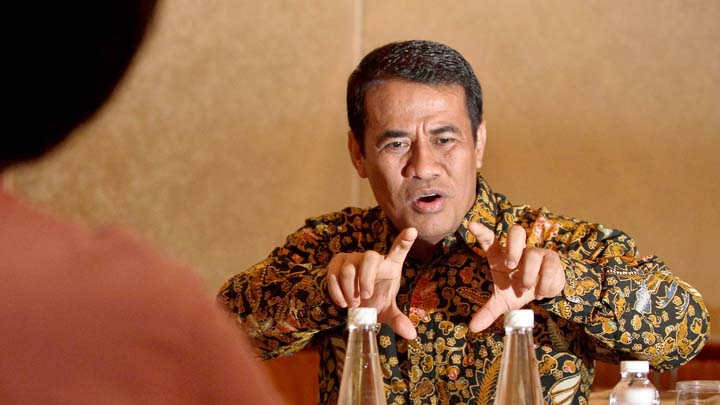 PRESIDENT Joko Widodo wants self-sufficiency in white sugar for Indonesia, stopping imports. Agriculture Minister Amran Sulaiman interprets that wish by setting a goal to be self-sufficient this year. He wants to raise white sugar production by 1.1 million ton per year out of a demand of 3.9 million tons. Today, the national production volume is only 2.17 million tons. Amran then decided to invite investors, welcoming them to build sugar cane plantations and sugar mills.
According to Amran, 300 foreign and local entrepreneurs have submitted proposals. After careful selection, 10 companies were chosen to develop sugar cane plantations throughout Indonesia. One of them is Jhonlin Batu Mandiri, a company belonging to Andi Syamsuddin Arsyad's, better known as Haji Isam, a young entrepreneur from Sulawesi. To help Jhonlin immediately obtain land clearing permits, issued by the environment and forestry ministry, Amran took matters to his own hands and supervised it directly.
During the interview, the Minister of Villages, Disadvantaged Regions, and Transmigration Eko Putro Sandjojo entered Hotel Mulia's business room. For two and a half hours, he accompanied Amran to answer all of Tempo's questions. For a number of times, he asked for his statements to be made off the record. He also asked the agriculture ministry officials who was there to leave the room. Excerpts:
Jhonlin Group has no experience in the plantation business. Why was it chosen?
It does not matter. What is important is that they have the money and they are committed. We have many sugar cane experts, but they lack money. And they cannot buy factories. By working with factories, we can use their money to get experts.
Of the 300 investors, why chose only 10?
Those who weren't elected whether did not show up or did not have Rp1.5 billion to show that they have assets. They are like "will do" companies.
How much is the bank guarantee as the investment requirement? Twenty percent?
Yes, but that is just a bank guarantee, just a statement that (the company) has money. That is all. Deal. The (environment and forestry ministry) issues (the permit), and off we go.
It is true that you helped with all the administration processes for sugar cane land permits?
I wrote a letter to the minister and said that there are 28 serious companies. I chased this down to the provincial and regional level because, if I didn't, (the plan) is dead. The government would be blamed because we accepted money but the program is not going. After a check, only 10 companies are serious. They are the ones whose permit issuances are fast-tracked.
There are information that you met with regional officials to tell them to help Jhonlin Group. You made phone calls to regency officials?
That's nothing new. I always say what the problems are, and ask that they are solved according to procedures. What would be wrong is if I call asking for money, or shares. I'm sorry, Tempo, but please stop fishing around. Don't pretend. You know who to ask, why are you asking me and the village minister?
We checked the location and found overlapping permits. We also found permits to swap lands. Can you explain that?
You're asking the wrong person. That is not my domain. When it comes to licenses, you should ask the environment and forestry ministry, as well as the regents and the governors.
Is the environment and forestry ministry not against turning forests into sugar cane plantations?
This is collective.
Sugarcane plantations are not included in provincial or district spatial plans.
That matter is off of my hands. The regulations are in the hands of the regents, provinces, governors, not me. I'm just asking "don't make it difficult."
We acquired confirmation that Jhonlin bought Sultra Utama Nikel, which is mining gold in the area. Are you not concerned if the sugar cane plantation is used as a gateway to dig up gold?
I think there is a small chance that sugar cane would be used to masquerade (gold mining), because the land is small. Is it possible to dig up trillions worth of gold there? I don't thinks so.
Aside from that, is it true that Jhonlin was given an import quota for white sugar as an incentive if the sugar cane business fails?
These 10 investors are professionals. If they get import quota, that's a different issues. Don't ask me—I have no authority over the permits.
How well do you know Haji Isam?
I know him through this investment. He was among those planning to invest.
W251bGwsIjIwMjEtMDMtMDUgMDg6NDU6MjAiXQ