The Serendipity of B.J. Habibie
B.J. Habibie (1936-2019), a humanist who laid the foundation of Indonesian democracy and taught the nation about the importance of having high goals.
Edition : 17 September 2019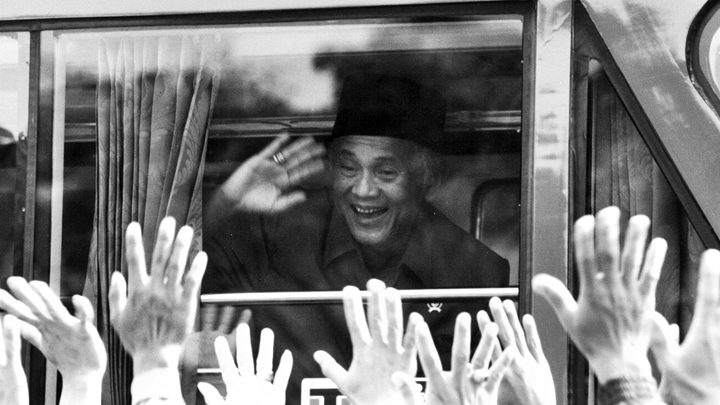 THAT night, before the May 1998 Reformasi, the Kalam Sinergi Assembly team (Masika-Indonesian Muslim Scholars Association) visited Vice President B.J. Habibie at his home. But the warm meeting resulted in nothing. The Masika team said that the student and public protests were too expansive—happening more than 400 times throughout Indonesia. Therefore, the team believed it was not wise to handle it with force. However, Habibie said the situation was not as grave as everyone else thought.
Despite the difference of opinions, the host and his guests managed to discuss civilly—Habibie being friendly and showing respect to his young guests.
Habibie's friendship with General Electric's CEO Jack Welch—history's biggest captain of industry—reflected his ties with the elites of global businesses. Always calculative in seeing the business aspects of his technology plans and actions, his calculations supported his desire to build Indonesia's aviation industry.
With an industry of that scale, workers and researchers often encountered a fortunate stroke of serendipity when working on big projects. When preparing to fly NASA's space shuttle, for example, thousands were invented. From sophisticated cooking utensils, medicines, antennas, to fire resistant costumes. All of these inventions and innovations were patented individually, and surely marketable. As an important executive in a global company, Habibie understood the legal aspects and economic values of each product.
Emerging as a 37-year-old scientist and brilliant practitioner in 1974, Habibie quickly attracted the attention of many observers. He was dubbed as advisor to Pertamina's Managing Director; and the story goes that it was Ibnu Sutowo who was tasked to persuade Habibie to return to Indonesia. Habibie's 'placement' in Pertamina was just an excuse to bring him home, and a way to put him on a payroll. That position is small compared to what he was doing in Germany—the technology deputy director of an aircraft manufacturer.
W251bGwsIjIwMjEtMDMtMDUgMDg6NDU6NTIiXQ
His political career quickly escalated, especially after 1978 when he served as Minister of Research and Technology/Head of the Technology Assessment and Application Agency. Habibie was Indonesia's first case of gaining power by using an unbreakable spell of how science and technology are crucial for the progress of a nation.
Technology, Habibie said, was Indonesia's only way to advance. Without developing technology, the trade value of Indonesian products will remain low. "A kilo of iron may sell for a thousand rupiah, but if the iron is turned into needles, the price can reach a million rupiah," Habibie used to say to emphasize the importance of added value.
No other national figures ever relentlessly promoted technology the way Habibie did. Even the public rarely heard of it despite the existence of Bandung's Institute of Technology.
Everybody of all social classes thought that as an agricultural nation, Indonesia was quite poor and thus it was impossible to compete in the so-called high tech stage.
Habibie's agenda seemed more absurd; he wants to build an aircraft factory—not a radio transistor or a rickshaw motorcycle. Economists, considered to be the people who knew better about a nation's growth, were the first to ridicule him.
Habibie's plane was sneered at as an unworthy empty dream that did not stand on Indonesia's agrarian land. Habibie's imagination was seen as a violation against the standard stages of industrial progress, which every country must follow religiously.
Habibie listened to all criticism—and kept going. He even convinced President Suharto to combine all high-tech industries in one place, so they could be easily synchronized and no redundant duplication would occur. An umbrella with 26 companies was established under the Strategic Industry Management Agency (BPIS), and we could easily guess who was considered most appropriate to helm it.
THE 'cold war' between Habibie and the economic architects of the New Order—each with their own army of supporters—lasted forever. 'Habibienomics' versus 'Widjojonomics'. Habibie's team seemed to be less articulate in defending their idea of developing technology inclusively in the contexts of national economic growth. His ideas and actions were completely new to Indonesia, and the country did not have ample precedent for it. And so, his supporters did not do a great job interpreting his ideas, and he alone could be the spokesperson.
His opposition cheered when they found out that two of Habibie's planes were traded with Thailand's sticky rice. "No country would ever buy a plane built by an agrarian country," they said, laughing.
One of the aircraft types built by IPTN (Dirgantara Indonesia) was named Tetuko—the childhood name of Java's wayang (shadow puppet) figure Gatotkaca. Habibie's foes immediately mocked that name, saying it was short for 'sing tuku ora teko-teko, sing teko ora tuku-tuku', which is Javanese for 'buyers won't come, visitors won't buy'. Habibie's CN (-235) plane was ridiculed as being short for 'Capek Nunggu' or tired of waiting.
The lack of trust of these national figures had for Habibie ran wide and deep that even Abdurrahman Wahid joined. Gus Dur wrote a 'short story' about how every plane that flies above a battlefield must be shot down—but not the CN-235, because the commander believed "it would crash on its own."
But Habibie stayed on his path with a vision he held dear. He had a strong reason for this determination: the President gave him carte blanche. He was allowed to write down any figure he needed.
Time proved that Habibie was right. Simply put, his vision to aim for exponential growth as opposed to linear had won. Ironically, that victory was not declared by Indonesia, but by Brazil, a sugar cane nation that successfully developed the Embraer industry. Today, the factory builds many types of aircraft, including fighter jets—not just small jets favored by the world's rich.
Embraer is around the same age as Dirgantara Indonesia. But Embraer's journey once again proved that an industry that managed well and consistently will experience continuous improvements and eventually produce great things. Is not that what always happens to the industries of other countries?
Up until the 1970s, Japanese cars were ridiculed as being a milk can. In those days, a car means Chrysler, Opel, Mercedes-Benz, Land Rover, Holden, Ford—even Fiat, but not Toyota, Mazda, or Nissan. But soon the world laughed at those who laughed at Japanese automobiles, and now the Chinese and the Koreans would laugh at the Japanese if the latter mock their products.
If IPTN products had received support from all stakeholder since its early days, surely they would not have been traded with Bangkok's rice. And Habibie's pupils would not have to experience brain drain—resorting implementing their knowledge in Malaysia, Middle East, America, or other countries willing to appreciate their talents, skills and dedication.
TO a delegation of senior Muslim activists who asked him to chair the Indonesian Muslims Intellectual Association (ICMI), Habibie said that he was "now 54 years old. So, don't expect big changes from me. Nobody changes at this age."
None of the delegates asked him to elaborate on the meaning of the statement. Everyone understood that it was Habibie's honest acknowledgment that he did not come from the santri (Islamic school student) community and, therefore, even if he becomes a leader of ICMI, do not expect him to be more religious or dwell deep into the Islamic ways of living for the sake of adjusting to the 'Muslim' word in ICMI's name.
After all, Habibie was a democrat who respected the aspirations of his colleagues. His science and technology or 'iptek' rhetoric, was then accompanied by 'imtak', meaning iman (faith) and takwa (piety). This was the influence of his new friend the urban Muslim scholars, whom he found to be quite fun to be around.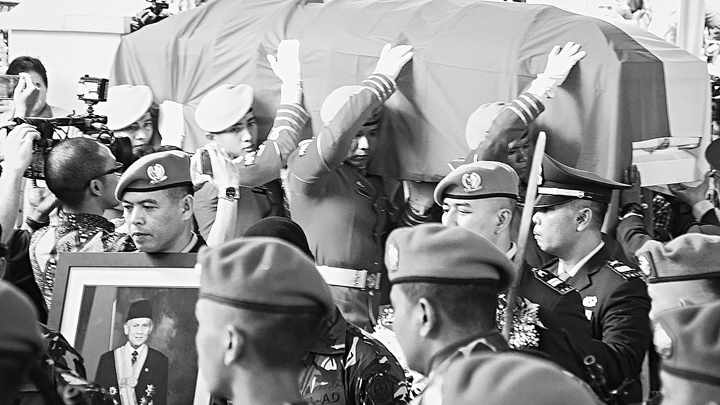 Presidential Security Detail carry the coffin of Indonesia's 3rd President, BJ Habibie, at his residence in Kuningan, Jakarta, September 12. TEMPO
Habibie understood their anxiety: pushing science and technology too much would affect faith and piety. The 'culturalists' were worried that Habibie's science and technology aggressiveness might impoverish the cultural and artistic life.
Maybe he was happy too with how the two abbreviated words sounded when spoken in one sentence. Or, perhaps, he felt that both word were equally important and relevant to Indonesia's cultural landscape.
One thing for sure is that during the last years of his life, after the passing of his beloved wife Ainun, Habibie seemed more concerned with the second than the first. Although he, halfheartedly, still tried to build the private aircraft industry in Batam, which he immediately inherited to his son.
That was an unfortunate development for a tech scientist of Habibie's genius, in an era where the public is more susceptible to the imtak appeal that was in oversupply. Indonesia does not need a call for religious morals from a scientist-technologist whose inspirations were needed to develop the nation's science and technology. The oversupply of imtak must be reduced to a reasonable level.
Tonight, I will focus on remembering Habibie as an important layer of foundation that built Indonesia's democracy. He embraced press freedom, eliminated subversive laws, and released political prisoners. He paved ways for subsequent presidents to form new institutions of democracy. He was a humanist who was not concerned with prestige and other exterior personas. With so many important positions he had served for decades, plus the fruit of wealth from his successful businesses, he never forgot his basic status as a human being.
Of course, we must also thank Mr. Habibie, a leader who was meritorious in instilling the importance of science and technology into the nation's consciousness.
In his own way, innocence, honesty, and unpretentious inspirations, he taught many people about the importance of setting high goals in life. He knew, and now we know, that there is no harm in having goals and failing to reach them. What is dangerous is to set the bar low and accomplishing just that.
HAMID BASYAIB, CULTURAL AND POLITICAL OBSERVER