Mandrake
IT turns out that Machivelli—famous for his theory about power—also wrote comedy.
Edition : 23 September 2019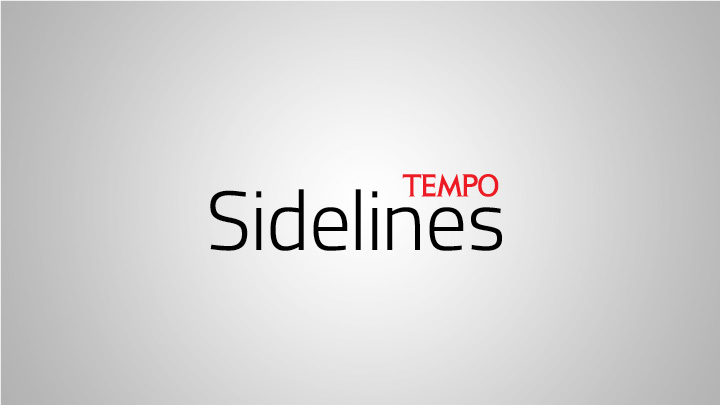 But actually, that is not surprising
Comedy has a light tread. In the process of making fun on stage, roles and words leap freely from one position to the next. What wins is not clear. We do not consider the point of the story to be important. We are lured by each scene and improvisation that entertains, and we laugh at that moment as though for the very first time—as when we watch Susilo on stage with Teater Gandrik or Charlie Chaplin in his film skits. We do not ask what it is for, where it is going, or what is the moral point being made.
There are new scenes, new characters, new dialogue, new steps, direct or off the mark—but what is the basis?
W251bGwsIjIwMjEtMDMtMDUgMDg6MjA6MTQiXQ
It seems as though Machiavelli created Mandragola (The Mandrake) about that lightness.
It is said that following his exile from the political arena of Florence in 1512, Machiavelli kept to himself and wrote. In 1513 the Latin edition of his famous book, Il Principe (The Prince) was published, with the title De Principatibus.
Machiavelli wrote Mandragola after Il Principe, around 1518. This five-act comedy tells of events that occur over 24 hours. Callimaco, a handsome and clever young man returns from Paris and falls madly in love with Lucrezia. However, the object of his passion is the wife of Messer Nicia, a middle-aged judge who is extremely rich and well-respected. Callimaco does not know what to do. He is unable to seduce the pious Lucrezia who is afraid of sinning and under the care of Friar Timoteo.
But there is a ray of hope. Nicia is desperate to have a child, but for years Lucrezia has not managed to get pregnant.
A sly marriage broker, Ligurio, comes to Callimaco's aid. He finds a way: Callimaco must pretend to be a doctor who can make a special potion using mandrake (mandragola) that can quickly make a woman fertile. There is however, a risk: the man who sleeps with her will die after a week.
Nicia, the rather stupid judge, is interested. But then he thinks: Lucrezia will probably agree to drink the potion, but he, her husband, does not want to die one week after making love to her. It is suggested that he could find another man to take his place. But Lucrezia, who piously prays to be given a child, will never agree to adultery.
Ligurio thinks of another plan: Friar Timoteo can be asked to make a ruling that allows sex outside of marriage—just in this particular case. They hope this will put Lucrezia at ease. And to make this ruling, Timoteo (who Machiavelli calls the 'corrupt friar') must be paid, of course.
Nicia is prepared to pay the bribe. But where can they find a man who will be willing to make love to Lucrezia and then die? Ligurios's solution: that night he will capture a wandering musician and force him to make love with the judge's wife.
It is of course Callimaco who pretends to be captured, and the story ends happily. Callimaco succeeds in sleeping with the woman who is the object of his desire, Nicia is happy because he is sure his wife will get pregnant, and Lucrezia can enjoy her adulterous union at any time with the blessing of the Church…
In short, the deceit is successful, and Machiavelli composes a poem following Act Three:
suave è l'inganno
al fin condotto imaginato e caro,
ch'altrui spoglia d'affanno,
e dolce face ogni gustato amaro
So mellow is deceit
when carried through to its desired end, 
that it relieves all anguish
and makes all taste of bitterness now sweet.
'The end'—that is the worth of an action. A good end eliminates any evil in obtaining it. The end justifies the means… We recall that Machiavelli is often attributed as the one who forumlated this harsh maxim, and the comedy Mandragola affirms the political theory of Il Principe. Rulers are successful in their field—namely in affirming power—because 'so mellow is deceit'.
Machiavelli was attacked. The Church even banned his books because it considered that they divorced political power from moral good and did not recognize that religion can be the source of good behavior. In Machiavelli's Mandragola, friar Timoteo is easily bribed, and in Il Principe we find advice like this: "…a prince who wants to keep his authority must learn how not to be good."
But was Machiavelli wrong? Former official and diplomat that he was, actually he was merely sumarizing his own experience. He saw the political game as a nimble martial art. There was no spiritual connection with basic values therein. There was no spirit. Rulers create 'spirit' that is not unique, is not consistent, and that changes according to calculations of authority.
Althusser, the famous Marxist, praised Machiavelli because he did not view history as the realization of ideas that are unique and lasting. According to Althusser, it was not that Machiavelli did not know morals, but rather that he was a 'materialist', sensitive to the random nature of change, aware that the processes of the material world have no direction. Machiavelli: an aleatory materialist.
Maybe that is why we find him disturbing. People are afraid to admit that history is a million throws of the die, the fall of which can not be predetermined.
But what would happen if history were not like comedy, but rather a battle film where the heroes never slip up, are never stupid, and always stand resolute taking every blow?
Goenawan Mohamad