Wahyu Muryadi Counters Complaint
IN a complaint letter by the Agriculture Ministry published in Tempo's September 16-22, 2019, edition, it says that I initiated and facilitated – including providing helicopters - the inaugural construction of sugar factory PT Pratama Nusantara Sakti (PNS) in the Ogan Komering Ilir sub-regency in South Sumatra on May 22, 2017.
Edition : Monday, September 23, 2019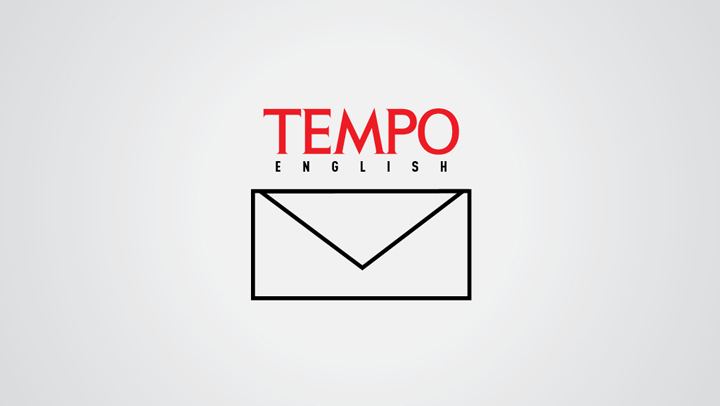 The phrase "initiated and facilitated" is completely inaccurate. I merely introduced my old friend Yohanes Hardian Widjanarko, the company's commissioner, to Agriculture Minister Amran Sulaiman. PT PNS was developing a project to increase national sugar production, and thus deserves the government's support. It is the first sugar plantation in Indonesia which makes incremental use of swamp land in an area of 30,000 hectares.
I have no knowledge of the technical implementation of the event, which was directly managed by both parties. I came at the invitation of the minister and Mr. Yohanes Hardian to cover the event as a professional journalist.
Wahyu Muryadi
Bekasi, West Java
---
PBB Payment Difficulties
OF the 33 companies leaving China due to the impact of the United States-China trade war, 23 have entered Vietnam and 10 gone into Cambodia, Thailand and Malaysia. None of the firms have chosen Indonesia among others because Indonesia is risky, complicated and has a long licensing process. For me, this is unsurprising. Even for the payment of tax on land and buildings (PBB) alone I have to face incredible troubles. At least there are five difficulties:
The payment of PBB for my house in Cisarua, Bogor regency, can only be made via two banks: BRI and BJB. It is very clear that there is the practice of duopoly here. Is it to protect BJB? This is not the healthy way of protecting a bank! The Business Competition Supervisory Commission should examine the duopoly practice that evidently constitutes unhealthy competition with other banks, such as BCA. And this clearly causes trouble to taxpayers.

Not all branches of the two banks can receive PBB payments in Bogor regency. At BRI Taman Galaxy, Bekasi, I cannot pay PBB. Where is the era-4.0 information technology being promoted by Joko Widodo?

At BJB Taman Galaxy, I arrived at a few minutes past 12.00. It turned out there was no banking service because of its 12.00-13.00 break hour. I had to wait along with several other customers. Why is there still no banking service at 12.00-13.00 even today? For years, such global banks as Citibank and HSBC have continued to serve their customers at 12.00-13.00. Many customers even utilize the noon break to make banking transactions. How to enter the global market while even banking service still applies the lunch break system? It was just the banking style of the 1970s.

The payment of PBB has to be made in cash. At BJB Taman Galaxy and BRI Summarecon, Bekasi, I was told that only cash payments were permitted with no credit cards accepted. Are cash payments still required even today? Does our banking system remain in the era 1.0?

I cannot draw cash from the two banks. Actually my debit/ATM card has Cirrus and Prima networks. Where is the interbank interconnection in the era 4.0? I have to walk as far as hundreds of meters to a BCA automated teller machine to collect cash worth about Rp5 million to pay PBB.
In this country it is awfully difficult only to pay tax to execute citizens' duty, let alone secure citizens' rights. Pak Joko Widodo should not speak in a high note about the vision of Indonesia and the industrial era 4.0. A lot of homework is yet to be done due to the disorderly conditions in fundamental affairs.
Hadi Satyagraha
Petamburan, Jakarta
W251bGwsIjIwMjEtMDUtMTEgMTg6MDg6NTYiXQ