Don't Do What's Best for Jakarta Only
Bambang Darmono, Former chief, Papua and West Papua Development Acceleration Unit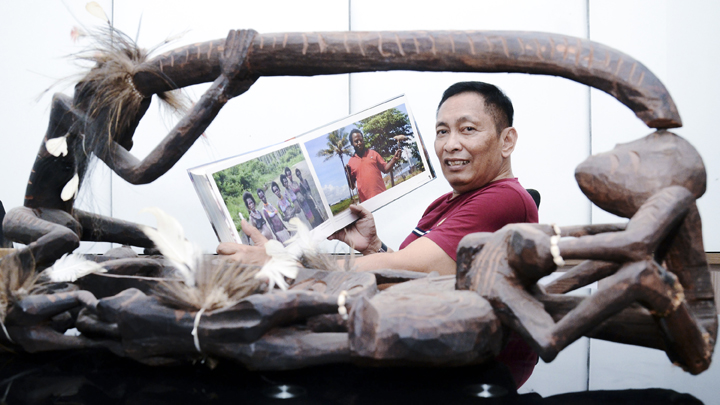 PAPUA is always on the back of Bambang Darmono's mind even after five years since his retirement as the chief of the Papua and West Papua Development Acceleration Unit (UP4B)—the same time the agency was shut down. He still likes to go to Timika and Jayapura accompanying his wife who gives political education via the Institute for Democracy, Security and Strategic Studies.
News of the Land of the Birds of Paradise neither ceased to follow Bambang, 67. On September 5, the retired three-star general received a message supposedly coming from Purom Okiman Wenda, a West Papuan independence leader, demanding all migrants to leave Papua. Those who fail to comply would face execution.
Having received the warning, Bambang was quite certain that the security forces were also aware of it and that they would be prepared to anticipate the worst. Alas, the unrest broke out in Wamena on September 23 killing 31 people and displacing around 5,000 in the capital city located in the Jayawijaya regency. "If the government did nothing to anticipate albeit the indications, that is negligence," Bambang said in a special interview with Tempo.
Bambang pinpointed the political status as the root of the Papua conflict. From his visits and dialogs with 200 Papuan tribes, he deduced that many Papuans felt they were not part of Indonesia. "The racism issue was just a trigger," he asserted.
On Tuesday, October 1, Bambang sat down with Tempo's Reza Maulana and Aisha Shaidra at his Jagakarsa home in South Jakarta. For over three hours, he ceaselessly talked about Papua. He also expressed his disappointment at the government, both under Susilo Bambang Yudhoyono and Joko Widodo, whom he felt were not serious enough in handling Papua.
W251bGwsIjIwMjEtMDMtMDUgMDg6NDk6MTciXQ
What is the root of the Papua conflict?
It's about their political status. That's what every Papuan expressed since I first went there in 2010. That has always been a hard issue. I also read a famous book by Rev. Socrates Sofyan Yoman which made inflammatory suggestions that Papua is not part of Indonesia and that Papua was coerced into annexation to Indonesia partly for the interest of the United States. So, what should be done first and foremost is to straighten out historical facts.
What is the actual history of Papua's integration into Indonesia like?
If we want to talk about Papua, we have to understand this (integration) issue. Papuan people believe that the Dutch had given them independence on December 1, 1961. Then Bung Karno issued Trikora on December 19, 1961, which, they felt, had robbed them of their independence. In 1962, via the New York agreement, the United Nations formed UN Temporary Executive Authority (UNTEA) which received Western Irian from the Dutch and handed over to Indonesia in 1963. This status was strengthened by Papuan People's Free Choice (Pepera) on August 2, 1969.
Many sides questioned the Pepera result because it was not really a public voting as the votes were taken from 1,035 people selected by the Indonesian army…
They can call it a fraud all they like but I've read all the UN resolutions relating to the New York Agreement. There is no mention of 'one man, one vote'. The word they used is 'consultation'. Let alone in the old times, even now, we still can not apply 'one man, one vote' in many regions in the central mountains. That's nonsense.
The Papua and West Papua development acceleration unit did not make any attempt to rectify the history?
On February 1, 2012, Pak President (Susilo Bambang Yudhoyono) invited several Papuan pastors to the Palace. In the morning before the meeting, President summoned me and said, "Mate, let's stop this. Let's not meddle with the history. It's already over, right?" I didn't know why he said it.
How far did the racism issue influence the Papua conflict?
It was just a trigger. There were forces behind it. (Presidential Chief of Staff) Moeldoko's statement that Benny Wenda was the mastermind behind the chaos in Papua and West Papua came late. I've said it many times in the past. The only aspect of the Papua issue that can be internationalized is the human rights aspect. It became a topic at the UN in 2018. How come we have no concern for such an issue?
(On September 2, at the Presidential Palace, Presidential Chief of Staff Moeldoko said that United Liberation Movement for West Papua (ULMWP) leader Benny Wenda was involved in riots in Papua and West Papua via diplomacy and spreading false information.)
Who do you suspect were the brains behind the incident?
There are two instruments involved. Inside, there's the West Papua National Committee and from outside is the ULMWP. These movements are connected by common interests. One cannot possibly expect to have no information flowing between them. On September 5, I received a statement purportedly on behalf of Purom Okiman Wenda, leader of the national liberation army of the Papua Independence Organization. In essence, they asked migrants to leave Papua or they would be shot. Purom is Benny's relative.
It could be a hoax.
It could be. But, hoax or not, it should still be treated professionally, shouldn't it? It was a threat to human lives. From the letter, we could also sense hate and threat to migrants as what happened later in Wamena. If the indications were there and the government did not do anything to anticipate them, this is a form of negligence. The state was absent in Papua.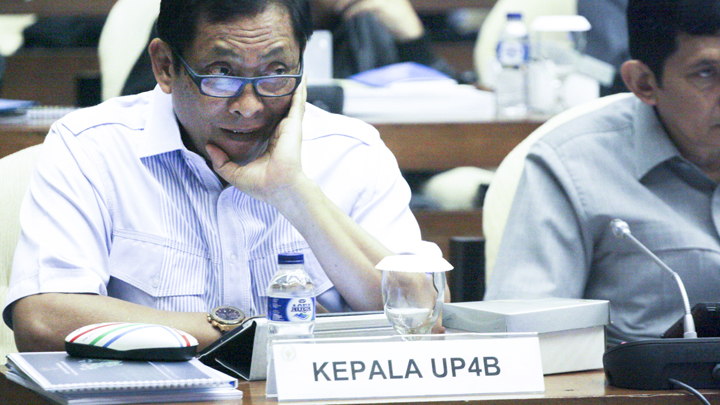 Papua and West Papua Development Acceleration Unit Chief Lt. Gen. (ret) Bambang Darmono, at the MPR/DPR/DPD Building, Jakarta, March 2014. TEMPO/STR/Seto Wardhana
Isn't referendum what Benny Wenda demanded?
He can demand a referendum until he has foam in his mouth but no state would hear of it. What legality does he has? For me, the 1969 Pepera was the closing chapter of Indonesia's decolonization process which actually should have taken place on August 17, 1945. Legally, the uti possidetis juris principle of the international law says that newly independent states would retain their borders that they had before the colonization. Indonesia used to be called the Dutch East Indies. There is a clear map drawn by the Dutch although Papuans may reject it. The 1921 Dutch constitution said that the Dutch's territory encompassed the Dutch kingdom in Europe as well as the Dutch East Indies, Suriname and several Caribbean islands. It means, according to the international law, Indonesia is entitled to inherit the Dutch East Indies. That's why Benny et el tried to use the human rights issue to get international attention. International intervention becomes inevitable when human rights violations occur resulting in humanitarian tragedies.
The resistance movement then find the social gap…
I see that the gap is too wide. Migrants came to Papua with work skills, but meanwhile our Papuan brothers and sisters do not have the same capability. People in most parts of Indonesia manage the nature while the majority of Papuans still depend on it. They wake up, go to fish in the river and eat. Now their rivers are polluted due to exploitation. Clearly, they are angry. They have the philosophy of 'the land is the mother and the river is her breast milk'. That's why they take good care of the nature. Jakarta must have that understanding. Otherwise, it will be useless to build a thousand infrastructure facilities.
Including the Trans-Papua Highway?
I'm one of those who pretend not to see that road on my trips to Papua. What they need are roads on the mountains. Look at New Zealand. There are no highways but only narrow roads that connect towns. They are great examples for Papua given the equally small populations.
Why must they be small?
Because that's all they need. For instance, on the Jayawijaya mountains which now is divided into 13 regencies: Puncak Jaya, Oksibil, Yahukimo, Nduga, and so on. The regency capitals are now new economic hubs and they need to be connected, don't they? That's why the UP4B built connecting roads. They don't have to be grand but enough with hardening up the dirt road. I enlisted the help of army engineers and the locals. That's why everything was fine that time. When we wrapped up in 2014, almost all towns had been connected except Nduga because there was no bridge at the area where the recent tragedy occurred (the murder of 19 workers building a bridge as part of the Trans-Papua highway, on December 2, 2018).
Wouldn't a national highway drive the economy faster?
Who's going to use it? In the end, Papuan people will say that it is built to steal their natural resources. Another allegation that will inevitably arise is that the road will be used for mobilizing troops. Jakarta always builds what Jakarta wants, not what Papua wants.
President Jokowi won by a landslide in Papua and West Papua in the two elections. Can the electability factor serve as the model to ease the conflict?
It doesn't matter how he won. He will not be heard. The public like him but not to hear his appeals. The success in the general election cannot be separated from the political elite's influence. In the regions where the public still look up to their leaders, the latter's speech is the determining factor. However, there is another more powerful factor that brought victory to Jokowi in Papua: Papua people's dislike of Prabowo. When Jokowi first campaigned there in 2014, I told him that he had easily secured 70 percent votes because of the people's sentiments towards Prabowo.
Because of his military background?
Logically speaking, yes. Prabowo was stationed in Papua for quite long. He never went back after he was no longer with the army. There are problems but I don't want to go in there. I only requested Pak Jokowi, "If you are elected, please understand the Papuan people."
Does he understand Papua?
Personally, yes, but from the policy aspect, some of them failed to deal with the problems. Because Pak Jokowi only look at the problems from the economic aspect. He wants to build this, build that and lately he wants to bring in Chinese investors. That's not what Papuan people want. They want the political status.
---
Papuan people are very vocal. I just let everyone talk and listen. After they were done talking, I asked, "Do you want me to answer?"

If they said no, then I stopped. I met most of the 252 tribes. From there, I understood that Papuans felt they didn't belong to Indonesia.
---
How about the one-fuel-price policy?
One of the biggest problems in Papua is the exorbitant fuel prices. When I was there, the Premium fuel cost Rp75,000 per liter. After a week of overcast weather, it would soar up to Rp100,000. Therefore, I really appreciated it when President Jokowi enforced the policy.
Did the previous government have a better understanding of Papua?
Pak Yudhoyono's policies were better than Pak Jokowi's. The former had a clear concept to tackle the root of the problem. He tried via the Presidential Instruction No. 5/2007 regarding the accelerated development of Papua and West Papua although it failed. It was called New Deal Policy for Papua. The essence is to create integrated development replacing the security approach with welfare approach. But again that's not what Papuans wanted. They wanted political resolution before talking about anything else.
What does the clear concept look like?
After he was re-elected in 2009, the evaluation found that the Presidential Instruction No. 5/2007 did not go well due to the lack of oversight and control. I learned of it only after I was in Papua. People from Jakarta came and did not go beyond Jayapura or Manokwari hotels, called department heads, asked for reports and everything was done. But in reality, nothing was completed. Pak Yudhoyono then issued the President Regulation No. 65/2011 on the accelerated development of Papua and West Papua as well as the Presidential Regulation No. 66/2011 on the accelerated development of Papua and West Papua unit. We were really on the ground. Having learned from the previous failure, I never relied on the data from the central because they don't reflect the reality. We work based on the reality.
Did you start working in 2012?
Yes. The presidential regulations came out only at the end of 2011. We used the socio-political-cultural and the economic approaches simultaneously. We applied the first approach by building constructive communication to find the root of the problems. Almost every week, I met with tribal people in Papua's far-flung areas. Papuan people are very vocal. I just let everyone talk and listen. After they were done talking, I asked, "Do you want me to answer?" If they said no, then I stopped. I met most of the 252 tribes. From there, I understood that Papuans felt they didn't belong to Indonesia.
Why wasn't the UP4B continued?
Pak Yudhoyono said that the term of the UP4B ended during his term of office. There, I saw his half-heartedness although conceptually he made the right move. If he felt the unit did well, he should not have axed it. He could have handed it over to the next administration.
(Andi Widjajanto, Cabinet Secretary for 2014-2015, said that the government did not extend the term of the UP4B because it did not want ad hoc units. UP4B's functions were integrated into ministries and institutions.)
You've once suggested to establish a ministry to handle Papua. On what ground?
Why did the UP4B understand Papua? Because it could dedicate its attention to the issue. We need to focus in order to find the right point and format to handle it. I have to say that currently the government is casually handling it as a side issue only. While I was in Papua for three years, I had nothing else on my mind but Papua. Except the Manchester United live matches that I occasionally watched, (laughs)…
You did not watch Persipura Jayapura?
(Chuckles)…It is obligatory for everyone in Papua to watch Persipura. So I did although not because I was such a fan but more to express empathy.
Is it not sufficient to take care of Papua through a unit like the UP4B?
It was hard to coordinate with ministers.
What is your advice on ending the conflict in Papua?
Whenever we talk about Papua, please understand their way of thinking where they still depend on the nature. We have to get into their mind. Then we have to understand their version of history that does not recognize Papua's annexation to the Unitary State of the Republic of Indonesia. The historical discrepancies need to be harmonized first. Only then can we discuss development. A good way to develop Papua is by opening access to human rights. When I speak human rights, it's not about violence, but about the most basic right—the right to live. Don't just create something without ensuring access to life for the Papuan people. Papua cannot be developed in the same way Jakarta is developed. I was disappointed to see a mall built in Papua. Only migrants were frequenting the place. It only widened the gap further.
---
Place and date of birth: Blitar, East Java, May 4, 1952
Rank: Lt. Gen. (ret)
Education: Armed Forces Academy (1974), Army Command School (1991), Joint Service Staff College, Australia (1997), International Humanitarian and Human Rights Law, San Remo, Italy (1999)
Career: Commander in Chief, Aceh Military Operation (2003-2004), Secretary-General, National Defense Council (2008-2010), Chief, UP4B (2011-2014)
Awards: Bintang Mahaputra Pratama