Politicians
A bus rolled into a ravine near an isolated village. All the passengers were killed. The locals came to help. A few hours later they managed to carry the bodies one by one to be laid out at the local hall. They recognized the faces of those bodies: three members of parliament, and two party figures.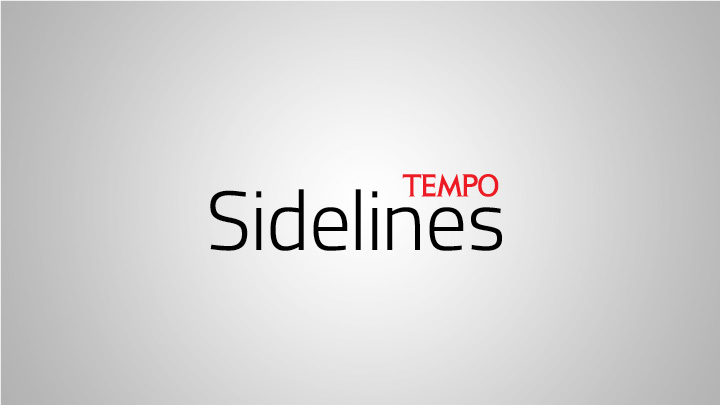 The next morning the police made inquiries. "When you found the victims, were they all dead?"
One of the villagers replied: "Well, they said they were not dead yet, Sir. But they were politicians, after all."
THERE are many jokes about politicians, many of them harsh. This might be unfair (not all politicians are loathsome), but might also be true. What is clear is that these jokes do not come out of nowhere. In joke after joke we find traces of unpleasant experiences.
In Indonesia, as seen in a survey of public opinion in Kompas, September 2019, more than 66 percent of respondents said they feel that members of parliament do not represent them. According to 62 percent, the image of parliament as an institution is bad. In Australia, a survey shows that only four percent of citizens think that politicians are trustworthy—or more precisely 'almost always' trustworthy.
In Europe and America, people who no longer believe in parties and parliament have created movements. The Movimento 5 Stelle in Italy, for example, which started out as a joke opposing partitocrazia ('party-cracy'), was welcomed. The M5S does not want to be called 'a party' but has participated in various elections. And won. In many places people consider politicians to be the same as used-car sellers—offering something of dubious quality using shrill loud speakers.
Without trust in politicians—the primary figures representing the voice of the people—the system of democracy is fragile. Over the last two or three years, all kinds of gloomy titles written by experts have appeared on the shelves: Democracy in Crisis by Roland Rich (2017), Democracy and its Crisis by A.C. Grayling (2018), Democracy in Crisis, by Boris Vormann and Christian Lammert (2019), The People vs. Democracy by Yascha Mounk (2018)...
Of course, as the classic argument goes, there is no better alternative. The lack of trust in politicians in democracy is no different to the lack of trust towards political leaders that can arise in any system. Monarchs are deposed, caliphs are murdered, dictators are undermined. In Africa there is a more subtle opposition: as the saying goes, when leaders go past, people bow—and fart. In China, there was once the most terrifying explosion of crisis in trust: in the 'Cultural Revolution' of the 1960s, millions of young people answered Mao Zedong's call to crush the leaders of the Communist Party—a call uttered by the founder of that very same party, who had believed that the Communist Party was the bearer of the voice of the workers and peasants.
Sheila Benhabib has called this crisis "a tragic gap between the constituent power and instituted democracy." The word 'tragic' refers to something negative, also something that is like destiny.
It is said that in Greece, where democracy was born, Socrates three millennia ago opposed 'sovereignty of the people' because the demos could not be trusted to hold the reins of power. I think Socrates was wrong. What cannot be trusted is not the 'demos' but rather the 'cracy': institutions established with the assumption that an order is better than 'without-order' or anarchy.
The order with which we are familiar in democracy is the system of representation. In Indonesian, the word for representation is 'perwakilan'. The word 'wakil' also means 'replacement', one who is assumed to be capable of doing what the one being replaced should do. The wakil is present through an absence. It is not a duplicate. It has its own world and dynamics.
So separation with those who are 'replaced' is actually normal—but just unacknowledged. In English, the word is 'representative', from 're' and 'present', and this can be misleading. 'Presence', as an event, cannot be repeated (particularly by someone else) in another time. There is no representation without transformation. Moreover, in the future, when norms change, the people change.
'The people' must indeed always be seen as "the people who have not yet arrived." This word needs constant scrutiny. Benedict Anderson saw 'nation' as 'an imagined community'; I see 'the people' (rakyat) in the same way. In an essay about politics, Deleuze referred to the positive 'fabulation' in the state of the absence of the people, le peuple manque.
In other words, 'the people' is always forming itself, in different contexts, not out of nowhere, and not merely as an object.
But every 'order' always contains 'without-order'. Democracy always contains elements of anarchy.
Anarchy does not always mean running amok. It can also appear like the goro-goro in stylish and orderly wayang kulit: as rude mocking, as unpredictable pranks.
GOENAWAN MOHAMAD
W251bGwsIjIwMjEtMDMtMDUgMDc6Mzg6MDEiXQ