Al-Sisi's Holy Friday
Abdul Fattah al-Sisi came to power after a coupe that toppled President Muhammad Mursi, riding on the waves of anti-Islamic sentiments.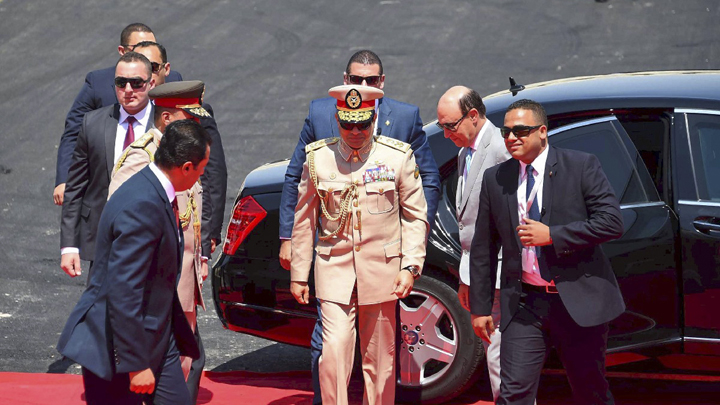 SINCE anti-government protests erupted in Tahrir Square and surrounding areas in the past two weeks, Zaky al-Rasyid steered clear from downtown Cairo. The Indonesian student, who has been living in Egypt since 2012, listened to the Indonesian Embassy in Cairo' advice to stay at home during the weekends, and go nowhere near the demonstration site. "Every time I go outside, I carry my passport and student identification card," Zaky told Tempo on Wednesday, October 2.
The 26-year-old student majoring in ushul fiqh at Al-Azhar University said that the waves of protests usually happen on weekends, from Thursday afternoon until after Friday prayers. The protests are relatively in order and do not disrupt residents' activities. "By Saturday, there is usually no more commotion," he said. His residence in District 10, Nasr City, east of Cairo, is fairly safe as it is located 15 kilometers from Tahrir.
Zaky said the anti-government demonstrations were met with opposition rallies since the second week. Those who opposed President Abdul Fattah al-Sisi rallied in the city center and Tahrir Square, which was the center of the Arab Spring revolution that ousted President Husni Mubarak in 2011. The government supporters, fewer in number, focused on Salah Salim Road, about four kilometers from Tahrir.
Egypt has been rocked by anti-government protests since September 20, following the testimony of Mohamed Ali, a military contractor and actor who now lives in Spain, bringing his family with him. Through a series of videos uploaded online, Ali revealed allegations of widespread corruption within al-Sisi's top circles and military regimes, whilst Egyptians face economic hardships. Ali accused al-Sisi of spending millions dollars of public money to build castles, villas and hotels.
In one of his videos, Ali, who worked with the military for 15 years, called one million people to take to the streets—marching every Friday to demand for the general who has been ruling since 2013 to resign.
W251bGwsIjIwMjEtMDMtMDUgMDg6NDY6NTIiXQ
"Your time is up," Ali told al-Sisi in the video. "Your last time with the people of Egypt is Friday." Like gasoline ignited by fire, Ali's video quickly went viral. Thousands of Egyptians who watched it marched to the streets of Cairo and other cities.
Security forces responded to the demonstrations with a crackdown. In the past two weeks, police have arrested thousands, including lawyers, political activists, journalists, and human rights activists. One of them is famous blogger Alaa Abdel Fattah. Many of those who were arrested are accused of being part of the Al-Ikhwan al-Muslimun, an Islamic-based political movement also known as the Muslim Brotherhood, which was banned by the al-Sisi regime in 2014.
Cairo-based journalist Eduard Cousin said that the repressive actions were quite effective in curbing the people's movement. He predicted that the protests would not continue for a while, except for a few small rallies outside Cairo and in rural Egypt.
"The police are guarding areas around downtown Cairo more intensively," he told Tempo. "We might see more arrests and increasingly violent security restrictions."
Al-Sisi accuses Mohamed Ali of spreading lies and slander and reprimanding Egyptians for watching his videos. He only arrived in Cairo on September 27, five days after visiting New York to attend the United Nations General Assembly and meet with his main ally, President Donald Trump. "As long as Islamic politics seek to gain power in our country, we will never achieve stability in the region," he said.
Returning from New York, al-Sisi wrote on his Facebook account that the battle against terrorism is not over. He asked Egyptians to focus on eradicating the 'cancer of terrorism' that is eating the country from the inside. "We must continue to fight and with all our strength, God willing, (we) will win. Thanks to the strong Egyptian forces, who continue to thwart the evil ideology," he wrote.
Abdul Fattah al-Sisi has been the de facto ruler of Egypt since July 2013, after a coup against President Muhammad Mursi. Al-Sisi, who at the time was the minister of defense, deposed Mursi following a wave of protests against Mursi and the organization he leads, Muslim Brotherhood, for enforcing Islamic sharia law, failing to reform the military, and mismanaging the economy. The situation at that time, according to Zaky al-Rasyid, was more tense and gripping than today. Many of Mursi's supporters turned against him. "The government had to resort to imposing a curfew," Zaky said.
Mursi and his colleagues were arrested, and the Muslim Brotherhood was declared a terrorist organization. Mursi died on June 17 after passing out during his trial in Cairo, where he was charged with espionage, one of a series of indictments against him. Doctors said Mursi died of a heart attack, but Sarah Leah Whitson, Human Rights Watch director for Middle East and North Africa said that Mursi died "after years of government torture."
Al-Sisi is one of the 14 children of a shopkeeper working at the Khan al-Khalili tourist district in Cairo. His father married twice. His mother is the second wife. He grew up in a conservative environment where all boys and girls must learn the Qur'an. Al-Sisi married his cousin, Entissar Amer, after graduating from the Egyptian Military Academy in 1977, at the age of 23.
Since early on, al-Sisi opted for the military route, which was the best way to tread the social ladder in Egypt. Throughout his career in the military, he only joined one battle, which was when Egypt—under Husni Mubarak's leadership—joined the US military coalition to liberate Kuwait from Iraq's invasion in 1991. For several days he took part in ground attacks to drive out Saddam Hussein's forces.
Al-Sisi's career sped up when he became the protégé of General Farid el-Tohamy, the director of military intelligence. He then became chief of the Administrative Supervisory Agency, a feared organization for its work against corruption.
El-Tohamy carefully oversaw al-Sisi's career when he was a commander of the mechanical infantry division before helming the northern military zone. Slowly but surely, al-Sisi reached the position Tohamy once held, as director of military intelligence, in 2010.
When the Arab Springs shook Egypt and overthrew Mubarak, al-Sisi and Tohamy faced different fates. Mursi discharged Tohamy after accusing him of hiding evidence in the corruption trial of Mubarak and his cronies. Meanwhile, al-Sisi gained full trust from Mursi and secured a seat as minister of defense.
Al-Sisi then stole the main stage in Egyptian politics in the summer of 2013, after the tamarrud (rebellion) movement sparked—demanding Mursi's replacement through general elections. Anti-Mursi protests continued to escalate and several demonstrators urged al-Sisi to overthrow Mursi. On July 1, al-Sisi responded by giving Mursi an ultimatum to resolve the crisis within 48 hours or face military intervention. Mursi offered negotiations, but refuses to back down or approve the general election. This lead to a military overthrow, after which Mursi was detained.
Since coming to power, al-Sisi and his supporting generals have always been firm in responding to demonstrations. Six years ago, security forces massacred thousands, mostly Al-Ikhwan al-Muslimun supporters, who protested against the coup that toppled Mursi—the first Egyptian president who was democratically elected in 2012 as a result of the people's movement that ended Mubarak's 30 years of dictatorship. Since then, according to Human Rights Watch, the al-Sisi regime has jailed around 60,000 political prisoners, an accusation that al-Sisi has always denied.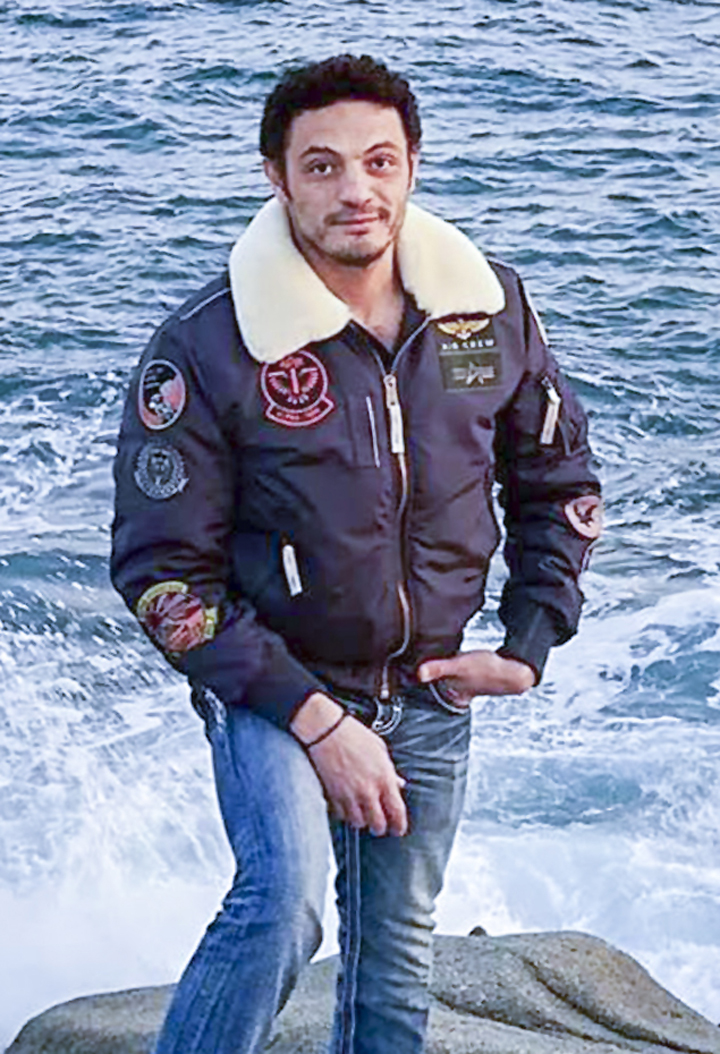 Mohamed Ali. REUTERS/The Egyptian Presidency/Handout via Reuters
To date, there has been no room for tolerance for the opposition. Hussein Baoumi, an Egyptian Amnesty International campaigner based in Tunisia, said that in the past two weeks at least 2,806 individuals have been arrested in relation to the protests. "This is the largest wave of arrests since President al-Sisi formally took power in 2014," he told Tempo on Wednesday, October 2. If the case is brought to trial, at least 2,268 people will face charges, making it the biggest protest related-case in the history of Egypt.
Baoumi said that the al-Sisi's regime keeps bringing back the 'ghost' of the Muslim Brotherhood as an excuse to silence its critics. "They have been accusing all opposition, and even independent media and human rights organizations, of either being 'Islamists' or supporting 'Islamists'," he said. However, when looking at the composition of detainees in Egypt since al-Sisi came to power, that excuse is very much untrue.
Baoumi said that many of the detainees are simply apolitical and non-Muslims. Many of the politicians arrested are leftists and liberals who have been persecuted by the Muslim Brotherhood during their brief rule.
Another strategy used by the al-Sisi regime is accusing opponents with 'terrorism'. Anyone could be charged with terrorism, including women who speak out against sexual harassment, football fans, supporters of former president Hosni Mubarak, artists, journalists, lawyers, human rights defenders, politicians, former military leaders, presidential candidates and even people who were randomly arrested.
"President al-Sisi has been trying to paint everyone who opposes him as Islamist opposition," Baoumi said, so that the international community would let him get away with the crackdowns.
MAHARDIKA SATRIA HADI (AL MONITOR, THE GUARDIAN, MIDDLE EAST EYE)