Shock
We need shock once in a while.
Edition : Tuesday, October 15, 2019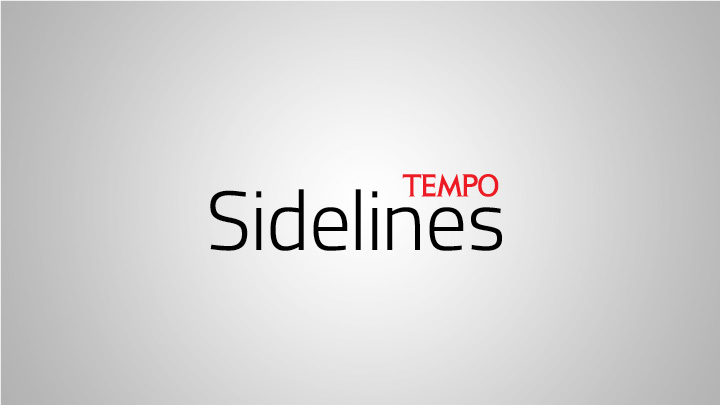 A YOUNG woman, standing among hundreds of demonstrators, wearing loose black sunglasses and an attitude of indifference but apparent conviction, holds up a large poster: "My crotch is not state property." A pair of youg girls wearing hiljabs carry a different poster: "Something is standing erect. Not justice. Cocks." Another young girl declares her thoughts in Javanese, translated as: "Is it true that matters of my vagina and my bed are also managed by the State?"
They, along with thousands of Indonesian students are currently protesting against plans to ratify a law that reflects the aim of the parliament and government to control the most intimate behaviour of citizens. They deliberately choose words that transgress what is usually called 'polite language'—and ladies consider this vulgar.
But what such ladies and gentlemen are not aware of is that these young people are deliberately showing how 'polite language' is in fact a remote control that has for years directed thinking to kowtow to normalized hypocrisy. As Chairil Anwar did.
In 1945 Chairil leapt into the revolutionary ethos, leaving behind the burgerlijk and genteel colonial mood, and yelled: "I am a wild beast…" aku ini binatang jalang.
W251bGwsIjIwMjEtMDUtMDggMTM6NDk6MDkiXQ
He knew that the word 'jalang' was startling. He knew that we needed shock. He knew that shock would rend the curtain that was blocking our view, so that we could then enter an era not previously conceived.
I am impressed. I am stunned to see some of the young generation of Indonesian women skillfully point out what is dangerous and wrong when their world is directed by various remote control techniques. When something is assumed to be dirty, the State claims the right to set things right. These bright young women are showing that this claim is actually an ambition that oversteps limits. And it is an illusion.
"The State," Nietzsche says, "is the name of the coldest of all cold monsters. Coldly lies it also; and this lie creeps from its mouth: I, the state, am the people."
For 'the people' is a group that is infinite, forever arriving, and unable to be summarized, even by the State. The people is life that lives. Meanwhile, Nietzsche says, in the State, what is called 'life' is "the slow suicide of all."
In other words, the State is an order that proceeds from the assumption that it can order—control in other words—all kinds of things that have not yet killed themselves, like children who imagine they can control fantastic soldier battles in games on computer screens, or traffic in a model train set with trains that move between tunnels and minature stations. James Scott in his enlightening and fascinating book, Two Cheers for Anarchism, called this tendency "the miniaturization of order."
With it, comes the imagination that this order can be implemented in a scale a million times larger. Even though, there gradually everything is considered impotent. Virtually dead.
Slavoj Žižek once told an anecdote: an unfortunate Greek citizen, let's call him X, sent letters month after month to a government office, complaining: his pension had not arrived. The government office finally replied: the reason for this was that X was already dead.
Strange? Maybe not: in the government records, X was no longer a person who wanted to eat, but was just a symbolic dot in the administrative network. When that dot slipped, the State decided that X never existed.
Of course, that is a tyrannical lie. Citizens are not symbolic dots. With their hunger, their satiation, with their religious and sexual lives, citizens are unfinished history. Citizens can be noted, labelled, entered into a certain population category, but the greater part of the citizen's self can never be captured. What is called 'private world' is actually the dynamic border of someone as Fantasy.
Crotches, cocks and vaginas are parts that are taboo to mention, or should be mentioned using 'polite language', because they contain something fascinating, seductive, disgusting, worrying: Fantasy.
When all is said and done, it is truly an illusion to make laws regulating Fantasy. It is impossible for the State with its bureaucrats who work eight-hour days to know whether someone's sexual behaviour is based on love, the desire to dominate, submission, or just to fool around. The actors themselves often do not know.
Religions might indeed want to regulate this. At least religions assume they have the assistance of an All-knowing God who can determine what is and is not 'sin'. But when the State adopts the assumptions of religion, tries to direct the world of Fantasy, and gives punishment, then it bites, but, as in Nietzsche's metaphor, it bites 'with stolen teeth'.
Goenawan Mohamad