Data to Track Illegal Fishers
Analysis of navigation system data by the Global Fishing Watch helped capture an illegal fishing vessel long wanted by the Interpol. Data sharing strengthens the effort to eradicate illegal fishing activities.
Edition : Tuesday, October 22, 2019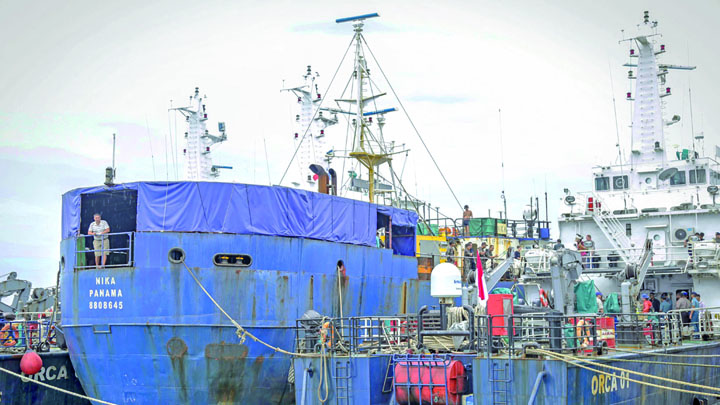 MV Nika had not been sailing for seven weeks. The ship, its bow broken and rusty, was anchored at the Maritime and Fisheries Monitoring Task Force (PSDKP) Headquarters in Batam, Riau Islands. Her crews pump out 100 liters of water every day due to damages sustained on the vessel's port and starboard sides. It was not like they could disembark the Panama-flagged ship as they please, either. Everything from eating, sleeping, to taking shower had to be done on board.
They could only go out during examination at the police station. It was the only chance for them to dine elsewhere before returning to the ship. "This is a difficult time. I long to see my family," said MV Nika's captain, Evgeny Starkov, to Tempo at the end of August.
Starkov and his crew were awaiting trial for allegedly engaging in illegal fishing. MV Nika was closely guarded by 12 officers from Batam PSDKP, who change shift every 12 hours. Nevertheless, Starkov was still able to communicate with his wife back in Russia. "I hope everything will end well," said Starkov, who said he could not wait to return to his country.
MV Nika was captured by patrol officers from the maritime affairs and fisheries ministry in waters around Weh Island, Aceh Province, on July 12. The 750-gross ton (GT) vessel was put into Interpol's wanted list a month prior. Aside from forgery of registration certificate as cargo ship, MV Nika was also wanted for allegedly commencing illegal fishing in a number of countries.
Chief of Batam PSDKP Headquarters Muhamad Syamsu Rokhman said that, by not stowing fishing equipments in cargo hold, MV Nika violated the shipping regulation in Indonesia. When boarded, the ship's compliment consisted of 18 Russian and 10 Indonesian crew members. Seven had been deported to Russia, with four more in immigration detention house. "Seventeen remain on board the ship," he said.
W251bGwsIjIwMjEtMDUtMDggMTQ6Mzg6NDYiXQ
MV Nika leaves a dark trail in its wake. The vessel had changed names six times since 2006. Her flag was also switched seven times. Global Fishing Watch (GFW), a non-profit, international organization that processes shipping data for marine conservation purposes, said that flag change is a practice frequently done by operator to conceal a vessel's identity. "MV Nika is registered as a cargo ship, yet she is laden with fishing equipment," said GFW data analyst, Imam Prakoso, in July.
GFW's report indicates that MV Nika resides under the same company that owns STS-50, an illegal fishing vessel which had been on the global wanted list for 10 years. The 570 GT ship was finally captured by the Indonesian Navy at the Strait of Malacca on April last year.
The capture of MV Nika resulted from shipping data analysis and cooperation between global maritime authorities. This vessel had long been targeted by sea patrols in several country, before being put into Interpol's wanted list. Prior to its capture, MV Nika had travelled nearly 13,000 kilometers from the Southwest of the Atlantic.
After the ship was released by South Georgia—the islands on the Southern part of the Atlantic—sea patrol in June, efforts to track her were met with obstacle. The ship's automatic identification system (AIS) was turned off. AIS is a navigation device that according to regulation must be used by large ships displacing more than 300 GT to identify each other and avoid collision at sea.
Without AIS signal, MV Nika's trail became hard to follow, including when she closed in to the Strait of Malacca—one of the world's busiest shipping lanes. MV Nika attempted to evade Indonesian Navy's radar and patrol by avoiding the Archipelagic Sea Lanes of Indonesia in Sabang, Aceh. This worked for a while, as patrol boats from the maritime affairs and fisheries ministry mistakenly approached cargo ships. "The vessel was also not using AIS," said Imam.
GFW analysts had been monitoring the ship's movement since February. Armed with data they collected thus far, they calculated MV Nika's route. On July 12, around 7am, GFW analysts and patrol officers agreed to change the direction of their search. "The calculation was correct. MV Nika was captured," said Imam.
Information from the AIS is the source of data for GFW analysts to observe the activity of ships around the world. The satellite-linked data play an important role in the effort to eradicate illegal fishing. This navigation system transmits a ship's position, direction, and speed. "There are about 60,000 ships that we can monitor, but that is not all the ship at sea," said GFW Chief Executive Officer (CEO) Tony Long.
Data from the vessel monitoring system (VMS) are also used to validate the presence of foreign fishing ships. Rather than AIS, Indonesian fishing vessels rely more on the VMS. Indonesia is the first country to establish cooperation with the GFW in sharing and disclosing fishing vessel data to the public. "There are around 5,000 Indonesian vessels that can be tracked," said Long.
Analysis of AIS data shows that, since the implementation of foreign fishing vessel license moratorium by Maritime Affairs and Fisheries Minister Susi Pudjiastuti in November 2014, fishing activities by foreign ships declined sharply. Before the moratorium, fishing by foreign vessels amounted to 6,800 hours per month. "Now they are almost non-existent, only detected along the Exclusive Economic Zone borders," said Imam.
Foreign fishing vessel license moratorium was no longer in effect since October 2015, but ships from outside the country are still not allowed to trawl their nets in Indonesia. Around 10,000 foreign fishing vessels have been driven away from Indonesian waters, while more than 500 captured vessels have been eliminated.
GABRIEL WAHYU TITIYOGA, YOGI EKA SAHPUTRA (BATAM)
---