Warfare
Warfare has its own attraction. The 'military' are not always a group of stiff faces. And not only as on Army Day when the Indonesian Air Force gave an acrobatic display and about a thousand soldiers danced the Gemu Famire. There is also an imagining of attraction in the field of killing.
Edition : Tuesday, October 29, 2019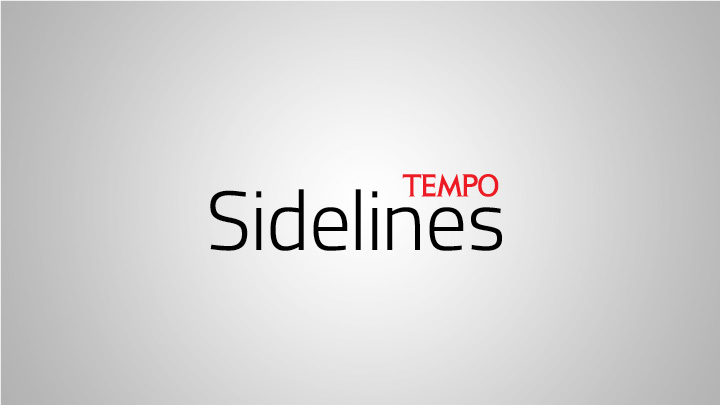 LIKE football matches, warfare has an aesthetic—for some reason. At the least, it is photogenic, even (or because) of its brutality. In Robert Capa's famous photography of the Spanish Civil War and James Nachtwey's of Kosovo—or in the fictitious scenes of Game of Thrones—pictures depict a dark realism, yet at the same time are fascinating. In Indonesia, this does not surprise us. In shadow play performances, in the hands of skilled puppetmasters, violence in battle scenes flashes by when two characters fight, collide, leap, collapse.
Sometimes, soldiers look like ornaments: in Kurosawa's film Kagemusha—probably a depiction of Japan in times past—hundreds of orange and black banners flutter on the backs of the infantry and cavalry as they await the sign for hand to hand combat.
It is surely no coincidence that armies everywhere wear uniforms and weapons that are not just practical, but stylish. In the 20th century, Nazi uniforms were designed by Hugo Boss AG, the clothing business founded in Metzingen in 1924. If not uniforms, then the killing is done with tools that look like visual art objects. In the history of Ken Arok in 13th century Java, we read that the kris of Empu Gandring were forged and fashioned to perfection; in the 21st century, the HK416 rifle used to shoot Osama bin Laden was a combination of sophisticated craftsmanship and elegant design. In Homer's tale of the Trojan War, the point of Achilles' spear that kills Hector is described in this way: "and as a star moves among stars in the night's darkening, Hesper, who is the fairest star who stands in the sky, such was the shining from the point of the sharp spear Achilleus was shaking in his right hand…"
Then the world became modern. Savagery continued, but was turned into something like a heart operation in a clean, sterile and closed hospital. Murder can even be done without fuss and noiselessly when pistols have silencers attached: in America today there is a Facebook group whose members make silencers at home.
W251bGwsIjIwMjEtMDUtMDggMTU6MDg6MjMiXQ
There are no longer wars as attractions. There is still serious thought given to the design of weapons, uniforms, fighter jets and ships, but there are no longer attractive body movements as in martial arts films like Crouching Tiger, Hidden Dragon, set in 19th century China. Warfare has increasingly factored in distance; clashes of swords and bodies are now virtually non-existent.
At the same time, people feel that their hands are not bloodied, but also that they have become less important. The history of Japan shows this transformation clearly.
For centuries, power was dependent on the samurai's ability to kill. They trained their entire lives to fight with supreme swordsmanship and strictly disciplined inner stability. They were the elite beyond compare with the subordinate masses.
But times changed. Guns entered Japan: a killing tool easier to be manipulated by anyone. People could exterminate more efficiently and effectively—even though less elegantly, because even farmers' children were willing to do it. The democratization of instruments of violence began. Samurai were no longer exceptional.
The Last Samurai (2003), which is usually thought of as Tom Cruise's exciting film is actually an illustration of Japanese socio-political change in the mid 19th century. Katsumoto, played by Ken Watanabe, is a samurai who rebels against the center of power, and lives by 'the way of the sword'. But the officials around the Meiji Emperor choose guns, trains and big business, and using these they defeat the hero who upholds the samurai tradition. The tradition is beautiful, but as Omara, a modernizer close to the Meiji palace defiantly (and correctly) says: "You see, even the mighty samurai cannot stand up to the howitzers."
"The way of the samurai is over," Katsumoto says, acknowledging his world has collapsed. Democratization of skill in weaponry marginalized the expert swordsmen, but made it easier for the rulers to strengthen their position. In history, beginning in Europe, wars became bigger, together with the emergence of a social strata that came to be called 'the masses'. From this strata, hundreds of thousands of soldiers were recruited, in huge numbers over a short time. Warfare was no longer a tale of heroism. Heroism would even look like narcissism.
It was in these times that Švejk appeared. A fictional character created by Jaroslav Hašek (published in1921), Švejk was a fat, bad, seemingly stupid Czech man who was probably the most intelligent and noble in absurd political situations. He was enlisted as a soldier of the Austrian empire and showed the despicability of war, the corruption of the officials, and the stupidity of the soldiers.
I read The Good Soldier Švejk in Indonesian translation as Schweik Serdadu Baik when I entered junior high school. It was only after I finished school that I understood how lasting and enjoyable Hašek's satire was. "Heroes don't exist, only cattle for the slaughter…" Švejk says as he falls asleep.
Then he shouts, "Long live the army! Good night!"
Goenawan Mohamad