Speech
Humans speak, with all the risks that involves. I often think about this on October 28.
Edition : Monday, November 4, 2019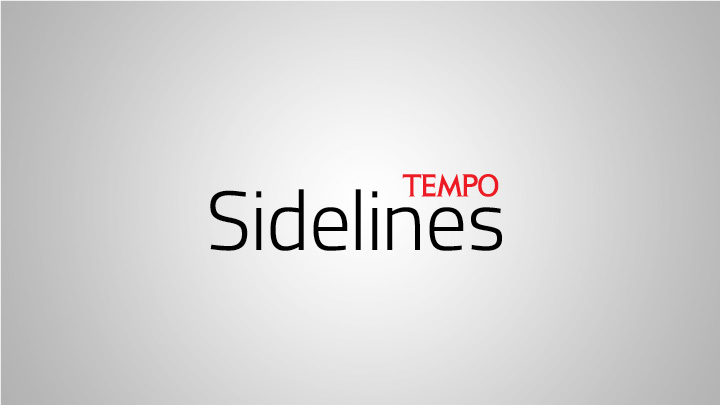 THE Indonesian language was not created and fashioned from a single center. And never from a State power. It grew—we will never know exactly when it began—in the midst of crowded markets, in Islamic boarding schools on the edges of towns, in palace corridors and sultans' treaties, and in church congregations in mixed cities like 17th century Batavia. It was enriched by daily newspapers not written by literati, by sports news with short sentences, by Chinese martial arts stories, transliterations of books of Islamic law, and translations of psalms. Also by poetry, progressive political propaganda, and more recently by millions of advertisements.
It is not surprising that the Indonesian language crossed 'regions'—artificial borders. It was egalitarian, crossing social classes. It was not nurtured by a respected institution like the Academie Française, nor set by institutions like the Oxford Dictionary. There is, of course, the Badan Bahasa, but this is just an office whose influence is unclear.
In other words, Indonesian is always moving between the vernacular and fixed forms, between oral idioms and the grammar of literacy. Even in social media—the means of communication that is now increasingly anti-social—private and intimate language becomes public language.
I imagine how difficult it would be for someone from the days of Pujangga Baru—the 1930s—to follow today's conversations. They would sometimes hear young people speaking Indonesian laced with English phrases like 'which is', as a meaningless phrase. They would be totally confused at the airport when the official asks "Maaf, KTP-nya bisa dibantu?"; they might possibly know the initials KTP (Kartu Tanda Penduduk) mean 'identity card', but they would not understand the sentence structure, where the agent of 'dibantu' is unclear. Who, or what is being 'assisted'? Not to mention changes in meaning and spelling. Young people use the word 'secara' (in the manner of) with a different meaning, and it is unclear whether the word 'emosi' is used as a noun or adjective. The word 'dik', short for 'adik' as a term of address, is now spelt dek, which can confuse things when read as a shortened form of the word 'pendek', meaning short.
An intellectual once said that people live within 'the prison house of language'. In Indonesia today, it is probably more correct to say we are 'adrift in the flood of language': in a current whose origin and direction is unclear. And as we are carried along in that current we swallow and vomit up all kinds of things: oil residue, sewage, drops of perfume and holy water.
Maybe we just have to be prepared to live in this kind of chaos. Maybe this is a reflection of our lives within other confusions, for instance, laws being drawn up by drowsy legislators. Misunderstanding is rife, and that seems to be the price we have to pay, also in the midst of the climate of mutual suspicion and 'post-truth'.
What will save us from such discordant conversation?
Silence, it seems. Or a kind of silence: wordless intervals between the turbid, turbulent currents.
That does not mean that we should no longer greet one another.
There is said to be a Mandailing custom that might be a model: a non-verbal form of their archetypal verse called pantun. Mandailing youths scatter packet of twigs, leaves and flowers as symbols or metaphors of things they want to convey to their sweethearts. Usually the meaning is obtained through sound rhymes of the names in the local language for the scattered leaves and twigs.
It seems that actually the non-verbal nature is not absolute. Those things are there because of their names, and these names are linked to the way they are uttered, with sound, in language. In other words, language still haunts those objects. But at the same time it appears that the verbal is connected to something which—although not shaped in words—has power that enlivens expression.
Maybe this is what Walter Benjamin meant, in his usual convoluted fashion, as 'the language of things', die Sprache der Dinge. 'Language' here, particularly evidenced in scupture and painting, is 'nameless, non-acousitic…issuing from matter.'
Maybe this is also what we find in twigs, flowers and other things that young Mandailing men proffer to their sweethearts. And we recall a time when names for things and people were thought to have 'magic' power, when nature spoke in muteness.
That muteness is now banished—and replaced by what Benjamin called a second 'other muteness', when things of our era are packaged as commodities; things to be traded for consumption. We are actually alienated from them, like when a friend who was once a lover is now just an object, with no feeling, no special warmth.
We forget that in and with language, humans are not creatures who are alone in rejecting the 'second muteness'. Their rejection is precisely because in original language, there is muteness that invites the participation of others.
Language is like a wheel. Words are its spokes, and between the spokes is space that eases the wheel so it can turn fluidly. That space—the absence of words—has its own special power: the meaning of conversation that is not determined by any person, any dictionary or institution.
The problem now, is how we redeem it.
Goenawan Mohamad
W251bGwsIjIwMjEtMDUtMDggMTU6Mjc6MDQiXQ