The Stone
We are Sisyphus, a friend said. His face was weary.
Edition : Monday, November 11, 2019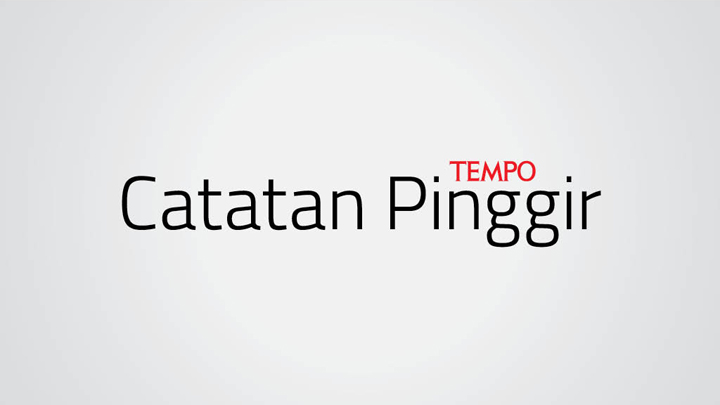 We toil away pushing the stone of hope towards the summit. We managed to choose a president honestly, and felt relieved that we could prepare the future. But then we soon realized that relief was short-lived. Now, the stone we are pushing has begun to slip down, and is threatening to roll back to the bottom. Democracy is crumbling. The political parties are run by people who act like owners who can do virtually anything they want and not be replaced. The Republic has become an oligarchy. They run the parliament, they force their will even on the president—who ended up allying himself with them. In turn, these political bosses make us, the people, merely props. Hope in democracy is over.
We are Sisyphus, my friend said.
To use this metaphor, the stone that we put on the mountain summit, that hope, is going to shift. Soon (maybe very soon), it will roll back down to the ground, and we—or the generation after us—panting, will push it back up to the top.
We are Sisyphus, my friend repeats.
W251bGwsIjIwMjEtMDUtMDggMTM6Mzc6MzciXQ
I am old enough to know that he is speaking about the history of Indonesian politics, while reading the famous allegory from ancient Greek myth which Albert Camus adopted.
After 1945, the First Republic, hope bloomed: Indonesia would grow in justice and liberty. But in just a few decades, that hope fractured. The political system was changed, five or six times, and different forms of the Republic were tried. But every time we wanted to feel that things were right, it turned out not to be so.
But what if we became more aware that the future we design will never eventuate, and we have to always keep pushing that stone back up to the summit?
In Camus' Le Mythe de Sisyphe, the fate that the gods have given Sisyphus—man—is heavy and odd, and there is no way out. This was accused of being post World War II European 'pessimism', and therefore irrelevant to a new, emerging nation.
But no. Camus actually is actually indicating a kind of unusual optimism. At the end of his philosophical essay, he says that we have to imagine that Sisyphus is happy:
I leave Sisyphus at the foot of the mountain! One always finds one's burden again. But Sisyphus teaches the higher fidelity that negates the gods and raises rocks. He too concludes that all is well. This universe henceforth without a master seems to him neither sterile nor futile. Each atom of that stone, each mineral flake of that night-filled mountain, in itself forms a world. The struggle itself toward the heights is enough to fill a man's heart. One must imagine Sisyphus happy.
The closing sentence is not really convincing; I cannot imagine Sisyphus 'happy'. But at least—as we feel these days having followed Indonesia's long history—what emerges is an attitude that is no longer naïve.
From dashed hopes, from crushed enthusiasm, being 'no longer naïve' does not have to involve cynicism and complaining about history, or mocking everything and being mistrustful of any initiative for change. Being 'no longer naïve' means that we are stronger, arrogant perhaps, proud that we resilient. In Sisyphus, Camus found, "a face that toils so close to stones is already stone itself!"
And his toil 'will be unending'.
But where to?
That is not easy to answer. The struggle towards a life of justice and liberty—the struggle of democracy—seems to have run out of designs.
There was once a time when clever people calculated that justice—in the sense of equal distribution of wealth—would happen when wealth in society had grown. The rich would not need to be forced, through taxation, to share their wealth with the poorer social strata. In this view, well known as the 'trickle down effect', equal distribution would occur in a way that John Kenneth Galbraith depicted comically, "If you feed enough oats to the horse, some will pass through to feed the sparrows."
And then what: until now, the horse is still getting fatter while thousands of sparrows are still hungry. The State, in which people have often placed their hope to manage distribution in a better way, turns out to have been no answer. Oligarchies are increasingly blocking the process. When the political bosses consolidate themselves by centralizing money and power in their hands, then injustice constructs its own permanent structures.
Who can change this, how to change this—these are classic questions because they are forever unanswered. Parliamentary democracy, as we are witnessing now, ends up experiencing distortion. Another method of equal distribution, socialist revolution, which was tried in Russia, China and other places, also veers from its path. In the long history of struggle, man is indeed Sisyphus.
But for some reason, man cannot stop. Perhaps because every time we move forward, it is with a different attitude. We can become as strong as 'stone itself', but we can also be more humble: searching for what is not absolute. Sisyphus kept on faithfully pushing that stone to the summit, but he knew, in Camus' words, that "there is no sun without shadow, and it is essential to know the night." Anyone hoping for absolute clarity will be absolutely disappointed.
GOENAWAN MOHAMAD