Tax Revenue Slow
Edition : 11 November 2019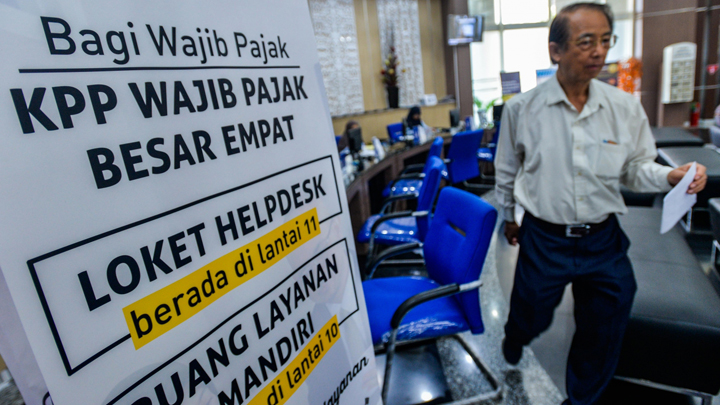 FINANCE Minister Sri Mulyani Indrawati said there was a slowdown in tax revenue until last September. Almost all sectors experienced slowing tax income due to sluggish global economy. A decline in manufacturing income, for example, caused tax revenues to plunge. "We see that Indonesia's economic indicator, which is tax revenue, has weakened in numerous sectors," Sri Mulyani said in a work meeting with the House of Representatives' (DPR) finance and banking commission in Jakarta, Monday, November 4.
The meeting's agenda was actually to discuss the government's performance evaluation results for the year 2019, as well planning next year's. But at the end of the meeting, a number of working committees were formed; one for Tax Revenue, one for Customs Revenues, one for Non-Tax State Revenues, and one for the Committee on Financing the State Revenue and Expenditure Budget. The goal is to make the government create breakthroughs using creative and innovative policies. The DPR also asked the government to mitigate risks during the implementation of the 2019 state budget, including risks against income, spending, and financing.
The mining sector suffered the worst contraction. At the end of September, state revenue from the sector only amounted to Rp43.2 trillion, down 20.6 percent from the same period in 2018 when it grew 69.9 percent. Meanwhile, the manufacturing sector booked Rp245.6 trillion revenues, a 3.2 percent year-on-year decline from September 2018's 11.7-percent growth.
---
AVIATION
BPKP to Audit Garuda-Sriwijaya Partnership
COORDINATING Minister for Maritime Affairs and Investment Luhut Binsar Pandjaitan said that Garuda Indonesia and Sriwijaya Air agreed to extend their operating partnership by three months. "It had been signed," he said on Thursday, November 7.
Next, the Development Finance Comptroller (BPKP) will audit their cooperation scheme. According to Luhut, BPKP's involvement is aimed at ensuring that every business decision is based on valid audit results. The audit process will begin soon and the results are expected to be announced in seven to 10 days later.
Sriwijaya Air's lawyer Yusril Ihza Mahendra said the two airlines had differing opinions about debts. Sriwijaya claimed that its debt to Garuda soared after they established a cooperation. On the contrary, Garuda said the debt had been reduced by 18 percent. Garuda Indonesia Spokesman Ikhsan Rosan said the company is currently discussing and negotiating with Sriwijaya shareholders about the debt settlement to several state institutions including BNI, Pertamina, Garuda Maintenance Facility and Gapura Angkasa.
---
INFRASTRUCTURE
Govt Wants 5,200-kilometers of Toll Roads to Operate in 2024
THE government is targeting to have toll roads spanning 5,200 kilometers operating by the end of 2024. Danang Parikesit, head of the Toll Road regulatory agency, said that the exact number matches what President Joko Widodo wanted. By the end of this year, the government aims to have 2,200 kilometers built and 2,186 kilometers operating at the beginning of 2020.
"The number keeps moving up because there are many initiatives from business entities. The projects do not only involve domestic financial institutions, but also international ones," Danang said on Wednesday, November 6.
The funding sources, Danang said, include equities and loans. Alternative financing comes from the supply chain. "Everyone is working together. The main contractors, subcontractors, and the suppliers work together to finance each other," he said.
The National Development Planning Agency (Bappenas) Deputy for Facilities and Infrastructure Kennedy Simanjuntak said Indonesia's infrastructure stock is far below a world-class level, which is in the range of 70 percent of the GDP. In the second period of President Joko Widodo's administration, Kennedy said, infrastructure work will be focused on basic services, the economy, and urban infrastructure.