Payoffs for doctors
The long-standing dubious practice of giving payoffs to doctors by pharmaceutical companies continues even though the minister of health has issued a circular banning it three years ago.
Edition : 11 November 2019
Fierce competition between companies in the drug market, marketers rushing to meet sales targets, and demands on doctors to meet certain conditions to be able to practice medicine have made it difficult to eliminate such payouts.
The spotlight is on Kalbe Farma. With 1,300 people marketing their products, Kalbe had the highest sales numbers compared to other pharmaceutical companies. From the pharmaceutical division alone the company has made Rp2.68 trillion so far this year, while its total sells including from nutrition division, distribution, and other health products is reaching Rp23 trillion.
Tempo uncovered that Kalbe continues to lavish doctors with commissions, bonuses, and various perks so that they will prescribe the drugs they produce. Meanwhile, patients have to bear exorbitantly high prices for drugs as a result of production costs which include those additional commission paid out to doctors and hospitals.
A Member of Tempo's investigation team received a message on his cellular phone at the end of last August. The sender, who introduced himself by name but asked to be called Christian, worked at Kalbe Farma as a medical representative. "I want to send data about Kalbe," his message began. "Let's meet."
Christian's request could not immediately be granted. The reason being, the team was working on another investigative project at the time. A month later he contacted us again. We finally agreed to meet at a restaurant in Jakarta. Christian was a man who was nearly 40 years old. He was the classic image of a product marketer: well-groomed, polite and a good speaker.
After shaking hands and exchanging some pleasantries, he opened his bag and took out a ream of paper. These were documents which he said were proof of the inappropriate sending of sales commission by Kalbe Farma to dozens of doctors at nearly every hospital in Jakarta. The over 500 pages of documents were records of payoffs ranging from Rp5-50 million.
As of last week, he sent us several batches of internal company documents about this unethical practice of incentive payments. The total came to nearly 700 pages, with dates ranging from 2011 to July 2019.
Christian was moved to contact Tempo because this magazine twice wrote reports about pharmaceutical companies making payoffs to doctors to get them to prescribe the drugs and medical equipment they produce. In 2001, Tempo published a report on sales commissions from Kalbe Farma, Sanbe Farma, and Pratapa Nirmala for doctors, and as well in 2015 for commission from Interbat Pharmaceutical.
In those previous reports one question remained unanswered: did drug company management know about the commission being given to doctors, or were they only a scheme employed by drug marketers? Furthermore, in 2016 the minister of health banned pharmaceutical companies from giving commission directly to doctors. The answer was found in that stack of documents which had been given to us.
WE verified the truth of those hundreds of Kalbe documents by interviewing some drug marketing workers—known as medical representatives or medreps—in Jakarta, Yogyakarta, Central Java, and South Sumatra over the past two months. All of these Kalbe employees verified that the practice of paying commission to doctors was still taking place. They also verified the authenticity of the documents which we had received.
By going through the documents that whistleblower leaked to Tempo, it was found that the process for Kalbe Farma to disburse funds to doctors was not limited to one level of the company. They revealed how the approval of such transfers is done in stages, from a medrep up to a deputy director.
The papers detailed the dates, times, and additional actions taken so that the funds could be released—a sort of internal memo used by company officials who have the authority to release company funds. "If the request was incomplete, the transfer was held back," said Christian during a third meeting.
At Kalbe, each level of management can approve financial disbursements up to certain limits. The higher the position, the larger the amount which can be approved. The group sales manager, for instance, is only authorized to approve disbursements of up to Rp10 million. This position is two levels above a medrep. A marketing manager has the authority to approve the release of up to Rp15 million. Larger amounts must be approved by a deputy director. This position was referred to in one document by using the code DDIC (deputy director in charge).
Referring to the documents received by Tempo, there are at least two categories for giving commission to doctors. The first is related to sponsorship, by sending doctors to attend various medical seminars on the latest developments in branches of health sciences, in line with the specializations of the doctors in question. In the documents this was called a "sponsorship event local (non EPI/non seeding)." The amounts were above Rp10 million on average for each doctor. Some of these seminars were held abroad.
On paper, the procedure for giving such sponsorship begins by Kalbe notifying hospitals about the seminar which is to be held. Hospital management then reply to Kalbe by naming which doctors will be sent to attend the seminars. From there, Kalbe contacts the doctors and arranges their transportation, accommodations and other expenses related to their participation.
Violation begin when Kalbe transfers these sponsorship costs directly to the bank accounts of doctors. The regulation from the minister of health clearly forbids direct contact between pharmaceutical companies and doctors. The amounts transferred are often quite large.
The second category is for seeding trials, which in the documents are referred to as "sponsorship survey (EPI/seeding)." The average amount transferred is Rp10 million, which is also transferred directly to the doctors' bank accounts. According to some medreps met by Tempo, these seeding trial surveys are just a cover for drug companies to give commission to doctors.
The procedure is carried out like this. A medrep calculates how many drugs have been prescribed by a doctor over one month. Then the doctor in question will fill out the seeding trial paperwork. The doctor only needs to complete medical histories on their patients, diagnoses of their conditions, and the medicines which were prescribed. The medrep will then attach seeding trial survey document when proposing a transfer of money to a doctor to their superiors at Kalbe. Commission for doctors are given based on the amount of prescriptions written multiplied by a percentage of the price of the drugs, which is generally 10-30 percent.
One document received by Tempo indicated a branch office of Kalbe Farma in Jakarta. It mentions a flow of funds from that company to hundreds of doctors and hospitals in 2018 and 2019.
From just that one branch, from January to November 2018 funds were transferred 184 times, amounting Rp803.9 million, and Rp66.2 million was given in cash over 16 times. Most of 147 recipients were doctors. The rest was given to hospital directors, hospital owners, pharmacists, and members of hospital's intensive care units (ICU).
From January to July this year there is a record of a flow of Rp602.1 million: Rp521.1 million was distributed over 101 bank transfers, while Rp81 million was given in cash over 15 times. About 76 percent of the 96 recipients of those funds were doctors.
Other documents which we received contained detailed information about the birthdate, contact information, bank account number, hobbies, and character of each doctor in the marketing area of that branch office. In fact, the best time to meet each doctor at their place of work was also clearly listed.
---
...Soetjipto did not deny the information that he has received funds from Kalbe Farma. He even conceded that he usually receives transfers from other drug companies as well. According to him, funds are usually given by those companies to cover the costs associated with registering for medical symposiums or seminars. For doctors, attending such events is almost obligatory in order to obtain competency certification to be eligible to practice medicine. The value of attending one symposium is equal to five to seven certificates.
---
Soetjipto Hamiprodjo appeared most often in the first Kalbe documents which were received by Tempo. This neurologist at the Harum Sisma Medika Hospital in East Jakarta routinely received funds in his Bank Central Asia bank account at the Kalimalang branch, in amounts ranging from Rp10-25 million from 2011-2014. He was listed as receiving transfers once or more often twice a month.
Tempo checked that bank account number at an ATM machine. The name Soetjipto Hamiprodjo did appear on the screen exactly as spelled on the receipts in the financial outlay records. The total amount he received—according to the transfer records—came to Rp90 million. The transfers were said to be for 'seeding trial' and 'sponsorship event local'.
When met, Soetjipto did not deny the information that he has received funds from Kalbe Farma. He even conceded that he usually receives transfers from other drug companies as well. According to him, funds are usually given by those companies to cover the costs associated with registering for medical symposiums or seminars. For doctors, attending such events is almost obligatory in order to obtain competency certification to be eligible to practice medicine. The value of attending one symposium is equal to five to seven certificates.
In order to obtain proof of registration from the Indonesian Medical Council, a condition to be able to continue to practice medicine, a doctor must collect 250 certificates in five years. Each year they need to attend at least 10 symposiums. "The registration cost for those symposiums is high. It could be Rp4 million," said Soetjipto. "This does not include the cost of hotels, tickets, and accommodations."
Andi Khomeini Takdir Haruni has personally experienced how drug companies approach doctors. In 2015, Andi was still practicing medicine in Papua. He was approached by medreps who then asked him to write prescriptions for the medicines they offered, with a rather high commission as an incentive: a single transfer of Rp10 million. "I reported this to the Corruption Eradication Commission (KPK)," said Andi. "The KPK said that it would be better for me to avoid it."
According to Andi, coaxing doctors in this manner is a long-standing practice among medical workers. Some doctors agree to it because it is expensive to pay for training costs to increase competencies, and the government does not provide any funds. Many also turn them down due to conflicts of interest and for being deemed to be unethical. "Funds should be given to the hospitals," he said.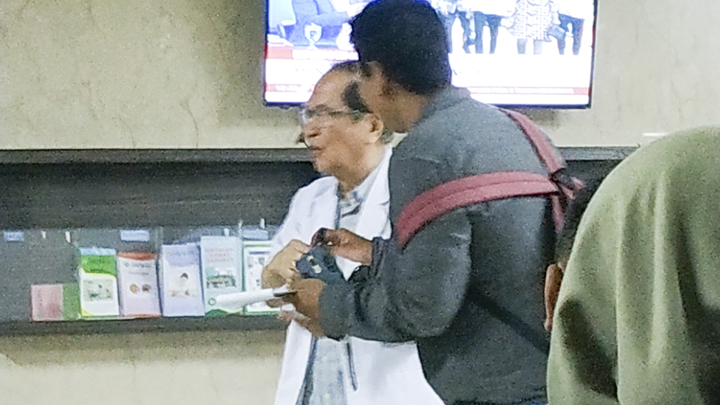 Doctor Soetjipto Hamiprodjo (left) with a medical representative at Harum Sisma Medika Hospital, East Jakarta, October 22./ TEMPO/Hilman Fathurrahman
In the documents received by Tempo, there was also the name of Salman Paris Harahap, a doctor of internal medicine at the Budhi Asih Regional General Hospital in Cawang, East Jakarta. He began to frequently receive transfers of Rp10-35 million in 2014. In financial payout records, different medreps proposed he be given the money, which was always approved by the regional manager, sales manager and deputy director on duty.
Unfortunately, on multiple visits he was never found at Budhi Asih Hospital. This was also the case when visiting the Veteran National Development University in Cilandak, South Jakarta, where he is an instructor. Salman could only be reached by phone on Wednesday, November 6. However, after Tempo made an introduction and asked a question about commission for drugs, he immediately interrupted. "Sorry, I am busy seeing patients," he said before hanging up.
Where does those funds for commission and perks for doctors come from? They are listed as drug company promotional costs. Those costs accumulate on sales targets for medreps and salesmen selling drugs to hospitals and pharmacies. The duty of the medrep is to educate health care personnel before products are funnelled to hospitals or pharmacies through salesman.
A promotional strategy for a target of one medrep team was found in documents received by Tempo. Kalbe Farma's promotional costs are divided into two: net product and net business unit. The net product is the highest selling price calculated over each quarter. The net business unit is the minimum set price. Members of medrep teams use the difference between these two prices as a budget for giving commission to doctors.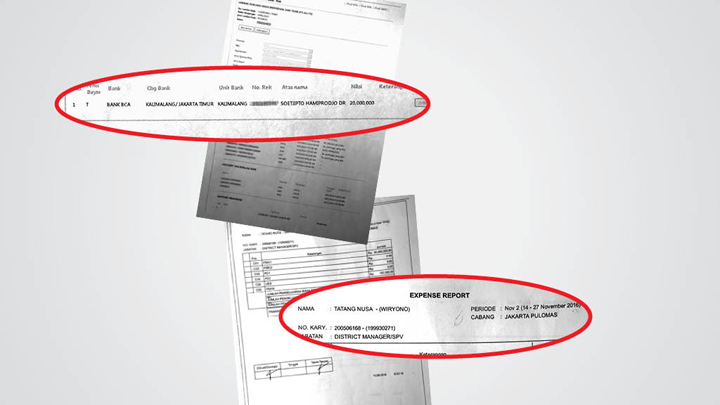 Expense Report
The amounts are quite sizable. One Kalbe four-member medrep team had a net product amount of Rp2.68 billion. Their net business unit—the value of the sales they would have to reach in one quarter—was just Rp1.8 billion, which left them Rp875 million to play with commission for doctors. There are presently 1,300 medreps at Kalbe who are actively marketing their drugs.
In addition to commission being given to doctors, similar funds make their way to hospital officials who are authorized to determine which types of drugs are put on hospital formularium (drug lists) and to place orders. In addition to giving official discounts, Kalbe offers additional discounts, the money from which flows to those officials.
There were several documents which showed which hospitals had received "off invoice discounts." One of them was Budhi Asih Hospital. This medical facility run by the Jakarta government received regular monthly transfers of Rp5-14 million from 2013-2014.
Budhi Asih Hospital Assistant Director Endah Kartika recognized the existence of drug companies giving commission to doctors as a payoff for writing drug prescriptions. However, she claimed that this practice was only commonplace in the past. Because, at present, nearly 90 percent of the patients at Budhi Asih Hospital are covered by the government's Health Care and Social Security Agency (BPJS Kesehatan) program.
Regional hospitals are indeed bound to prescribe medicines from the national list of drugs. As a result, doctors cannot make random prescriptions. "We have made some serious improvements. I often say that even though some doctors have gone in with drug producers, they still have to follow the national list," said Endah Kartika.
When asked for confirmation, Husni Imron, Head of Marketing Support at Kalbe Farma, said that the practice of the company inappropriately giving commission to doctors still often occurs. However, he emphasized, such payouts are categorized as fraud, and the perpetrators can be punished with anything from sanctions up to dismissal. "We routinely hold audits to find such violations," he said.
According to Husni, tens of medreps at Kalbe have been given serious punishments once it was found that they had been colluding with doctors. He added that procedure for giving doctors sponsorships to attend seminars must go through the hospital. "Medreps may not make cash transfers to doctors," he said. Despite pointing out that the approval of the release of funds must pass through levels of company directors, Husni said that Kalbe is often deceived by medreps regarding funds being directly sent to doctor bank accounts.
According to Husni, they have stopped giving commission through seeding trial. "Now we no longer do seeding trials because they are often misused by medreps," he said last week. Husni was silent for a moment after Tempo showed him a document about a seeding trial dated last April 13. "This might be at a branch office, because there has been an instruction from the head office that this no longer be done," he said.
Met separately, Company Secretary doubling as Director of Finance at Kalbe, Bernadus Karmin Winata, said that the era of drug companies making payouts to doctors and hospitals to prescribe their drugs actually ended with the establishment of the National Health Assurance (JKN) system.
Patented drugs are sold through business-to-business arrangements or between hospitals and pharmaceutical companies. "It no longer goes through doctors," said Karmin. When shown some documentary evidence, Karmin suspected that those bonuses and discounts for those doctors was the result of personal initiatives taken by medrep due to pressure to meet sales targets.
Chazali Husni Situmorang, Chairman of the National Social Assurances Board from 2011-2015, said that JKN can indeed eliminate corrupt behaviour on the part of drug companies and doctors by the dumping of drug prices, marketing commission, and promotional costs, which make up 40 percent of production costs. "However, this system does not guarantee there will be no corruption, because not everyone uses BPJS," he said.
Nur Abadi, a member of the Hospital Supervisors Agency, said that their institution is still encountering many cases of commission being paid out by drug companies. These cases are not only happening in Jakarta. "It is also happening in a number of provinces," he said.
This statement was verified by Daeng Mohammad Faqih, General Chairman of the Indonesian Doctors Association (IDI). He said that several doctors have been given sanctions for receiving commission from drug companies. However, at present there are still those who are tempted to commit such violations. "It should not only be directed at doctors. Drug companies should also be given regulations to follow and be subjected to close supervision."
---
INVESTIGATION TEAM
Team Leader: Bagja Hidayat Project Head: Dini Pramita Editor: Bagja Hidayat Writers: Agung Sedayu, Dini Pramita, Erwan Hermawan Photography: Gunawan Wicaksono Design: Djunaedi English Editor: Luke Edward

The Pharma Entertainment Treatment