The Last Coffee for the Activist
The death of lawyer and environment activist Golfried Siregar remains a mystery. An investigation by Tempo and the North Sumatra Commission for Missing Persons and Victims of Violence uncovered discrepancies of facts in the police report. Suspicion for murder is in the air.
Edition : 11 November 2019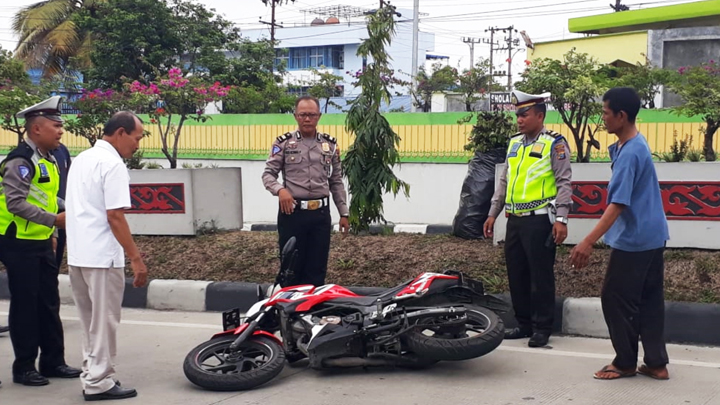 "Oh well. If someone ends up getting stabbed, then so be it."
"I would still go to the trial."
THE WhatsApp conversation ended emotionally. Golfried Siregar, the person who sent the messages above, finished the talk by telling the recipient to be careful. The 34-year-old man explained that the situation had become dire. A couple of days before, Golfried's uncle told him not to come to the trial, for fear that 'something' might happen if he insisted.
A screenshot of the conversation obtained by Tempo showed that Golfried sent the messages on last February 3. The recipient was a member of the North Sumatra's Indonesian Forum for the Environment (Walhi). Golfried was then still a member of the North Sumatra Walhi. He resigned two months ago.
At the time, Wahli was in court contesting the construction permit of the hydro power plant in Batang Toru, South Tapanuli, North Sumatra. Walhi demanded that the Medan State Administrative Court revoke the permission. "After that conversation, Golfried and other Walhi members received frequent threats," said Commission for Missing Persons and Victims of Violence (Kontras) Coordinator for North Sumatra, Amin Multazam Lubis, to Tempo, Thursday, November 7.
Exactly eight months later, under a drizzling night sky, Golfried was found sprawled along the side of the Jalan Tritura, known as the Titi Kuning underpass, in Medan. When first found at 12:55am, Thursday, October 3, he was already unconscious. His skull was fractured. Golfried's red Honda CBR 150 motorcycle lay nearby. A passing motorized pedicab driver and his passengers took Golfried to the Mitra Sejati Hospital, close to where he was found. The hospital then referred him to the Haji Adam Malik General Hospital for better treatment.
The police checked on Golfried when he was hospitalized in Mitra Sejati. Medan City Resort Police Traffic Unit Chief Sr. Adj. Comsr. Juliani Prihartini said the police received a report of a traffic accident at the Titi Kuning underpass. They came to the hospital and saw that the victim was injured on his mouth, ears, and head area. "There was also blood from his nose," said Juliani, Friday, October 11. The police contacted Golfried's wife, Resmi Barimbing, to inform her of the 'accident'.
Golfried died three days later, after remaining unconscious throughout. Doctors from Adam Malik Hospital commenced several surgeries to try to repair the severe head injury. Resmi said Golfried's skull was too badly damaged. "They said it would take a divine miracle for him to survive," said Resmi while looking down, Tuesday, November 5.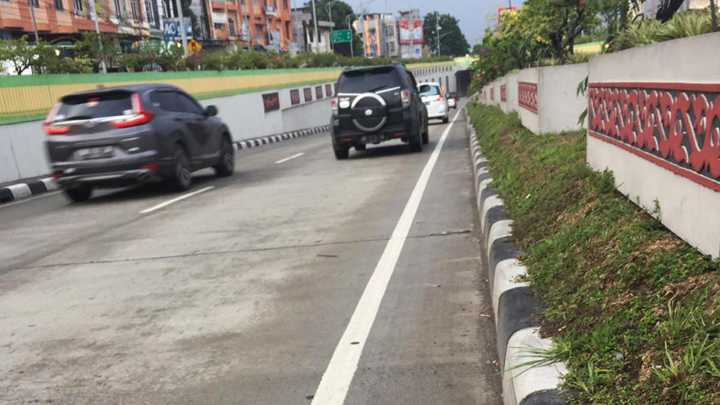 The location where Golfried Siregar was found near the Tritura underpass, Medan./TEMPO/Linda Trianita
After Golfried was declared dead, the police performed an autopsy to his body. Aside from the head injury, they also discovered alcohol in Golfried's stomach. No injury was found in the neck, chest, or other vital areas. This post mortem report reinforces the police's belief that Golfried was involved in a single accident. "The initial suspicion was indeed traffic accident," said North Sumatra Regional Police General Crime Investigation Director Sr. Comsr. Andi Rian Djajadi, Wednesday, November 6.
Golfried's family members and friends refused to believe the police. They found a number of oddities on his body. Resmi noticed Golfried's right eye was blackened. Across the surface of her husband's skin, there was no significant scratch wound that would normally be inflicted on victims of traffic accident who fell on the ground. There was a stain of dirt on the right side of his pants, despite the location of accident being entirely covered in asphalt and concrete. "His death still feels strange," said Resmi.
North Sumatra Walhi Director Dana Prima Tarigan asked the police to elaborate the cause of his colleague's skull fracture. He also questioned why the police post mortem report only mentioned the alcohol content in Golfried's stomach. "Why not expose the entire autopsy report to the public? Why only the stomach?" said Dana to Tempo, Thursday November 7.
Not one witness saw how Golfried fell on the roadside. The speed of his motorcycle at the moment of accident was estimated at only 40 kilometer per hour by the police. "How could someone's head be completely smashed at that speed?" said Dana.
Resmi still has a lot of questions herself. When Golfried was still being hospitalized, she saw an x-ray print showing the damage to her husband's head. After he died, Resmi received a different print which did not show the broken skull. "We still need clarity on his death," said the 31-year-old woman.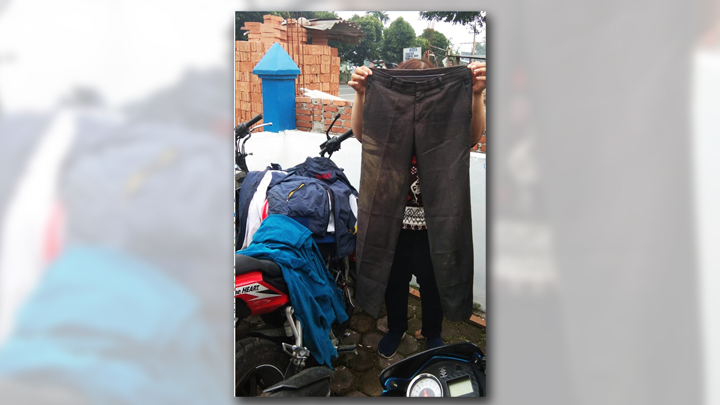 The trousers wore by Golfried Siregar during the incident./Photos: family doc.
TOGETHER with the Anti-Violence Civil Society Alliance (Sikap), North Sumatra Kontras attempted to trace the events leading to Golried Siregar's death on that fateful day. North Sumatra Kontras Coordinator Amin Multazam Lubis said there are numerous discrepancies between facts they discovered and those yielded by the police's investigation. The most apparent among these concerns the time when Golfried went back from his aunt's home, whom he called Mak Tua, at Jalan Bajak 1, Medan Amplas, Medan.
The police said Golfried departed from Mak Tua's home at 11:55pm. Meanwhile, witnesses met by Kontras and Sikap said Golfried had already gone at around 10:30pm. "This gap in time is important to reveal where Golfried was at the night of his murder," said Amin.
It is only two kilometers of distance between Mak Tua's home and the location where Golfried was found. Tempo tried to navigate through Golfried's route that night by riding a motorcycle at 40 kilometer per hour. It took only three to four minutes to get there. This means there was a significant gap in time between Golfried's departure from Mak Tua's home and the 'accident'.
On Wednesday, October 2, at around 4:30pm, Golfried went from his home at Jalan Bunga Wijaya Kesuma, Medan Selayang, to Mak Tua's house. The purpose of his visit, as he told his wife, Resmi Barimbing, was to meet with friends and families. Golfried lived there when he was in college, so he had many acquaintances in the neighborhood.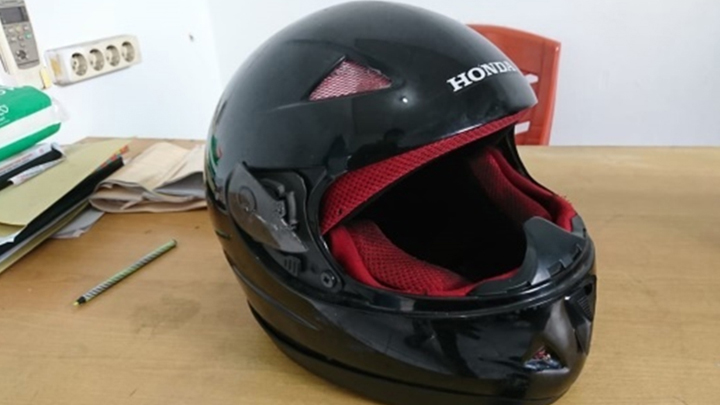 The helm wore by Golfried Siregar during the incident./photos: family doc.
Golfried spent his time around Mak Tua's home that night. He met with three friends to discuss about work termination that occurred to another friend. After that, he went to a coffee shop owned by Kennedy Silaban, just across Mak Tua's home. Kennedy said that Golfried had coffee and played cards until 10:25pm. Then he moved to a palm wine shop located right next to Kennedy's coffee shop. He was accompanied by Ricky Manurung and Adi. "I only saw Golfried drinking one sip of palm wine," said Ricky on Thursday, November 7.
It was raining that night. From the palm wine shop, Golfried returned to Kennedy's coffee shop to take shelter. The time was 10:36pm. Kennedy, who saw Golfried standing by himself and already wearing helmet, offered him food. Not long after, Golfried departed. Kennedy cautioned his former neighbor. "Be careful, the road is slippery," said Kennedy, repeating the words he said to Golfried.
Tempo and Sikap obtained a surveillance camera (CCTV) record from a car repair shop near Mak Tua's house. The record, as seen by Tempo, showed two men on a scooter who had been waiting at the end of the alley since 9:37pm. At one time, one of them took the scooter to go around the other street.
As the video time record moved to 10:40pm, the two men on the scooter were approached by another rider carrying a passenger on a motorcycle that looked like Golfried's. One of the men on scooter moved to that newly seen motorcycle so that it carried a total of three persons. Then they all departed with the lone rider on the scooter leading the way.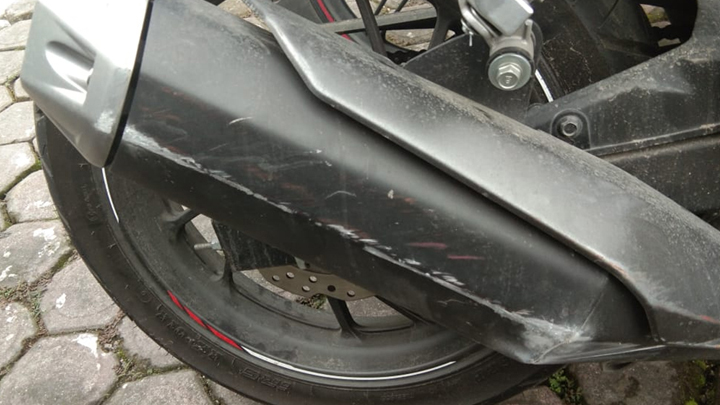 Scratches on the side of Golfried Siregar's motorbike./photos: family doc.
That was the last scene that could give indication of Golfried's whereabouts. There was still no explanation as to why Golfried took between one to 1.5 hour to go from Mak Tua's home to the Titi Kuning underpass. Tempo, Kontras, and Sikap attempted to find more CCTV record that may have caught a glimpse of Golfried. Several locations were visited, but almost all cameras there were either not functioning or not recording at the time.
The camera best positioned to record the deadly 'accident' was at a security post in the Titi Kuning Mas shop house complex. It was located only 20 meters away from the spot where the event took place. However, the camera had been broken for the past month.
Siswanto, a security guard of Titi Kuning Mas shop house complex who was on duty when Golfried's body was found, said he neither heard nor seen the accident. He was inside the security post at the time, only 20 meters from the road with a clear window view of the accident spot. "Passing vehicles may be heard clearly from here, even when they have reached the underpass," he said.
Tempo also came to Inalum's mess hall, situated next to the Titi Kuning Mas shop house complex. The security guard on duty that night, Aris Sitompul, said that he also did not hear anything at all, or even aware that there had been an accident. He assured that he did not fall asleep. "I was on duty and must stay awake, but I heard nothing," Aris said. There was also a CCTV camera, but its view was limited to only the building's yard, not including the road.
Instead, Siswanto and Aris were confused when later informed of an accident on the downhill road at the Titi Kuning underpass, close to where they were. The police determined the time of the 'accident' after obtaining information from Ramli Lubis, owner of a house located around 70 meters from where Golfried was found.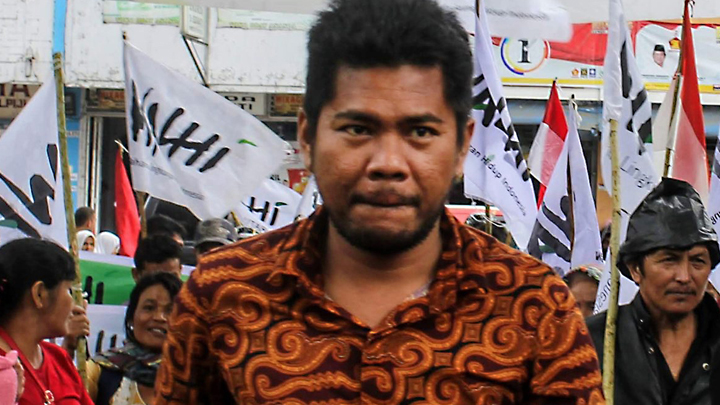 The Last Coffee for the Activist/Tempo
In the early hour of the morning, Ramli was with his wife, Marhaini Hasibuan. She woke Ramli up upon hearing a commotion outside. Ramli hurried out to the source of the noise. "There were already five people gathered around," said Rami.
Not long after, a motorized pedicab with five passengers passed by across the road. They turned around and approached the crowd. The pedicab driver and three passengers took Golfried to Mitra Sejati Hospital. The police later arrested the driver and two passengers because they stole items belonging to Golfried.
The items were two cellphones of Samsung and Nokia brands, a laptop, a wedding ring, and a wallet with Rp150,000 of cash. Almost all items have been retrieved, except the ring and the Nokia phone. "The pedicab driver and two passengers have been named as suspects. Another passenger is still on the run," said Sr. Comsr. Andi Riani.
While the thieves had been named as suspects, it does not provide an explanation for questions regarding Golfried's death. A North Sumatra Walhi member said the threats kept on coming, although not as often as when they were pressing charges against the Batang Toru hydro power plant. Golfried, the person said, was one of those who was subjected to the most frequent threats. "Many other friends were deterred."
Aside from being an active member of a team of 35 lawyers who contested the construction permit of Batang Toru hydro power plant, Golfried also reported signature forgery in the environmental impact analysis document on the hydro power plant to the Jakarta Raya Metropolitan Police. The report was dismissed due to lack of evidence.
Batang Toru hydro power plant management, North Sumatera Hydro Energy, rejected the notion that Golfried's death was related to the power plant construction. "Instead, we support the police to reveal the death of the deceased as clear as possible so that it would no longer be associated with the hydro power plant," said North Sumatera Hydro Energy Communications Director Firman Taufick to Tempo, Thursday, November 7.
LINDA TRIANITA, MEI LEANDHA (MEDAN),
MUSTAFA SILALAHI