Police Investigate Bekasi Parking Scandal
Police are investigating an alleged extortion in the parking management of several minimarkets in Bekasi, West Java. Bekasi Police Criminal Division Chief, Comsr
Edition : 11 November 2019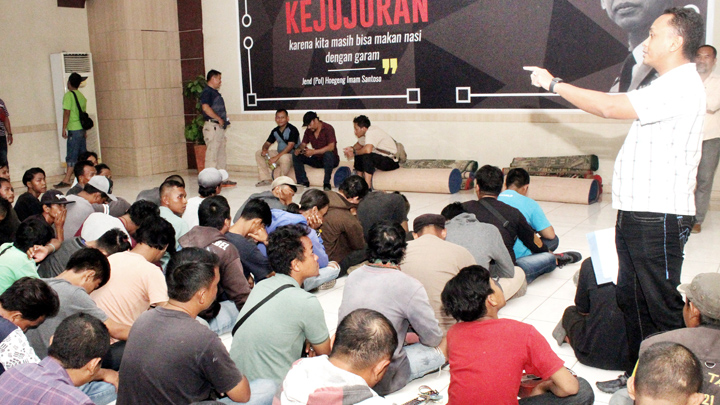 ARMAN, said the investigation is focused on the issuance of an assignment letter by the local government to a number of parking officers who are members of a mass organization. "We have confiscated the letter for investigative reasons," Arman said on Wednesday, November 6.
The letter was signed by Aan Suhanda, head of Bekasi City Revenue Agency, on August 16. It gave authorities to individuals who are members of mass organizations to collect parking fees in minimarkets in front of a gas station at Jalan Siliwangi, Rawalumbu. The letter was valid until September 30.
This sparked criticisms after several mass organization members held a protest in front of a minimarket at a gas station in Narogong, Rawalumbu on October 23. The protesters demanded to manage the parking lots in the area. In a video that went viral, Aan was shown asking the minimarket management to cooperate with mass organizations.
Police Comsr. Arman said that illegal collecting of parking retribution can be categorized as extortion. The police had questioned Aan and investigated the legal bases for recruiting parking officers. Aan said he issued the letter to collect parking fees in 150 minimarkets, and claimed that it is in accordance with Regional Regulation No. 10/2019 on Regional Taxes. "I have terminate it for evaluations. We will talk again about what is best," he said on Thursday, November 6.
Deni Muhammad Ali, chairman of the Siliwangi Children Barriers Initiative (GIBAS) of Bekasi City, refused to accept that the parking management done by his organization is categorized as extortion. "We gave some of what we got to the regional government."
---
Pratikno Leads Selection Process of KPK Supervisory Council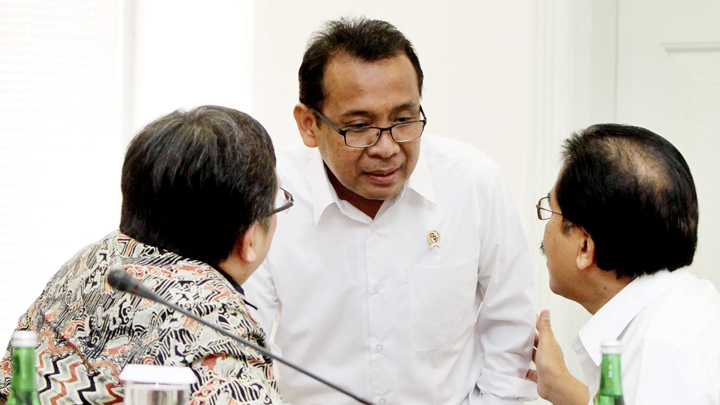 Pratikno Leads Selection Process of KPK Supervisory Council/TEMPO doc./Aditia Noviansyah
PRESIDENT Joko Widodo appointed Minister of State Secretary Pratikno as chairman of the selection team for the Corruption Eradication Commission's (KPK) Supervisory Council. Presidential Spokesman, Fadjroel Rachman, said the selection process would involve inputs from a number of community leaders. "All the processes will run under Pak Pratikno's command," Fadjroel said on Thursday, November 7.
Fadjroel said that the selection of the supervisory council members does not go through a selection committee mechanism such as the election of the KPK leader. The President, he said, hopes that those who are selected will support the government's decisions in the fight against corruption.
According to Fadjroel, the selection criteria refers to the new KPK Law, which states that the members must be at least 55 years old with a minimum education level of an undergraduate. "Candidates must also profess educational qualifications in the fields of law, finance, and banking," he said.
---
Police Arrest Officers Suspected of Kidnapping British Man
THE Jakarta Metro Police arrested four police officers and two civilians who are suspected of kidnapping and blackmailing British national Matthew Simon Craib in early November. "All suspects will undergo due process in accordance with our laws," Jakarta Metro Police Spokesman Sr. Comsr. Argo Yuwono said on Thursday, November 7.
One of the officers suspected is Second Brig. Julia Bita Bangapadang, who serves in the National Police's Cyber Crimes Directorate. Julia allegedly collaborated with Second Brig. Nugroho Putro Utomo, First Brig. Herodotus, and Second Brig. Sandika Bayu Segara, who serve the East Jakarta Metro Police's narcotics division.
Craib was kidnapped on October 30 after meeting a person named Giovani. Argo said the police suspect that the kidnapping was orchestrated by Giovani's girlfriend Nola Aprilia.