The Mischievous Man with the Stage Bazooka
He was stubborn as they come, but also loved to elicit a good laugh. His one aim was not to stay in his father's shadow. He performed as if going to war bearing a bazooka.
Edition : 18 November 2019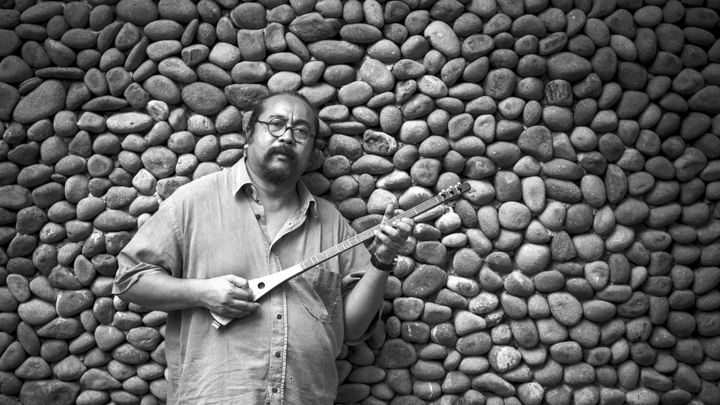 THE sad news was distributed by Butet Kartaredjasa as if it was a joke. Let me copy the WhatsApp message word by word: "Sing kepatil jantunge aku, lha kok sing mati Djaduk. Uasuwook." This was followed by the crying emoticon pressed thrice. The one who had the heart attack was me, how come the one who died is Djaduk? The joke, I know, was Butet's way of trying to remain strong while at the same time letting go.
When discussing RM Gregorius Djaduk Ferianto (July 19, 1964-November 13, 2019) it is impossible to not also mention Butet Kartaredjasa. And vice versa. I remember the moment well. While performing an Indonesia Kita episode titled Kanjeng Sepuh in Jakarta, Butet suffered a heart attack in the middle of the performance. The first thing he said to me was: "Don't tell Djaduk, or else he'll panic."
The Djaduk-Butet duo were no mere older and younger brother pair. They were soulmates, and at the same time partners in crime in their mischievousness and wild ideas when nurturing their creative energy, something true from since they were tiny tots. As the year 1977 turned into 1978, a performance titled Tahun Ulang Tahun (The Year Repeating Itself) instigated by among others, the late poet Linus Suryadi A.G. Butet, who had just finished middle school, was getting ready to perform in the Teater Kita-kita production. But they still had not found a musician. He suggested they rope in Djaduk (at the time in Year VI grade school). He is very good in traditional drumming, said Butet. That was the beginning of their lifelong artistic collaboration.
For this, Djaduk formed his very first music group, Rheze, which in 1978 participated in the National Humorous Music Competition in Jakarta, held by the Humor Assistance Institute. They were held up by lack of funds for the trip to the capital. So, Butet wrote out a proposal. That was the first time Butet became a production manager, making the rounds to solicit funds from donors, who included writers Ashadi Siregar and S.H. Mintardja. The Rheze Group turned out to grab First Prize and (in that moment) beat later-to-be-famous rock star Iwan Fals, who only managed to get fourth place. Ever since, any performance involving Djaduk, would be helmed by Butet as production manager. Djaduk would go on to form the KUA Etnika, the keroncong (popular Indonesian music brought in by the Portuguese) music group Sinten Remen, and the Banter Banget Melayu Orchestra.
Once any performance got underway, the audience would then watch Djaduk-Butet doing their humorous act. In fact, Djaduk happened to be a very serious artist when preparing a production. Whomever has worked with Djaduk would know very well how bullheaded the man could be, how rapidly he could yell at them if something did not come out perfectly. This would apply even to events that were 'light', such as performing gigs at weddings. Djaduk was a perfectionist. He would run every event as if they were performing for the Grammy Awards (as his colleagues would say teasingly). For each performance, it was as if Djaduk was going to war bearing a bazooka. For being such a tough disciplinarian, his colleagues in the Gandrik Repertory Theater group dubbed him the 'Kopasus' (Special Forces Chief Commander). He knew what they called him behind his back, and one day said: "I do not wish for people to get the wrong idea, that the Teater Gandrik so ready with our jokes on stage did not go through preparations that draw blood."
W251bGwsIjIwMjEtMDMtMDEgMTE6Mjg6MjciXQ
It was only much later I came to know why he was so pig-headed in prepping for any production: "I wish for people to appreciate me for my own hard work, not because I am a son of Bagong Kussudiardjo."
The big name of an important artist is much like a sheltering banyan tree, and the other trees cannot grow tall while under it. Bagong Kussudiardjo was a huge name in the New Order era. Djaduk had no wish to stay in that shadow. So he formed the KUA Etnika, established his own art studio and commune, away from the Bagong Kussudiardjo Art Community. He even deliberately carved an opposing political path to his father's in the Reformasi era beginning 1998. Djaduk had created a musical repertoire titled Kompi Susu. To my view, this was Djaduk's most politically frontal repertoire in a bid to say no to the powers that be: he created a stage act reminiscent of a repressive military command through the sounds of feet marching on a wooden stage. The musicians appeared on stage like a soldier troupe. The sounds, right down to the percussions, echoed loudly and sounded like terror.
Of course, anyone who came in touch with him would not only remember his bullheadedness. For Djaduk, if nothing else, loved to joke around. This was what made working with him so appealing: the tension in the beginning would be so full of joking camaraderie in the end. Trying to one-up another in pulling each other's' leg with Djaduk was something to look forward to. He was made of humor. That was his way of saying: "Let me hold the bazooka, and you guys can laugh in happiness." Then on the mark somebody made the retort: "Good thing you're only bearing a bazooka. If it was a crucifix, they'd think you were Jesus Christ."
---
It was only much later I came to know why he was so pig-headed in prepping for any production: "I wish for people to appreciate me for my own hard work, not because I am a son of Bagong Kussudiardjo."
---
Djaduk with KUA Etnika created the albums Orkes Sumpeg Nang Ning Nong (1997) and Ritus Swara (2000), then came Pata Master Jerman with the album Pata Java (2004). With Sinten Remen, he created Parodi Iklan (2000), Komedi Putar (2002), Janji Palsu (2003), and Maling Budiman (2006). He also scored music for films, including Soegija and Daun di Atas Bantal. He even once acted in a film, Petualangan Sherina. He composed music and directed several Teater Gandrik performances. He won Best Musical Director for the Vidia Cup in the Indonesian Television Film Festival (1995), was dubbed Creative Musician by the Indonesian Journalists Association Yogyakarta, received a Cultural Award from the Yogyakarta Government (2015) and received the UNESCO Grand Prize (2000).
In December 6-7, Djaduk should have been performing Para Pensiunan with Teater Gandrik in Surabaya. On November 16, he should also have been appearing in the Ngayogjazz—the jazz event he instigated besides the Mountain Jazz on Bromo event.
But November 13, at 2:30am, Djaduk passed. He is survived by his wife and their five offspring. Bernadetta Ratna Ika Sari, Djaduk's wife, said, "Its as if in preparation for a performance, this is his peak moment. I have been getting inklings since July, when Mas Djaduk suddenly decided to repaint the house. So that it looks like new. For the 15 years we have lived here, this is the first time Mas Djaduk had it repainted. Then Mas Djaduk decided to go on a trip just together with Mas Butet, to South Africa. No-one else could join. From Africa, Mas Djaduk often sent me WhatsApp messages: 'Ma, I miss you my love. I love you.' At the time, it felt like he was overacting. A week before, I was doing the ironing, suddenly Mas Djaduk appeared from the inner room, leaned on a pillar, and looked at me. He called me to come closer. Then he embraced me. I could only stay quiet. I can still feel his arms around me."
Djaduk recorded church hymns in his album Dia Sumber Gembiraku (He is the Source of My Joy). At Butet's behest, Djaduk also made a recording of Srengenge Nyunar so that "if you die, we who are carrying you will feel happy." It was this very song they played at his funeral procession.
If while on stage Butet is ever asked to sing, Djaduk would quickly cut in, "Don't even think of singing, Butet gets the wrong key even just coughing." To which Butet would retort, "I can't sing on purpose. Because if I could also sing, what would Djaduk have to make his living from?"
Butet related the story of Srengenge Nyunar. In the middle of the chat, Butet suddenly sang a phrase. We were all struck dumb. Butet did not sing off key at all. "How come you suddenly can sing, Tet?" I asked. "Is it because Djaduk has now given his voice in your keeping? He never left you."
Yes, Djaduk has never left Butet. He never left his wife and their five kids. He never left us. We will keep meeting Djaduk in his compositions, his work. And I'll bet he is happily beating on his traditional drum with all the many sounds of heaven around.
AGUS NOOR, WRITER