Intolerance on the Rise in Bantul
The police and a group of people stopped the holding of an event to commemorate the death of Ki Ageng Mangir, a historical figure who opposed the Mataram Kingdom, in Mangir Lor hamlet, Mangir village, Bantul, Yogyakarta, on Tuesday, November 12.
Edition : 18 November 2019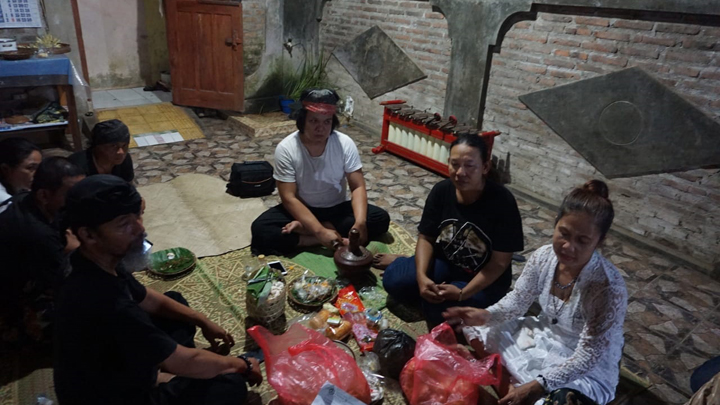 They urged that this event being attended by tens of people be stopped because it was unauthorized. "The police asked us to cancel it because some residents objected," said Utiek Suprapti, Chair of the Paguyuban Padma Buwana.
A day before the event, the Pajangan District Police Department summoned Utiek and informed her that some local residents had objections. However, Utiek still held this event in which there was a prayer that the earth be fertile and not have a drought. This event was led by Pandita Padma Wiradharma, a Buddha Tantrayana Kasogatan figure. It was at the time of the reading of the prayer that 10 hamlet residents shouted that the event should be disbanded. Pandita Padma was disappointed with this refusal, because Mangir has long been known as a village for spiritual tourism.
One person who was against this event being held was Bambang Supriyanta, secretary of the Central Mangir Village Community Empowerment Institution. He considered that the event had no legality and violated the three ministerial joint decree. Senior Adj. Comsr. Wachyu Tri Budi Sulistiyono, chief of the Bantul Police Department, denied the news that his men stopped the event. He claims that the police arrived at the location to provide security.
The Setara Institute, a human rights activism institution, considers that the intolerant practices which often occur in Bantul are the result of local leaders not emphatically standing up for minority groups. "This lack of firmness has set a bad precedent, such that examples of intolerance continue to occur," said Halili, Setara's Research Director.
---
Ahok a Candidate for Pertamina Commissioner
Minister of State-Owned Enterprises (SOEs) Erick Thohir has invited former governor of Jakarta Basuki Tjahaja Purnama alias Ahok to become a high-ranking official at a state-owned company. The plan is to bring Ahok into one SOE starting next month. "He is consistent and his track record is consistently constructive," said Erick at the Presidential Palace complex in Jakarta, on Thursday, November 14.
It was President Joko Widodo who recommended Ahok, who was his deputy governor when he presided over Jakarta. "It could be for either one (director or commissioner). There is a selection process," said Jokowi. Two sources at the SOEs ministry said that Ahok is a strong candidate for Pertamina's President Commissioner.
Ahok's appointment would ignite controversy because he was previously convicted in a case of blasphemy. Ahok himself is ready to be appointed a top SOE official. "Anything is fine. The important thing is to help the nation," said this politician from the Indonesian Democratic Party of Struggle (PDI-P).
---
Plans to Drop Environmental Impact Analyses
The agrarian and spatial planning ministry/national land agency plans to eliminate building construction permit and the environmental impact analysis (amdal). Agrarian Minister Sofyan Djalil said that this policy is intended to facilitate licensing and increase investment.
"To date, that licensing has been an extraordinary obstacle in the way of creating jobs and has inconvenienced the public," said Sofyan at the Presidential Palace complex in Jakarta, on Monday, November 11.
Regent of Karawang, West Java, Cellica Nurrachadiana, is against the plan. "Amdal is connected to the social life of the public," she said. She is concerned that the elimination of amdal will lead to uncontrolled construction. Nur Hidayati, Executive Director of the Indonesian Forum for the Environment (Walhi), said that eliminating such environmental impact analysis would likely lead to environmental catastrophe.