A Blast After the Morning Call
The suicide bomber of Medan's police headquarters slipped through the grounds undetected. He is believed to have been radicalized by his wife.
Edition : 18 November 2019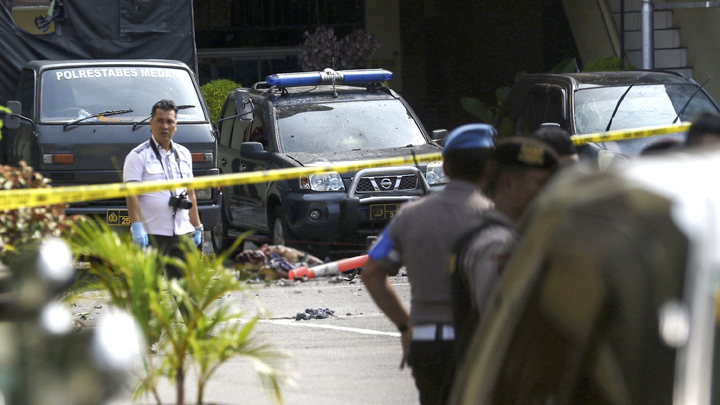 RIDING a Honda Vario motorbike with license number BK-6848-CH, Rabial Muslim Nasution stopped and parked across the Medan Police Headquarters in Jalan HM Said, on Wednesday, November 13. Rabial, 24, went straight to the security checkpoint directly opposite of North Sumatra's Indonesian Red Cross office. It was 8:30am.
At the checkpoint, on-duty guard Snd. Brig. Christian Simandjuntak saw Rabial with an online motorbike taxi (ojek) jacket, carrying a large bag. Christian asked him to remove his jacket and open his bag. While checking the bag, Christian only found a few items of clothing in it. Rabial told Christian that he was there to take care of a police clearance letter, or SKCK.
That morning, the Medan Police Headquarters had hundreds of people at the station wanting to process SKCK paperwork. "On the CCTV recording, Rabial's appearance did not spark any suspicion," Brig. Gen. Dedi Prasetyo, chief of the National Police public information division told Tempo on Thursday, November 14. Christian allowed Rabial to enter the premises.
Rabial and other visitors were shortly halted at the security checkpoint as the station's morning call had just finished. After the gates were opened, the visitors flocked towards the counter east of the checkpoint to process their paperwork. Rabial, meanwhile, wandered off from the crowd and headed north towards dozens of police who were still gathered on the field. After walking for 50 meters, however, he turned around and headed towards the SKCK counter.
Moments after that, an explosion rocked the station. Simultaneously, Rabial's body was ripped apart, his waist pulverized. The explosion occurred five minutes after he had entered the checkpoint. Medan resident, Lila, who was on location during the explosion, said it was so loud that it shook the ground. "Afterwards, there was lots of smoke," she said. The rumble was also felt by R.M. Hutapea, a member of East Medan's military command, at his office some 250 meters from the police station. "There was an echo in the air," said Hutapea, who said he immediately ran towards the source of the explosion.
Dedi Prasetyo said that Rabial assembled the bomb, which was filled with steel and nails and wrapped around his waist. The bomb went undetected at the checkpoint as it was covered by Rabial's shirt. After the bomb exploded, the police found dozens of nails and steel plates, and remnants of batteries, cables, and a control button. Six people, four among them police personnel, were injured by the explosion.
BORN in Medan on November 8, 1995, Rabial actively dove into religious studies since his teenage years. For a while, he lived with his extended family on Jalan Jangka No. 89 in Medan. The police searched this pale yellow-painted house some four hours after the explosion. Nine people live in the house, among them Rabial's aunt. "He was living with his wife, not here," she said as she exited the house towards a police vehicle.
Maya, a neighbor, said that Rabial often went to pray and read Qur'an at the mosque when he lived there. "He also had a job as a baked meatballs vendor," she said. Rabial no longer lived in the family home after getting married to Dewi Anggraini in 2018.
The police believe that Rabial was radicalized after marrying Dewi. When interrogated, Dewi admitted that she was part of a Facebook group which actively learn about caliphate system. Several weeks before the incident, Dewi visited Tasnima Salsabila, a terrorism convict at the Tanjung Gusta women's jail in Medan. Tasnima was a migrant worker in Hong Kong, who was sentenced to four years and six months incarceration for funding a terrorist movement and communicating with Bahrun Naim, an Islamic States of Iraqi and Syrian (ISIS) figure from Indonesia.
Tanjung Gusta Warden Surta Duma Sihombing confirmed the meeting between Tasnima and Dewi. "Tasnima is a resident of ours, under the supervision of the Anti-Terror Special Detachment 88 squad," Surta said. Another jail official who monitors visitors said that Dewi always came alone to visit Tasnima. "We monitor their movements," the official said.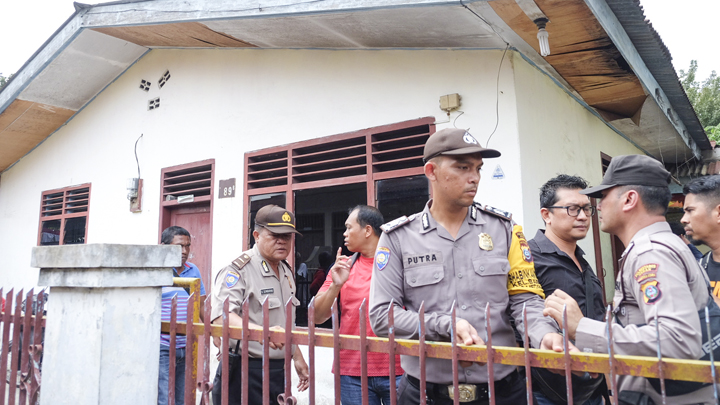 Home of the relatives of the suspected suicide bomber of the Medan Police HQ, in Jalan Jangka, Medan, November 13. ANTARA/Irsan Mulyadi
After marrying Dewi, Rabial lived for a few months with his in-laws at Jalan Marelan Raya Pasar II in Medan. At the time, he tried to set up a chicken eatery stall, but was not successful. Rabial then signed up as an ojek driver. North Sumatra's two-wheel vehicles' association, which received information from Grab in Medan, noted that Rabial stopped working as an online ojek driver since November 2018. "He only uses the attributes, but no longer has a working relationship (with Grab)," said Joko Pitoyo, the association's chairman.
In late September, Rabial rented a house on Jl. Marelan Raya Pasar I, less than a kilometer from his in-law's residence. Since then, he regularly attended a religious gathering group headed by a man with the initials SA, who currently is still on the run. When the police searched SA's house, they found an arrow's bow, pipes, and some texts about the caliphate.
The gathering attended by Rabial were held in various locations. Two days prior to his actions on November 11, Rabial was at a gathering session in the Canang Kering area in Medan Belawan. The local administrator, Jihadun Akbar, said Rabial visited the house of the brothers Aris and Fadli together with two unidentified people. "The home of those two brothers is one of the locations for their religious gathering sessions," Jihadun said.
Rabial's digital footsteps were also revealed after the bombing. He has a YouTube account created under his name in April 2011, with only two uploads on it. One from March 2013 was a parody of Joko Widodo—still Jakarta governor at that time—visiting flood victims.
After the bombing, the police arrested at least 18 people who had alleged ties with terrorist networks. However, the police have yet to uncover who funded and headed the group that ordered Rabial to carry out the explosion. "Our preliminary conclusion is that Rabial was a lone wolf," said Brig. Gen. Dedi Prasetyo.
North Sumatra Police Chief Insp. Gen. Agus Andrianto, however, has a different view. He believes Rabial belongs to the same Deli Serdang network which was arrested by the Anti-Terror Special Detachment 88 squad prior to the presidential inauguration on October 20. According to Agus, this group learned to assemble explosives from social media. "However, we need to look further into this," Agus said.
RAYMUNDUS RIKANG (JAKARTA), SAHAT SIMATUPANG, MEI LEANDHA (MEDAN)