The Drama of 'Abang' and the 'Mbak Cantik'
The relationship between Surya Paloh and Megawati had heated up, lasting until after the presidential election. Some of PDI-P cadres moved to NasDem Party.
Edition : 18 November 2019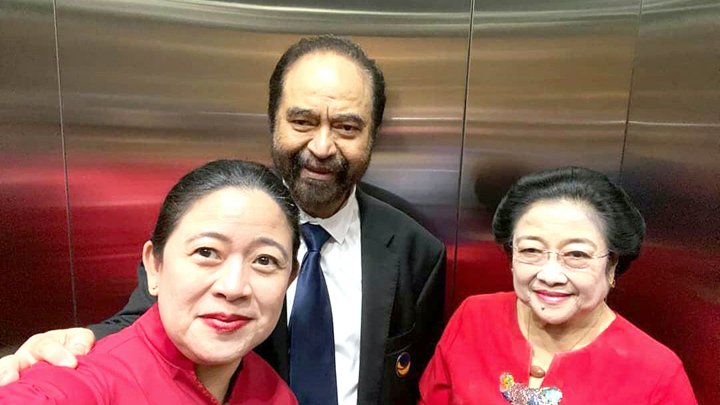 WHILE escorting Megawati Soekarnoputri to the lobby of Grand Mercure Hotel, Kemayoran, Central Jakarta, on Monday night, November 11, Surya Paloh whispered something to that General Chair of the Indonesian Democratic Party of Struggle (PDI-P). "Don't think that I am just kidding. I truly care about you," said that General Chairman of the National Democrat (NasDem) Party, repeating what he had said to Tempo, about an hour after his meeting with Megawati.
According to Surya, Megawati just smiled back, the exact meaning of which that Media Group boss could not discern. Megawati also smiled when Surya picked her up, along with her daughter, Puan Maharani, before the high point of the NasDem Party Congress. Puan asked her mother and Surya to take a wefie in the elevator, which she shared on her Instagram.
That meeting with the two shook hands contrasted with their meeting at the inauguration of members of the House of Representatives (DPR) at the Parliament Complex in Senayan, Jakarta, on October 1. At that time, Megawati shook hands with some high-ranking party officials, including Golkar politician Rizal Mallarangeng. When coming across Surya, who was next to Rizal, Megawati looked the other way and passed him by. Surya, who had been standing, sat back down. This sign of a crack in their relationship became a topic of discussion in the social media.
In fact, before that, Surya and Megawati were known to be very close. The two have been among the parties supporting Joko Widodo in both of the latter's presidential bids.
Patrice Rio Capella, a former NasDem Party Secretary-General, said that during the 2014 presidential election the two often ate together at the Tugu Kunstkring Paleis Restaurant in Jalan Teuku Umar in Menteng, not far from Megawati's residence. "Their favorite item on the menu was fried rice," said Rio Capella. They were so close that Surya often called Megawati 'Mbak Cantik' (pretty lady), while Megawati called Surya 'Abang' (big brother).
The seeds of discontent between the two began to sprout in the 2017 Jakarta gubernatorial election. Together with NasDem, Golkar, and the Hanura Party, the PDI-P supported running mates Basuki Tjahaja Purnama and Djarot Saiful Hidayat. According to high-ranking officials from the PDI-P and NasDem, the root of the problem was that Surya had asked Ahok—which is Basuki's nickname—to reconsider his candidacy.
Surya made this request when meeting with Jokowi and Ahok at the Bogor Presidential Palace, not long after the Aksi 411 (411 Action) protest on November 4, 2016. The protesters had urged Ahok be put on trial for blasphemy against Islam.
When asked for confirmation, Ahok verified that account of what had happened. Regarding that request to drop out of the race, said Ahok, "Pak Surya Paloh did not want to see his 'younger brother' have a hard time." Lestari Moerdijat, a member of the NasDem High Council, verified that her party boss had made that request.
During the time of that meeting at the Bogor Palace, Megawati was in France. After she returned to Indonesia, Ahok went to her house to tell her what happened during his meeting with Jokowi and Surya. Unlike Surya, said Ahok, Megawati asked him to stay in the race. Bambang Wuryanto, a PDI-P politician, said he heard the story about pressure on Ahok to drop out of the race. "Bu Mega was fighting for party ideology by continuing to support Ahok," he said.
---
Tensions rose between Surya Paloh and Megawati after some PDI-P cadres who were regional heads complained that they were often being pressured by the Attorney General Muhammad Prasetyo, a NasDem cadre.
---
Tensions rose between Surya Paloh and Megawati after some PDI-P cadres who were regional heads complained that they were often being pressured by the Attorney General's Office. From 2014-2019, that institution was led by NasDem cadre Muhammad Prasetyo. Trimedya Panjaitan, a PDI-P politician, said that his party's cadres were being threatened they would be named suspects in corruption cases if they were unwilling to join the NasDem Party. He cited candidates for regional heads in Central Java and Lampung who joined the NasDem Party because they were afraid they would be named suspects.
Surya Paloh denied that Prasetyo intervened in those instances. He said that he asked Prasetyo to step down from the party after becoming Attorney General. Surya denied the idea that some PDI-P cadres switching parties is what caused the crack in his relationship with Megawati. "I must say, there is no such thing. That is just wrong," said Surya.
Their relationship did not improve even while they were both supporting the Jokowi-Ma'ruf Amin ticket in the 2019 presidential election. After Jokowi won the election, their relationship soured further. This was triggered by a meeting Surya had with some coalition party chairpersons, without the PDI-P, at his office in Gondangdia, Menteng, Central Jakarta, on July 22. Two days later, a rumor of the existence of Surya's camp and Megawati's camp strengthened. That day, Megawati met with Gerindra Party General Chairman Prabowo Subianto, Jokowi's opponent in the presidential election. Meanwhile, Surya met with Ahok's challenger in the Jakarta gubernatorial election, Anies Rasyid Baswedan.
The relationship between the two camps was strained even further after Surya visited the office of the Justice and Prosperity Party (PKS), a party which supported Prabowo in the 2019 presidential election, on Wednesday, October 30. PKS is a government opposition party. Surya met with PKS President Mohamad Sohibul Iman and Advisory Council Chairman Salim Segaf Aljufri. "This meeting was to align views about social and national life," said PKS Secretary General Mustafa Kamal.
After the meeting, Surya bear-hugged Sohibul Iman. It turned out that this meeting angered Megawati's camp. PDI-P Secretary-General Hasto Kristiyanto disparaged Surya Paloh's maneuver. He questioned NasDem's close position with an opposition party. "Consistency in one's political position as being part of a coalition or outside of the government is also very important," said Hasto.
Surya reacted to the accusation of being inconsistent with the government coalition. That former high-ranking Golkar Party official asked that other parties not spread suspicion whenever NasDem communicates with other parties. Surya also brought up this matter at the NasDem Congress on Friday, November 8. "Those who claim that their parties are nationalist and have the spirit (of the national philosophy) of the (state ideology) Pancasila, go ahead and prove it," he said. "If a party is cynical, (spreads) empty propaganda, and calls on people to fight one another, that is definitely not in the spirit of the Pancasila."
However, the dramatic feud between the Surya Paloh and Megawati camps began to come to a close at that same event three days later, when Megawati arrived. In his speech given in the presence of Megawati and NasDem Party cadres, Surya emphasized he cherishes the important figures who were present. He even expressed his affection for Megawati. "This is very important, because when Megawati does not shake hands, it is a setback to Indonesian unity," said Surya, which was met with the thunderous applause of his party cadres.
WAYAN AGUS PURNOMO, DEVY ERNIS, HUSSEIN ABRI, FIKRI ARIGI, DEWI NURITA