SKK Migas Chairman Dwi Soetjipto: If there are many options, there has to be a tender
TUAL City was the last destination for the Upstream Oil and Gas Regulatory Special Task Force (SKK Migas) Chairman Dwi Soetjipto in his four-day visit to Maluku Province two weeks ago.
Edition : 18 November 2019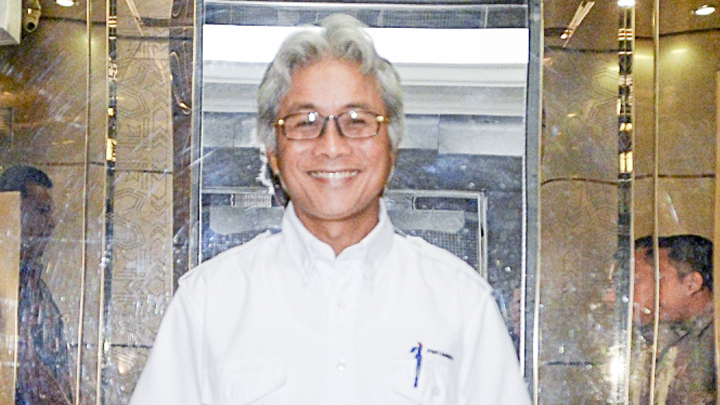 HE had one purpose: to survey the Samudera Indo Sejahtera port complex in Ngadi village, North Dullah subdistrict. The former Maritim Timur Jaya fishing port owned by businessman Tomy Winata was proposed as a new option for the Masela block megaproject's logistics base.
Dwi told Retno Sulistyowati from Tempo that Tomy's offer is only one alternative out of several that will be studied by his team and the Masela Block's contractor. "If talking about the close relationship between business players and government officials, well businessmen are indeed making an effort to have that," he said on Thursday, November 14.
How did Tomy Winata's business group enter the picture?
They have assets in Tual. Maybe that's why it was conveyed, offered when they and the Maluku governor had an audience at the Inpex office, among others, would it be possible (for the facility) to be used in the Masela project's activities?
Is Tomy's close relationship with government officials a factor?
If talking about the close relationship between business players and officials, businessmen are indeed making efforts to have that. Whether the owner have connections or a relationship with the regent or governor, that's normal.
So how is the SKK Migas responding to the proposal?
Our principle is, as I always say, whoever has the capability, go ahead. (They) can directly relay their proposal to the contractor (Inpex) or to the SKK Migas, especially to support local elements. So potential can come from anywhere. Of course we accept those that are in line with our needs. Our role is to make an inventory of assets that can be used in the implementation of a project. Although it's currently in the design phase, we must start surveying everything. With more options, better results will be achieved. Conversely, without options, we would have to make calculations as meticulously as possible. Inpex engineers and SKK Migas will study, for example, the port, standard facilities and land rent.
Will this not add to the cost?
Essentially, we have exercised that project cost is greatly determined by how fast it is completed. The speed will very significantly affect and reduce the cost. If now we're looking at which facilities are ready, well, that's normal because we are indeed working so that when in use everything is ready. If not, (we would) end up looking for (facilities) hastily, when Inpex needs them. When a large vessel arrives, items arrive, there would be confusion as to where to unload.
Is the plan decided through an auction?
In general, yes, there has to be a tender—except, for example, when certain things have no alternative. If this is a case, an independent party must make an appraisal. If there are numerous options, well, there must be a tender. Particularly for this Inpex project, cost is very important as it will affect the split with the government. So of course we will fight hard to get project and development costs that are as low as possible while still maintaining good quality because this project will last 30-50 years.
Are there several options for ports that can potentially be used?
The location of the onshore facility (liquefied natural gas [LNG] refinery) is certain, already determined based on Inpex's engineering evaluation. We are also looking at other options, unloading facility, will that be connected from the port in Ambon, Kupang, or Tual? This is what's being considered, which will have the lowest cost.
The logistics base port will be rented, so it's temporary?
Yes.
Inpex will not build it?
Inpex can either build it or make use of what already exists in Ambon, Kupang, or Tual. If not strong enough, then it's strengthened. If (Inpex) builds it, the loading-unloading of large vessels must be taken into account. And it would only be used for four-five years, during the construction period. When it's in operation, there is no need for a large facility such as that. Everything will be studied to determine the cheapest point.
So which facility is likely appropriate for use?
There hasn't been a decision.