A New Beginning
The move by State-Owned Enterprises (SOEs) Minister Erick Thohir to completely overhaul the top echelon of his ministry deserves appreciation.
Edition : 26 November 2019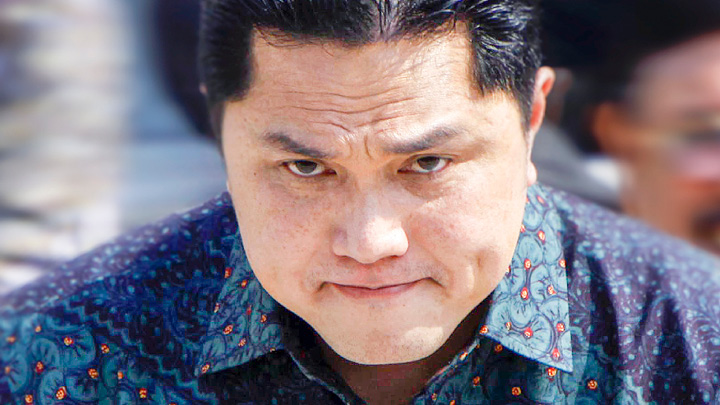 THE public hopes that this initiative will continue to the level of all board of directors and commissioners in all state-owned enterprises in this country.
The drastic changes at the deputy level by Minister Erick were unavoidable. As there are now two vice-ministers, Budi Gunadi Sadikin and Kartika Wirjoatmodjo, there is no longer any need for the seven deputy ministers who were appointed during the period of minister Rini Soemarno. Without a reshuffle, the structure of the echelon I level in the ministry is bloated, with overlapping responsibilities.
However, this reshuffle cannot be limited to simply moving personnel around. For too long SOEs have been positioned as cash cows for the interests of elite politicians. Rather than becoming a locomotive for economic growth, they have become a burden because they nurture corruption and an unhealthy business climate. These changes at the echelon I level could provide the momentum for a clean-up of the SOEs Ministry.
Therefore, Erick must be consistent in protecting his ministry from undermining by political interests. Politicians, and those with affiliations with political parties, should not be invited into the ministry. The appointment of Arya Mahendra Sinulingga as a member of the special staff, for example, sent mixed signals. Although he has resigned from the United Indonesia Party (Perindo), Arya is known to be close to party chairman and politician Hary Tanoesoedibjo.
The next challenge for Erick is to select directors and commissioners for state-owned companies. They must not be selected based simply on their closeness to politicians or other political considerations, but based on their competency and integrity. There must be no more of mass organizations and political parties putting forward names to be included in the boards of directors and commissioners of SOEs.
Furthermore, Erick must free SOEs of the shadows of political forces and turn them into professional corporations. If their performance as companies improves, the people will also enjoy the proceeds.
The main weakness of the SOEs Ministry in the first five years of President Joko Widodo's administration was that many principles of good corporate governance were ignored. It is an open secret that SOE directors often violated the principles of corporate governance to serve the interests of businessmen and political parties supporting them.
Just look at the project to build the Jakarta-Cibubur-Bekasi light railway that began without a proper feasibility study or sufficient funding. There is also the scandal of the 2018 Garuda Indonesia financial report where losses were magically turned into profits. It is not surprising that the list of SOE directors and commissioners detained by the Corruption Eradication Commission (KPK) continues to grow. As if they have learned nothing, one by one they are caught red handed either taking or giving bribes related to strategic projects in SOEs.
Reselecting the directors and commissioners of SOEs could be shock therapy to put an end to unlawful actions at the top of these companies. Therefore, the appointment of people such as former Jakarta governor Basuki Tjahaja Purnama, alias Ahok, and former KPK commissioner Chandra Hamzah to the Boards of Commissioners of Pertamina and Bank Tabungan Negara, respectively, is the right move, and needs to be continued to all other SOEs.
The appointment of people well known because of their integrity and credibility will give SOEs a positive image, and lead to fundamental cultural changes within them. Although there was opposition to Ahok being appointed to Pertamina, Erick should not be too worried. Commissioners are the extension of the shareholders in overseeing the work of the directors, and their appointment is entirely in the hands of the SOEs Ministry.
The next step is to reexamine the regulations on the implementation of good corporate governance at SOEs. At present, this important matter is only regulated in SOEs Ministerial Regulation No. 01/MBU/2001 on the Implementation of Good Corporate Governance in State-Owned Enterprises. And this is only in the form of a request, without clear sanctions if there are any violations.
It will not be easy turning SOEs into professional corporations. That will be huge and disruptive political pressure from those with vested interests. But Erick's first move, trimming the bureaucracy there, is promising. For too long, state companies have been nothing more than political bargaining chips. Now is the time for the SOEs Ministry to return to its main mission: supporting the development of the nation's economy.