Herry Iman Pierngadi, PBSI's head coach for men's doubles: Our Men's Doubles are Dominant
INDONESIA'S badminton men's doubles have achieved sterling results in a string of Badminton World Federation (BWF) Super Series tournaments this year.
Edition : 26 November 2019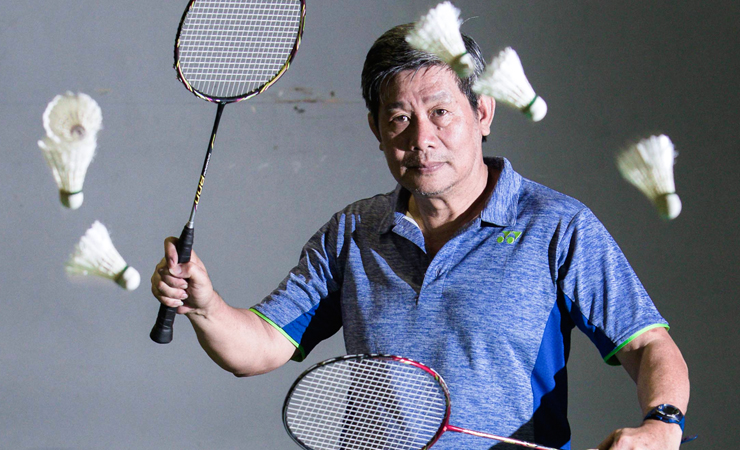 UNTIL last week, three Indonesian pairs are in the world's top-five doubles. Marcus Fernaldi Gideon/Kevin Sanjaya Sukamuljo, who clinched eight titles this year, are ranked number one, followed by senior pair Hendra Setiawan/Mohammad Ahsan in second position, and Fajar Alfian/Muhammad Rian Ardianto in fifth.
This accomplishment is inseparable from the role of Indonesian Badminton Association (PBSI) men's doubles coach Herry Iman Pierngadi. Under Herry, 57, Indonesia's men's doubles have dominated this year's Super 1000 tournaments—international tournaments that offer total prize money of about US$1 million—namely All England, Indonesia Open and China Open. Hendra/Ahsan even won the 2019 Badminton World Championship title. It is the best achievement of Indonesia's badminton men's doubles in recent years. Since joining national training center of PBSI in 1993, Herry has brought his players to win the Olympic, Asian Games and world championship. "In my career, I've attained all of them. I've gone full circle," said Herry in a special interview with Tempo, Thursday, November 21.
That afternoon, Herry was busy coaching his disciples at PBSI's training center in Cipayung, East Jakarta. Fajar Alfian backhanded a smash from the pair Mohammad Ahsan and Marcus Fernaldi Gideon. There were continuous front attacks, left and right. "Jar, step up your defense," Herry said to Fajar, who just barely returned the shuttle cock several times.
Herry was coaching defense techniques to Fajar, who will be paired with Rian in the upcoming SEA Games in the Philippines from December 1-9. Hands on his hips and glancing at his wristwatch, this man who is usually addressed as Koh Herry was walking from one field to the next.
After three hours of technical training, Herry received Tempo journalists Mahardika Satria Hadi and Aisha Shaidra. For two hours, this father of three whose hobby is keeping humming birds spoke about many topics: from his activities as a coach, players' regeneration, to challenges in coaching millennial athletes. Excerpts:
W251bGwsIjIwMjEtMDMtMDUgMDc6MTc6MjkiXQ
How do you see the current developments in badminton?
In the past two years, power has shifted quite a bit. In men's doubles, Denmark used to be one of our fiercest competitors. Now Denmark's achievement has declined. South Korea also used to be strong, and now it only has one strong pair. While we were used to either winning or losing, our men's doubles have been dominant in the past two years.
What about China?
China used to be dominant, but that is also changing. Their head coach was Li Yongbo, but he has been replaced in the past two years. Maybe there is a change in their system, or a decline in their achievements.
China's achievements are down?
Their doubles and women's singles have declined quite a bit. They are strong in mixed doubles.
Which country is the toughest opponent?
It used to be China, but they have surrendered. We used to have an ongoing fight with the pair Li Junhui/Liu Yuchen. Lately, however, they have been slacking off and keep losing. They used to compete with Kevin/Gideon, but now they even loose against Fajar/Rian.
Does this mean we have no opponents?
Of course we do. It doesn't mean that we are stronger, that's not the case. Let's not think like that.
What is the advantage of Indonesia's men's doubles?
Men's doubles' world players already know Indonesia's way of playing. We are known for net playing. We are superior in this, it's our specialization. Athletes from other countries have to think twice when playing Indonesia. We play with a lot of technique. Others rely more on power and speed.
What is the source of Indonesian players unique style?
Most of our badminton venues are using air conditioners. There are winds factor, whether you play against or in the direction of the wind. Then the physical shapes of Indonesian players are different from those of Korean and Chinese who are bigger and stronger. So we use techniques to compensate it, do not rely on power at all times.
When this technique was first developed?
I am carrying forward Koh Chris (Christian Hadinata) strategies, one of them is no lob. But I developed it further with more variations and details. Before, under Koh Chris directions, they had only two patterns. Now I have four to five net playing techniques.
Players from other countries don't adopt the style of Indonesian athletes?
Malaysia and India have started to adopt this style, since the coaches used to work under me.
Can their players follow this style?
Some can, and others can't. But I continue to scrutinize their weaknesses. For example, India's doubles have advanced quite a bit. We have teams that record tournaments. We study their weaknesses. When it's time for us to compete, I relay this information to my players.
Who decides who gets to train under you?
I make that decision.
What are the standards?
One of them is stroke quality, since strokes for doubles and singles are different. I can see if a player has talent for doubles. The basic stroke for doubles must be there.
What kind of stroke is this double's stroke?
It's more of a drive stroke, the shuttle should not lob. The smash must have a lot of power. Net play has to be good. However, these talents alone are not enough, and do not guarantee success for players. Much more important than those traits is character.
What kind of character is needed?
Discipline, motivation, fighting spirit. If one is talented but lazy, and has no discipline, then forget about it.
Do you often come across these kinds of players?
There are plenty like these, (laughs). In my experience, those kinds of players only last about a year, and then they leave (the national training center).
How long does it take before players show their true characters?
Usually it's apparent within one or two years. It also depends how lucky they are. For example, if training goes well, then they don't get hurt. When they are about to go on a tournament, then they fall ill. Some are like that.
How do you approach your players?
This depends on the athlete, because every individual is different. I have to be able to see through their characters. They must also understand my character. All of us must learn together.
Do you also discuss topics outside of the playing field?
We even discuss romance, although we keep it light. I am a coach, but I also have the duty to look after them. Some romances support their game and they become even better, but some relationships do the exact opposite. We have so many stories, one can write a book about them.
Can you share a memorable story?
One of my players was dating another athlete. I saw that the latter was a distraction to my player. During his breaks, she asked him to drive her, and she would appear unhappy. Then I told him: "Break it off. You're handsome, find someone else." I said this jokingly. About four or five months afterwards, he told me: "I broke it off, Koh. She was always bossing me around."
What happened to the player after that?
He played better, had enough rest and better concentration. He won in Thailand Open and a tournament in Malaysia.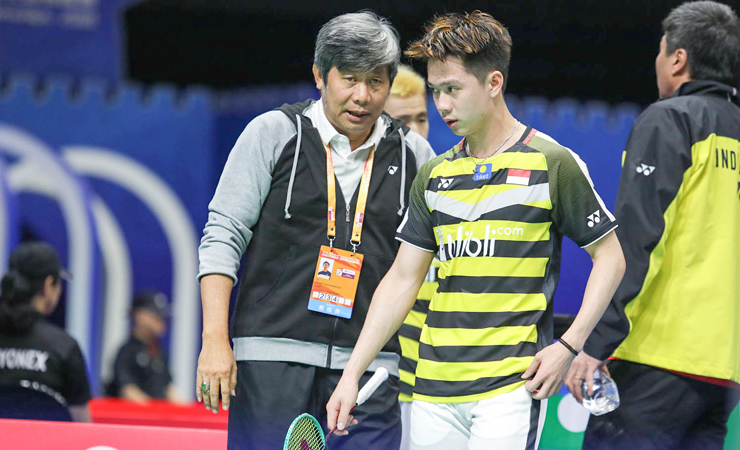 Herry Iman Pierngadi gives instruction to Kevin Sanjaya Sukamuljo at the World Championship in Nanjing, China, August 2018./badmintonindonesia.org
Have you ever clashed with players?
About five or six years ago, I would sometimes get emotional, as would the players, and of course there would be some clashes. Now that's basically disappeared. Differences of opinions are normal occurrences.
What is the difference between coaching athletes in the past and the millennials now?
Current athletes are more professional. This may be the impact of their contracts. In the past, contracts are done through the PBSI. Now sponsors go directly to the players, and PBSI gets no money from them. This increases the players' sense of responsibility.
Other reasons for increased professionalism besides their contracts?
Physical training used to be much tougher. Current training methods are more focused on technique. Physical strength was more of a focus in the past due to the 15-point system. That makes a huge difference. (In rally point system, a non-service player will acquire point whenever his or her opponent makes a fault or the shuttle ceases to be in play because it touches the surface of the opponent side of courts. The system that has been in use since 2005 applies a 3 x 21 scoring format. The rally point system has significantly succeeded in lopping games durations.)
What are the challenges of training millennials players?
It's the gadget, surely. Before the social media era we talked to each other in the court. As for now, if we don't put eyes on them, they would engross in their gadgets. It compels us to establish directions on how to behave in the court. Old generation of players used to be more focus (in training). The social media could have significant impact on players up and down performances.
You have been a national coach since 1993. How has talent development evolved from then until now?
In the past five to seven years, there has been a change in Indonesia due to the badminton scholarship auditions. Interest from the public, particularly among the youth, has soared. The effect is extraordinary. Auditions have mushroomed, from Bandung, Purwokerto, Sumatra, to other cities.
So there is a wider pool of players?
I don't have the exact numbers, but it seems like it has gone up more than 50 percent. This is an advantage for talent development in Indonesia. Take Kevin, for example, who came out of auditions in 2007.
Our men's doubles seem to shine, and there never seem to be a shortage of players. Why is it not like that in other sectors?
I always pay attention to regeneration. This is important for us. Don't just depend on one pair of players. Take Kevin/Gideon, who are currently the world's number one. We don't need to focus on them since they are already on their way. We look for other players to be prepared. I am preparing Fajar/Rian at the time, they are still volatile. But we also need to prepare the younger generations. Its save to have three layers of players. The regeneration must continue.
How?
I pick young players (for national training center) during promotions and degradations event every year. It is a compulsory to promote young players to ensure that regeneration—which is always takes time—is taking place timely.
Is regeneration not going smoothly in other sectors?
I'm not sure. It must be present, but every coach has a system. Maybe that's not running well, or there are still a limited number of players to choose from.
You left the national training center for a while. What happened?
I was let go in 2009-2010. I asked the PBSI why this happened, but nobody was able to give me an answer. I was performing well. So I guess they were looking for my weaknesses.
Is it true that you had a conflict with Markis Kido?
He said he felt incompatible with my coaching. In fact, he was incompatible with my program because I'm tough. (Herry was in conflict with athlete Markis Kido, who proceeded to complain about Herry to the PBSI. Herry was let go from the training center in the run up to the 2008 Olympics. He was replaced by Sigit Pamungkas, his former assistant).
What did you do at that time?
I became an event organizer for bird competitions, and traveled all around Indonesia.
Did you get offers to coach at other places?
Malaysia actually asked me to become its coach, but I declined. I wanted to forget about badminton for a while. I was so disappointed at the time.
But you were asked to go back to the national training center.
Koh Chris (Christian Hadinata) phoned me in 2011. He was training center director at the time. He asked: "Her, do you still want to coach at the training center?" I said I was willing to do it if the PBSI trusted me to do it. There were Bambang Suprianto and another candidate, but I was chosen.
When did you start your coaching career?
I first started coaching at the Tangkas Club in 1989. This was after I stopped playing due to an injury on my left knee. I was its first men's doubles coach.
How much did you get paid?
Rp400,000.
What is your salary at the national training center?
My first salary in 1993 was Rp750,000. The amount is significantly higher now, between Rp60 million and Rp100 million monthly, enough to meet my necessities.
What facilities are provided?
A room for leaning my back in Cipayung dorm, food, and health insurance.
Do you have offers to become coach in other countries?
Almost from all of them, (laughing). Malaysia, South Korea, and the latest was China. I was told to name my price, but I didn't reply. Work is not just about money, but there must be pride in it. If money is the thing, I would already have gone off elsewhere.
Where do you find your inspiration for training?
From my personal experiences—I often competed abroad—and watching a lot of games. I also combine all good things from other coaches and use it.
Who is your role model?
Koh Chris, my senior. I learn many things from him, particularly in regard to discipline and the way he communicates with players. He gives me advices frequently.
How different is PBSI's system today?
There are piecemeal modifications brought by new chairman every five years. For instance, few years back 25 percent of prize money and bonuses should go to clubs and provincial governments. It all goes to the players now. And players are contracted individually (by sponsors), not collectively as before.
When does the change happen?
Since Pak Gita Wirjawan leadership (PBSI Chairman 2012-2016)
Which pair has impressed you the most, out of all the doubles' pairs you've trained?
Each pair leaves its own distinct impression. But I was surprised and proud when Candra Wijaya/Tony Gunawan became champions at the 2000 Olympics in Sydney. Also when Ahsan/Hendra won the 2013 BWF World Championships in Guangzhou, and when Kevin/Gideon won their first All England in 2017.
You didn't expect that Candra/Tony would win the gold medal?
Indonesian players claimed three places in final at the time. Tri Kusharyanto/Minarti Timur lost the game as well as Hendrawan. My double would play the last game. Koh Chris came and said, "Her, the gold for Indonesia depends on you." But, it was in the players' hands, I replied. Candra/Tony couldn't sleep at night since they were (our) last hope. They lost their game before in the All England championship. I remained them: "Indonesia's faith is in your hands." Thankfully they cinched the gold medal. I am so proud to be able to deliver the Olympic gold medal.
Were there moments of discontent as a coach?
During the Olympics in Rio de Janeiro, Brazil, in 2016. I prepared Ahsan/Hendra. I thought that they would reach the semifinals, but they didn't even get through the qualifying rounds. I was down at the time.
Any tournament that hasn't been won?
In my career, I've attained all of them. I've gone full circle.
Since when were you a badminton fan?
Since I was about eight or nine years old. Before that I played soccer. During the rainy season the fields would be wet, and my clothes would be dirty after playing. My mother, who had to wash my clothes, was complaining. "Why are you playing soccer? It only soils your clothes. Go play some badminton." Since then, I started playing badminton.
Did other family members play badminton?
My father played, but only in the neighborhood.
Did you get your first racket from your father?
At first, I always borrowed my father's racket. But then my mother bought me a Yonex Blacken, all black, from Pasar Baru (Jakarta).
Did you pass on your badminton talent to your children?
Only one out of my three children—the youngest Karen Aprillia—plays badminton. She took part in the national championships in Palembang (November 24-28, 2019).
What is your favorite sports other then badminton?
Soccer, certainly. I like to watch the English Premiere League and Spanish La Liga. I also used to play basketball, but it was only for a hobby.
Are you still maintaining humming birds as a hobby?
It has become more than a hobby: its' almost turning into a business. I enter competitions. The transactions are favorable. The record price was Rp250 million for one bird. It started out as a refreshment activity. (Badminton) competitions and goals are burdensome and stressful. Birds are my entertainment.
---
Herry Iman Pierngadi
Place and date of birth: Pangkal Pinang, Bangka Belitung, August 21, 1962 | Education: Coaching diploma from Jakarta State University (1993-1994) | Career: Player for the Tangkas Club (1977-1988), Tangkas Club coach(1989-1992), PBSI men's doubles coach (1993-2009; 2011-now) | Achievement of players under his coaching: Olympic gold medals in Sydney in 2000 and Beijing in 2008; All England champions in 2014, 2017, 2018, and 2019; Gold medals at the World Championships in 2013, 2015 and 2019; Gold medals in the 2014 and 2018 Asian Games; Indonesia Open champions in 2013 and 2018; China Open champions in 2016 and 2017; BWF World Championships' winner in 2013