Akbar's Sweets in Both Hands
Akbar Himawan Buchari is active in business and politics. He often uploads photos together with President Jokowi's son-in-law, Bobby Nasution.
Edition : 26 November 2019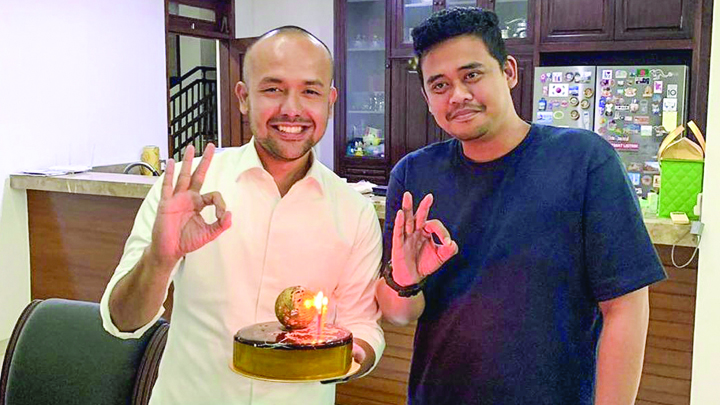 HOTEL Saka in Jalan Gagak Hitam, Medan, is next to Kurnia Anugerah Pusaka Autobus Company's bus pool, which serves the North Sumatra-Aceh route. Both businesses are owned by Akbar Himawan Buchari, a businessman who is also a member of the North Sumatra Regional Legislative Council (DPRD).
Ilham Nasution, a Hotel Saka security officer, said that Akbar often comes to the hotel. "However, after selling the stock, Pak Akbar rarely comes here," said Ilham, on Friday, November 22.
Akbar sold 70 percent of his stock in Saka Mitra Sejati, the company that holds Hotel Saka and Hotel Saka Premier—which changed its name to Hotel Swiss-Belinn—for Rp68.4 billion on August 23, 2018. The buyer was Intikeramiks Alamasri Industri. Today Akbar focuses more on the inter-city bus transportation business left to him by his father, real estate, and a 6,000 hectare oil palm plantation in Blang Seunong, East Aceh. He is active in organizations and from 2015-2018 was chairman of the Indonesian Young Entrepreneur Association (HIPMI) of North Sumatra.
The 31-year-old man has run that bus company since he was in high school, aided by his uncle. After graduating high school, he studied law at the Al-Hikmah Islamic College in Medan, in 2011.
Akbar first got involved in politics in 2014. He ran to become a member of the House of Representatives (DPR) from the North Sumatra I constituency, which covers Deli Serdang, Sedang Bedagai, Medan, and Tebing Tinggi. He was the ninth candidate on the ballot from the Golkar Party, but failed to be elected to the national legislature in Jakarta. Even so, he continued to be active in the Golkar Party of North Sumatra, as treasurer.
In the 2019 General Election, Akbar again ran for the legislature. This time he registered to run to become a member of the North Sumatra DPRD, and was elected. He was also treasurer for the Joko Widodo-Ma'ruf Amin presidential campaign team in North Sumatra.
Fuad Ginting, an advisor for the Jokowi-Ma'ruf campaign team in North Sumatra, said that Akbar was on the election campaign team even though Golkar had withdrawn from the regional campaign team. Golkar, said Fuad, had made its own election campaign team. "Golkar withdrew because it did not agree with a regional election campaign team led by another party," said Fuad.
According to Fuad, Akbar was quite active on the campaign team. For instance, whenever Jokowi's son-in-law, Bobby Nasution, campaigned in North Sumatra, Akbar would always accompany him. "He was close with Bobby for campaign needs. He was the one who accompanied Bobby wherever he went," said Fuad.
On several occasions, Akbar has been at odds with Bobby. On his Instagram account, Akbar has uploaded many photos of himself with Bobby. On Bobby's birthday, on July 5, for instance, Akbar is presenting a chocolate cake for Bobby. In another photo, Bobby is feeding Akbar a piece of cake. When Bobby and Kahiyang Ayu's first daughter was celebrating her first birthday at Hotel Aston Priority in Simatupang, Jakarta, Akbar and his family attended.
Tempo attempted to confirm Bobby's close relationship with Akbar. A written request for an interview was sent to the Presidential Palace's press bureau on Wednesday, November 20. As of Saturday, November 23, there has been no response to that letter.
Ahmad Doli Kurnia Tanjung, acting Chairman of North Sumatra Golkar, said that Akbar has not been party treasurer there since October 2018. "Akbar is no longer a party official due to his preoccupation with activities outside the party, which negatively affected party performance," said Doli.
There was no response to an interview request sent to Akbar. The letter of request was delivered to the office of Hotel Swiss-Belinn in Medan. Akbar's residence in Jalan D.I. Panjaitan in Medan was empty. Tempo also went to a house some sources said belonged to Akbar in Kemang, South Jakarta. However, a resident there said that it does not belong to Akbar.
LINDA TRIANITA, MUSTAFA SILALAHI,
RIKY FERDIANTO (MEDAN)