Medan Merdeka's Dual Agenda
Erick Thohir removed all echelon I officials in the SOEs ministry. The ministry's organizational structure is streamlined to create a bureaucracy with a so-called corporate feel. But the restructuring was also triggered by another mission that was kept secret from the public for a while, namely the mission to eliminate positions trading at state-owned companies. The palace has known about this suspicion for some time.
Edition : 26 November 2019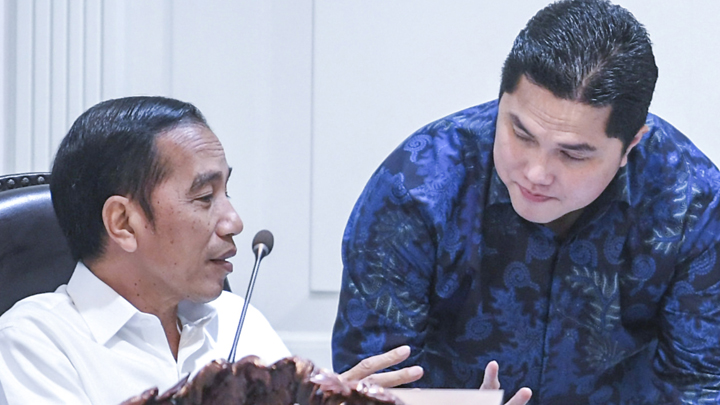 Fajar Harry Sampurno only recently had to experience how fast life can change. On the morning of Monday, November 18, the 53-year-old man was attending a meeting at the coordinating ministry for the economy as the state-owned enterprises (SOEs) ministry's deputy of mining businesses, strategic industries and media. The next day, he was sitting at a table along with other SOE directors, who were convened by SOEs Minister Erick Thohir at the Mandiri Club, South Jakarta.
That day, on Tuesday, November 19, Fajar was removed from his deputy position and appointed chief executive officer (CEO) of Barata Indonesia. Fajar responded to the 'demotion' casually. "I have been transferred 17 times, have also been a director. So, (I'm) used to it," he said when Tempo met him at a café in Mega Kuningan, Jakarta, on Thursday night, November 21.
Fajar's new position is not too disagreeable. Over the last four years, Barata Indonesia managed to free itself from losses. The company's profit has increased annually, reaching Rp67.5 billion in 2018. With Rp4.57 trillion in assets, Barata is also touted as a large corporate that will oversee the plan to form a superholding for heavy machinery SOEs. This is why the company's leadership was also summoned by Minister Erick to the meeting at the Mandiri Club, with only 32 major SOEs invited.
But the SOEs ministry's restructuring has been unusual, with seven echelon I officials were removed simultaneously. Six others were SOEs Ministry Secretary Imam Apriyanto Putro, Deputy of Business Infrastructure Hambra Samal, Deputy of Agro and Pharmaceutical Industries Wahyu Kuncoro, Deputy of Business Restructuring and Development Aloysius Kiik Ro, Deputy of Financial, Survey, and Consulting Services Gatot Tri Hargo, as well as Deputy of Energy, Logistics, Regions and Tourism Edwin Hidayat Abdullah. They were transferred to six SOEs to serve as chief executive officers.
Via a written note circulated on Monday night, November 18, Minister Erick said he had met with all SOEs ministry echelon I officials who were removed. He said the decision was only a part of their 'tour of duty'. But the former head of Joko Widodo-Ma'ruf Amin's national campaign team says his policy in restructuring the ministry is to create an effective and efficient bureaucracy, as mandated by President Jokowi.
Erick explained that he has two deputy ministers, namely, Budi Gunadi Sadikin and Kartika Wirjoatmodjo. The former director of Indonesia Asahan Aluminium and Bank Mandiri will be supervising all SOEs that have so far been under the supervision of five deputies. Eventually, there will only be three deputies at the ministry to lead the human resources, legal affairs and finance divisions. Their tasks do not directly intersect with SOEs. In short, said Erick, he will turn the bureaucracy into a corporate-like structure. "Bureaucracy must understand the corporate problems."
THE day before Erick Thohir shared the written response, Budi Gunadi Sadikin and Kartika Wirjoatmodjo convened all of the ministry's echelon II and III officials on the 21th floor of the SOEs ministry in Central Jakarta. These positions are held by assistant deputies and division heads.
In the meeting, said two ministry officials, Budi and Tiko—Kartika's nickname—said there will be changes in the organizational structure. But both SOEs deputy ministers did not mention that there would be a cut in the ministry's echelon I officials.
The presidential decision on the removal of seven echelon I officials at the SOEs ministry had, in fact, arrived at Medan Merdeka Selatan—the SOEs ministry's office—on Thursday night, November 14. The presidential decree was signed on the same day. The substance came from a final evaluating team (TPA) meeting that took place two days prior, on Tuesday, November 12. The team's members, among others, were the President, Vice President, and Minister Erick.
Upon receiving the presidential decision, the administration team under Deputy Minister Budi Gunadi prepared termination letters on Friday, November 15. Although the plan was to keep the decision from the public to prevent commotion, Vice President Ma'ruf Amin spoke about the restructuring on the same day. "What's notable at the TPA was only about the removal of seven officials in the SOE circle. But no replacements yet," Ma'ruf told the media.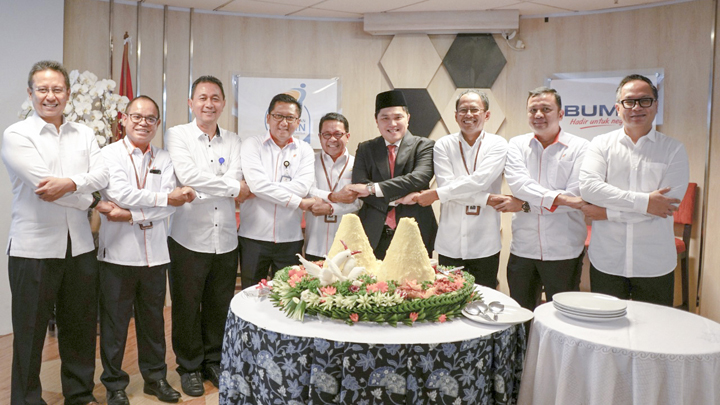 SOEs Minister Erick Thohir with the former deputies in Jakarta, early November./ bumn.go.id
At the time, Ma'ruf did not explain what "the SOE circle" was, either the SOEs ministry or state-owned companies. Even so, the news was enough to prompt Fajar Harry to pack his things at the office on Saturday, November 16.
Three ministry officials whom Tempo met separately explained that Jokowi's approval of the restructuring is not only for the sake of streamlining bureaucracy. The primary reason, they said in similar language, is that Jokowi had long heard about the trading of SOE director positions, which is believed to have involved echelon I officials. The topic was among those discussed at the Palace, Jalan Medan Merdeka Utara, Central Jakarta.
Two Tempo sources say the position trading practice involves, among others, a payment made by directors to SOEs ministry's high-ranking officials. The payment makes use of incentives for directors. They give instruction to pay attention to directors who have received a 'promotion', meaning they have been transferred to larger SOEs despite their lack of achievement in the previous companies. This is why, after concluding the administrative side of the ministry's restructuring, Minister Erick will prepare to overhaul the managements of state-owned companies.
Presidential Spokesman Fadjroel Rachman was reluctant to answer questions about Jokowi's stance regarding the SOEs ministry's restructuring. "Ask Arya Sinulingga," said Fadjroel when contacted by Ahmad Faiz from Tempo on Friday, November 22.
Arya Sinulingga is a special staff at the SOEs ministry, who was appointed by Erick in early November. The former United Indonesia Party (Perindo) head of media and mass communication told Putri Adityowati from Tempo that the decision came from Minister Erick. "Directly from Pak Erick, not the President," said Arya at the SOE ministry office on Friday, November 22.
Ministry of State-Owned Enterprises is among ministries that receive most attention. The institution oversees 113 SOEs—not counting subsidiaries—with almost Rp8,200 trillion in total assets. The ministry is seen as the most enticing government institution. This year, the government aims for Rp49 trillion in dividends from SOEs. The number excludes taxes from the companies' earnings.
But throughout the first tenure of President Joko Widodo, SOEs also had some dark moments. Many SOE officials have been apprehended by the Corruption Eradication Commission (KPK). On Wednesday, July 31, the KPK apprehended Andra Y. Agussalam, who was finance director of Angkasa Pura II, for alleged bribery surrounding the project of its subsidiary, which also implicates Industri Telekomunikasi Indonesia CEO, Darman Mappangara. Corruption has also been exposed in a number of cross-sectoral state-owned companies, from insurance, energy to transportation.
The balance sheet of SOEs are also experiencing a rising trend in debt-to-equity (DTE) ratio. Although the DTEs are not as high as during President Susilo Bambang Yudhoyono's administration, the swelling amount has brought a number of companies to crisis, such as Krakatau Steel. Debts have piled up in a number of construction SOEs tasked with many infrastructure projects during Jokowi's first administration.
The controversial 2018 Garuda Indonesia balance sheet has splattered more dirt to the face of SOEs. The claim that GIAA—Garuda's issuer code—received a profit of Rp70.02 billion last year was proven to be incorrect, causing the Financial Services Authority (OJK) to sanction the company to submitting another financial report. According to the revised financial report, the airline company, in fact, suffered Rp2.45 trillion in losses.
It was also during Jokowi's first term as president that the Asuransi Jiwasraya scandal erupted. Jiwasraya failed to pay its bancassurance by its due date. Later on, it was discovered that the company had also carelessly invested. The SOEs ministry has asked the Attorney General's Office to investigate suspected fraud in this case.
Furthermore, a number of strategic national projects have not been running according to plan. Jokowi's promise to accelerate the construction and development of oil refineries to improve energy resilience and suppress imports has not been realized. Pertamina, who was tasked with the Refinery Development Master Plan, has never had stable business. Over the past five years, the country's largest and most strategic SOE has had to experience changes in leadership as many as three times.
The mountain of SOE problems are part of Minister Erick Thohir's homework. As a result, Erick begins his work by restructuring his ministry and state-owned companies. He says he needs not only intelligent individuals, but also those with integrity. "Having great integrity and strong commitment," said Erick in a written statement on the restructuring of the SOEs ministry's echelon I line-up on Monday, November 18.
Erick made a similar statement during the meeting at Mandiri Club. To the CEOs and president commissioners of 32 SOEs, he warned company managements against lobbying to keep their positions. One SOE chief executive officer who was present said Minister Erick explained that he already knew that there were echelon I officials with the authority to place people in SOE boards of directors.
Arya Sinulingga confirmed that his boss made such a statement. "They don't need to lobby. If (the company) is making profit, there's no need to worry," he said.
According to Fajar Harrry, his new boss indeed stressed that the directors had to have integrity, be loyal, focus on improving performance, and be able to work in a team. But as an official who have been with the SOEs ministry for a long time, Fajar says he does not understand what Erick meant by lobbying. "Before, there was a lot of people getting busy. But since Rini Soemarno became minister, (the SOEs ministry) has truly been tidied up," he said.
KHAIRUL ANAM, RETNO SULISTYOWATI