A Ministerial Therapy
Despite being just appointed minister of health, Lieut. Gen. (ret) Dr. dr. Terawan Agus Putranto should not be let off the hook from being sanctioned for violation of ethics, as ordained by the Indonesian Honorary Board for Medical Ethics. The professional opinion of medical experts should not be shunted aside using power tactics.
Edition : 3 Desember 2019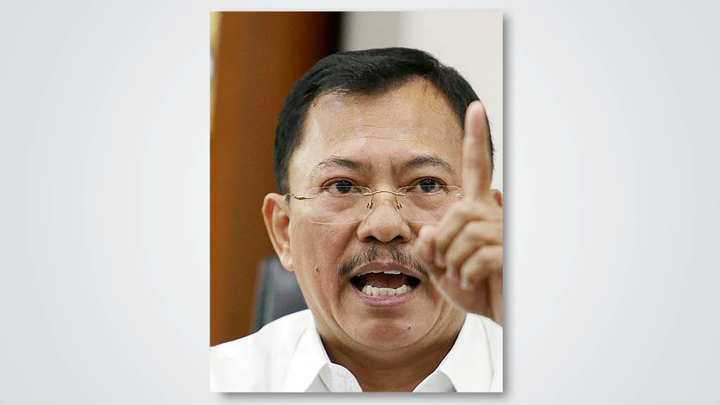 If the sanctions against Dr. Terawan are ignored, the entire structure and mechanism for regard of ethics in medicine here will go to pot. The rulings were established to protect the interests of the patient from being given treatment which has not undergone appropriate clinical trials. This is a bad precedent, and one that is dangerous.
The crux of the matter is, the power to halt untoward practices violating rules are in the hands of the health minister. Terawan himself on many occasions insisted his therapy has been medically proven and that attacks on his mode of research have no base. For this, it makes it difficult to imagine Terawan making a decision that would be detrimental to himself.
Ideally, Terawan could take the high road and allow his peers at the health ministry take a course of action in his case, with no intervention. Persisting in blinkering his eyes and ears to the controversy that has spread wide regarding his case almost confirms Terawan's conflict of interest as health minister. He would be breaking his very oath as minister and his professional oath as a doctor if he allows this conflict of interest be left unresolved.
The Medical Department at the Hasanuddin University in Makassar should also intervene. As an institution of higher learning, the leaders of the campus should act upon the reports concerning unbecoming conduct in Terawan's dissertation. The university's reputation is at stake if the accusations against Terawan's research are not thoroughly investigated into.
If it so happens the accusations against Terawan do prove true, the professors at Hasanuddin University should not hesitate in making his doctorate null and void. This is important because all this while, Terawan has maintained his therapy's academic credentials based on the dissertation.
Incongruousness in Terawan's dissertation are of serious concern. Many of his theoretical hypotheses are suspect. An example, Terawan claims that heparin has undergone clinical trials to bust through blockages in human arteries in a research in Germany. In fact, the trials were conducted on canine veins.
Terawan also claims that Heparin—normally used to prevent blood coagulation in digital subtraction angiography therapy, a medical procedure to diagnose disease—can break down blockages in the arteries. This claim has no clinical substantiation whatsoever.
For this, in February 2018, the Honorary Board of Medical Ethics gave the assessment that Terawan violated medical ethics, among them Article 6, which says, "It is imperative medical doctors take precaution in announcing or applying any technical discovery or new medication as yet unproven and actions that can cause unrest in the community." For this violation, the Board recommended Terawan's license to practice medicine be revoked for one year.
It is unfortunate that health minister at the time, Nila Moeloek, did not put in application the decision of the Honorary Board. She instead formed an investigating unit to study Terawan's brain therapy. When the Ministerial unit came to the same conclusion as the Ethics Board, once again Minister Nila took no action. Instead she took an unusual course, giving permission to Terawan to conduct clinical trials while continuing his practice. In fact, clinical trials should be limited and non-commercial.
The decision of the Army Chief of Staff at the time, Gen. Mulyono, was no less unusual. He requested the Honorary Board for Medical Ethics do some coordination first before meting out a sanction to their own. A warning of this kind is tantamount to military intervention towards a medical institution.
The whole sorry muddle became worse with the decision of President Joko Widodo to appoint Terawan as minister of health. It is clear the decision was not based on appropriate information on Terawan's integrity and competence. The Palace should have no hesitance in declaring the health minister non-active until there has been further recourse in the matter of ethics violation.
In the future, the government had better lay down stricter procedures regarding methodical trials for new therapies, both for equipment and for drugs and medication. The health ministry and the National Agency for Drug and Food Control need to muster enough courage to uphold the rules and not practice favoritism. The public has the right to obtain the State's maximum protection, including in the matter of health services.