An Early Wither
Terawan Agus Putranto's 'brain wash' method is not always successful. There is the placebo effect to consider.
Edition : 3 Desember 2019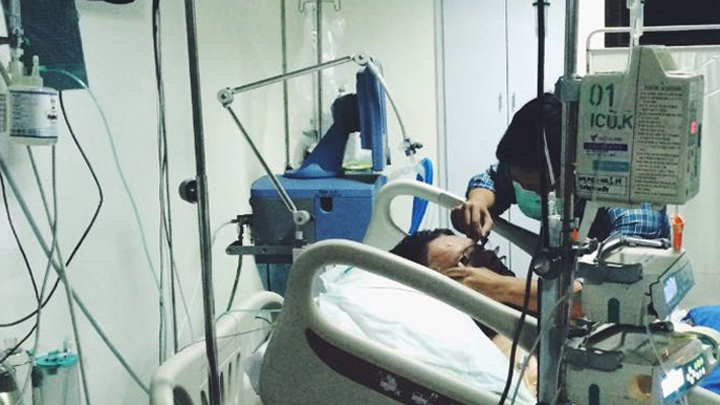 AROUND five years ago, Awang Faroek Ishak frequently complained of feeling weak. At the recommendation several colleagues, the 2008-2018 East Kalimantan governor went to consult dr. Terawan Agus Putranto at the Gatot Soebroto Army Hospital (RSPAD) on October 9, 2014. At the RSPAD, Awang underwent the intra-arterial heparin flushing (IAHF)—or 'brain wash'—procedure.
Three days after the procedure, Awang was still able to attend the Indonesian Military (TNI) Commander's Award event at the TNI Headquarters in Cilangkap. But not long after, his condition deteriorated. He could not walk and had to use a wheelchair. Before the therapy, he was still able to walk. "They say my motoric (functions) is disturbed, my left hand and leg," said the House of Representatives member form the National Democrat (NasDem) Party via telephone on November 27.
According to Awang, Terawan did not recommend that he undergo another IAHF therapy. Awang says Terawan recommended the transcranial magnetic stimulation (TMS) therapy for him. This procedure is commonly used to overcome neurological disturbance, including stroke and memory loss. Terawan told him that the TMS must be performed 10 times.
Until today, Awang still uses a wheelchair. He has the same complaint, namely, weakness. But he is certain that his cognitive abilities are in top condition. "Which is why I became a House member, (I) can still think and fight," he said.
Dayang Donna Faroek, Awang's daughter, says his father had a stroke before he went to the RSPAD. According to Donna, the 'brain wash' therapy was not the only factor that restricted his dad to a wheelchair until today. "Dr. Terawan's therapy is actually good, but every person's condition is different. (My) father needs continuous therapy but because of his busy schedule sometimes he doesn't go to do it," said Donna.
In order to undergo therapy at the RSPAD, said Donna, a patient must wait for weeks. But a recommendation from the sixth president, Susilo Bambang Yudhoyono, helped Awang to skip the long waiting list. Terawan's patients have come from various walks of life, from government officials to businesspeople, including Aburizal Bakrie, Presidential Chief of Staff Moeldoko, as well as Coordinating Minister for Political, Legal and Security Affairs Mohammad Mahfud Md.
But the IAHF therapy is not always effective. Sarah Diana, the niece of Singaporean businessman Gerald Liew says his uncle's condition sharply deteriorated after the procedure. In January 2015, Gerald, who was at the time in Jakarta for business reasons, was invited by his friend to go see Terawan. After an examination, said Sarah, Terawan told Gerald that his artery was blocked.
Gerald immediately agreed when Terawan offered him the IAHF therapy to prevent the risk of stroke to grow. Two days later, the procedure was performed. "With a cost of around Rp150 million," said Sarah.
But after the treatment, Gerald grew weak. According to Sarah, who accompanied her uncle, Terawan said there was a shift in Gerald's coil—a thin wire meant to prevent blood vessels from bursting. The coil planted inside Gerald's brain had shifted and damaged some brain tissue. Gerald again entered the operating theater, this time for a seven-hour surgery. But with no result. He was completely paralyzed.
Upon his return to Singapore, Gerald underwent intensive treatment at the hospital. His speech slowly recovered, though not yet back to normal. He is now able to move some parts of his body, although his still has to use a wheelchair. Sarah says according to Gerald's doctor in Singapore he became paralyzed because of the 'brain wash' procedure.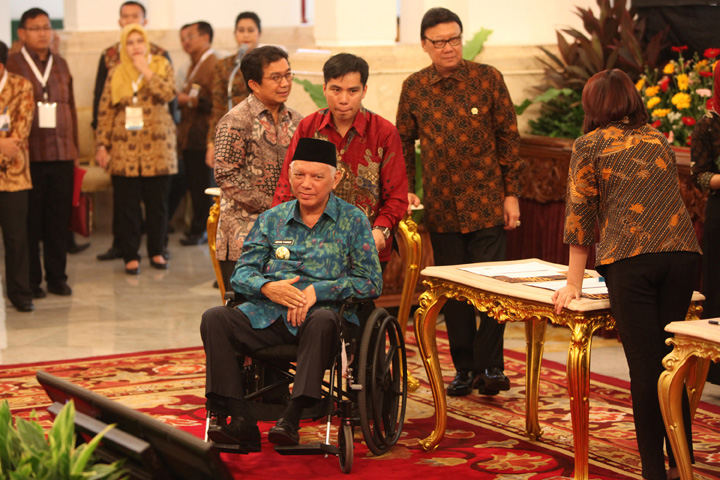 Awang Faroek Ishak at the Merdeka Palace, Jakarta, May 2015. TEMPO Doc./Aditia Noviansyah
Gerald's family is much saddened and dispirited, said Sarah. Even so, they decided not to sue Terawan. "We are aware of who he is and that my uncle is a foreign national," said Sarah. "I still remember, after the surgery, dr. Terawan said he was a general. He said he wasn't looking for money and it was only for charity." As a military doctor, Terawan joined the Presidential Medical Team in 2009 and became RSPAD chief in 2015-2019.
Terawan denies the accusation that his method worsens his patients' conditions. According to him, there is a procedure that must be performed before a patient undergoes 'brain wash'. A patient must first consult a doctor and be examined. "We explain the conditions, the benefits and risks. If the odds are improved by 5 percent, 70 percent, or 100 percent, that's explained," said the health minister. On Gerald's poor conditions, Terawan denies that it was because of his method. "We actually saved him. That was a coil placement. Apparently the coil had shifted on its own. So it was the coil's quality. It was an accident."
Meanwhile, businessman and founder of the Indonesian World Records Museum, Jaya Suprana, attests to the success of 'brain wash'. Jaya, who underwent Terawan's therapy two years ago, says the procedure had a positive effect. He underwent the treatment as a preventive measure against stroke. Before the therapy began, Jaya had to undergo several types of examination, such as magnetic resonance imaging (MRI) as well as neurological and heart examinations. The procedure was completed in less than an hour. "(My) body felt light and fresh," said Jaya.
Cardiologist Hamed Oemar believes that the positive sensation following an IAHF procedure is not real. Hamed says patients are prone to the placebo effect when undergoing alternative treatment. Placebo is an illusion of recovery felt by patients, which emerges from the belief and hope that they will heal. Hamed says placebo effect does not only happen to IAHF patients, but also to patients of other types of alternative medicine or treatment.
"For treatments that are not based on medical evidence, the result felt by a patient is certainly due to a placebo effect," said the heart and vascular specialist who graduated from Hiroshima University, Japan. Many medical doctors feel that Terawan's method does not yet have medical proof. Terawan was sanctioned by the Medical Ethics Council (MKEK) for excessive self-promotion of health treatment and prevention using a method that has not been clinically proven.
Presidential Chief of Staff Moeldoo has tried the IAHF method twice. During his first go in 2018, he felt more physically balanced. "Maybe because of the age factor, I felt that my balance was getting worse. I consulted (with) and was treated by dr. Terawan, and the result was fine. It wasn't nonsense," said Moeldoko on April 7, 2018. But lately he has not felt any changes. "Just normal," said Moeldoko on November 22.
DEVY ERNIS, RAYMUNDUS RIKANG