Broken Wings
Sriwijaya Air's service becomes increasingly limited as it withdraws from partnership with Garuda Group. Various efforts to save its operations are being explored together with foreign airlines.
Edition : 3 Desember 2019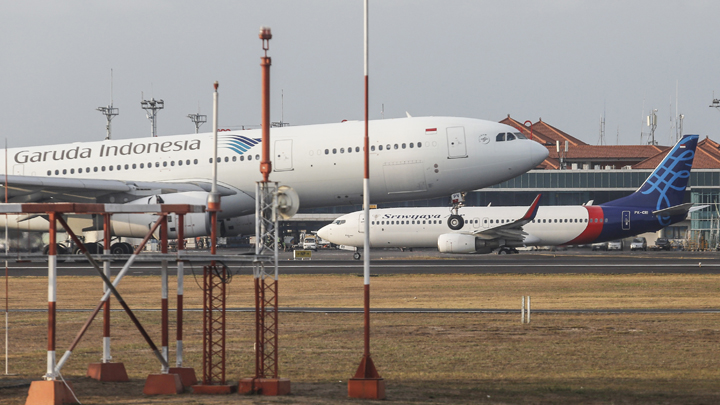 Hasan Basri has had more spare times during the last three months. The Sriwijaya Air captain now only flies for an average of 40 hours per month, or around two hours per day. That is just half the amount of time of his usual flight hours. Hasan has grown accustomed to flight cancellation announcement from his office.
The declining of flight frequency are a result of reduction in Sriwijaya's fleet capacity. Out in the field, said Hasan, technicians mentioned that only 10 out 30 planes are flightworthy. "Because of prolonged issue, this is what it has become," said Hasan to Tempo on Wednesday, November 27.
The issue he was referring to is the financial crisis of Sriwijaya Air. The airline has been plagued with debt and liquidity problems since last year. An effort to save the company through management partnership with Garuda Indonesia has failed due to disputes between the two companies.
On November 25, Sriwijaya's financial woes and the termination of its partnership with Garuda were discussed in a meeting of the transportation and infrastructure commission of the House of Representatives (DPR) with Transportation Minister Budi Karya Sumadi. That meeting was initially meant to discuss the final report on Lion Air JT 610 accident investigation by the National Transportation Safety Committee.
Transportation Commission Deputy Chairman Syarif Abdullah Alkadrie inquired on a report suggesting that Sriwijaya had sold tickets for flights scheduled until the year's end, assuming the capacity of 27 aircrafts despite having only 10 that are flightworthy. "Many of Sriwijaya's safety standards are not in accordance with procedures," said the National Democrat (NasDem) Party politician.
Addressing the inquiry, Minister Budi assured that Sriwijaya remains under professional management following its separation from Garuda. He also stated that Sriwijaya has properly checked the operation eligibility of its aircrafts through both maintenance and ground handling aspects. "Therefore, technically, Sriwijaya is capable of carrying out its operations," he said. Even then, Budi also said that he is still waiting for Sriwijaya's financial audit report, which he had not received this past year since the company partnered with Garuda.
THE management partnership with Garuda began in November 2018, after Sriwijaya nearly collapsed. This airline, which was founded by brothers Chandra and Hendry Lie 16 years ago, was unable to pay a debt of Rp2.46 trillion to five state-owned enterprises, including Garuda. Garuda's control over Sriwijaya roused suspicion from the Business Competition Supervisory Commission that a cartel activity was taking place at the aviation industry because it was dominated by two groups: Garuda and Lion Air.
Signs of souring relationship between Sriwijaya and Garuda began to surface last March. Sriwijaya stakeholders held an extraordinary general meeting of shareholders to make changes to the company's article of association without involving the board of directors led by Joseph Adriaan Saul, a Garuda representative. The changes started limiting the authority of the board of directors.
Disputes between shareholders and managements culminated on the second week of September. That time, Sriwijaya board of commissioners removed three company directors previously installed by Garuda. Having not consulted with beforehand, Garuda responded by withdrawing its maintenance, repair, and overhaul or MRO services, including for aircraft engines that were leased to Sriwijya.
With limited aircraft availability and questionable maintenance, Sriwijaya may not hold on much longer. Its hazard identification and risk assessment is underwhelming. The situation is exacerbated by the company's lack of cash. As of September, only Rp10 billion was available, while the airline needs between US$2 million to 3 million or up to Rp42.5 billion each month for aircraft technical maintenance. Upon receiving the report, the transportation ministry gave Sriwijaya management three months to improve the company's administration. As of September 26, with discretion from the aircraft airworthiness and operation directorate, Jefferson Irwin Jauwena has taken office as Sriwijaya CEO. The former director of Nam Air—a subsidiary of Sriwijaya—takes up responsibility during the transition period.
RELATIONSHIP between Sriwijaya and Garuda was improved in early October, but it did not last long. Disputes have resumed since then. On November 6, Garuda subsidiaries such as GMF AeroAsia, Gapura Angkasa, and Aerofood ACS ended their services for Sriwijaya.
This revocation resulted in flight chaos in Makassar, South Sulawesi. That night, around 400 passengers in Sultan Hasanuddin Airport had their flights cancelled. They were furious. "The planes were ready but we did not have approval (to get) fuel," said Jefferson Irwin Jauwena when Tempo met him in Jakarta, November 28.
Jefferson was accompanied by Yusril Ihza Mahendra, a lawyer who is also the General Chairman of the Crescent Star Party (PBB). He took up a role in this crisis as Sriwijaya's legal counsel. Later on, Yusril was also appointed as a company commissioner, acquiring 10 percent of Sriwijaya's shares.
It was also Yusril who represented Sriwijaya when the issue was discussed during a coordination meeting with Coordinating Minister for Maritime Affairs and Investment, Luhut Binsar Pandjaitan, on November 7. After the meeting, which was also attended by Transportation Minister Budi Karya, Luhut declared that cooperation between the two airlines would continue for three months ahead. Both companies, he said, agreed to audit the partnership. "Because there is debt here, debt there, and all sorts of technical issues," he said. The dispute between Sriwijaya and Garuda had recently led to a war of claims. Yusril claimed that Sriwijaya, whose finance is supposed to improve through the partnership, was made worse instead. "The company became disorganized, its debt increased, efficiency did not happen," said Yusril on November 28.
Yusril points at the management fee and cost sharing clause. Previous Sriwijaya directors from Garuda representatives wrote management rights of 5 percent and cost sharing of 65 percent from the company's gross profit as Garuda's receivables in Sriwijaya. The value amounts to Rp650 billion. "The company is not yet in good shape, yet the debts were already added," he said.
Garuda management reported the opposite. On September 3, before the state-owned enterprises ministry, the team from Garuda stated that Sriwijaya's revenue was improving. Its maintenance cost was becoming more efficient with a decrease of 20 percent. Additionally, the company's debts to Pertamina, Bank Negara Indonesia, and GMF AeroAsia were reduced from Rp2.3 trillion in 2018 to Rp1.9 trillion. Garuda asked Sriwijaya to continue paying off its debt to all state-owned enterprises. "Hopefully they have good intentions," said Garuda Indonesia Group spokesperson, Ikhsan Rosan, on November 7.
Sriwijaya Air management is optimistic the company will get back on its feet. Amid debt uncertainties after the cooperation with Garuda, Yusril is exploring new partnership opportunities with a number of foreign airlines, such as Cebu Pacific Air from the Philippines and Qatar Airways. Sriwijaya intends to offer cost sharing partnership to Cebu. Meanwhile, Qatar is expected to invest in Sriwijaya. "Our mission is to serve as haj and umrah pilgrimage transport," said Yusril.
Sriwijaya is hoping to get lower aircraft lease prices amid the deteriorating global economic condition. "First we stabilize our operations, then we will be running again," said Jefferson.
PUTRI ADITYOWATI