State's Petrochemical Refinery
Pertamina has officially taken control of Trans Pacific Petrochemical Indotama's parent company. The cabinet was swift in carrying out the President's orders.
Edition : 3 Desember 2019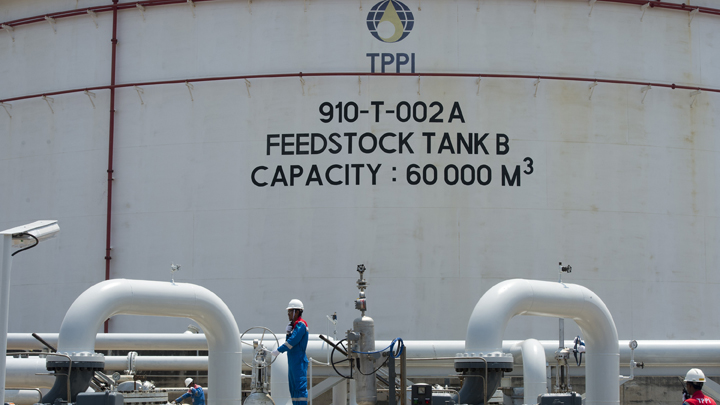 Surprising news appeared on the finance ministry's directorate-general of state assets management's website on Tuesday, November 19. Pertamina have acquired Tuban Petrochemical Industries (TPI) for Rp3.1 trillion. The state-owned oil and gas company is now officially the majority shareholder of TPI, the parent company of aromatics factory Trans Pacific Petrochemical Indotama (TPPI), based in Tuban, East Java.
The photo accompanying the news item showed the contract signing by Pertamina CEO Nicke Widyawati and her Tuban Petrochemical counterpart Sukriyanto, overseen by Isa Rachmatarwata, the director-general of state assets management, on Monday, November 18. Isa, the news said, expressed his hope that Pertamina will manage TPI with a strong commitment towards state needs. "The government has thought this over thoroughly. Ultimately, TPI Group will be handed over to parties with proper competence and capacities," Isa said.
Discussions about TPI's takeover by Pertamina has been making its rounds in the past month. This was on the agenda as the second step towards TPPI's debt restructuring and optimizing its petrochemical refinery. The first step—preparing the legal structure and converting the government's credit into state capital participation—was completed with the issuance of Government Regulation No. 66/2019, in mid October.
That regulation also designates that TPI will conduct a rights issue to be bought by a state enterprise. However, the speed at which this was realized was unexpected. Previously, the deadline was set at early 2020, as due diligence was still needed.
Until November 29 there was no official information regarding the details of the agreement signed on November 18. A number of state officials involved in the deal said that an explanation will be given by Coordinating Minister for the Economy Airlangga Hartarto, Finance Minister Sri Mulyani, State Enterprises Minister Erick Thohir, and Industry Minister Agus Gumiwang Kartasasmita in a press conference set in the first week of December. The two companies have held back on making their transaction public. The press release that had been on the Pertamina website could no longer be accessed.
Coordinating Ministry for the Economy's Deputy for Energy, Natural Resources and the Environment, Montty Girianna, confirmed that the transaction was concluded in November. "This month Tuban Petro's rights issue and share purchase were scheduled to be completed," he said on Wednesday, November 27.
TUBAN Petrochemical Industries is the parent of three petrochemical companies. Besides Trans Pacific Petrochemical Indotama, there are Petro Oxo Nusantara (PON), an octanol factory in Gresik, East Java; and olefin factory Polytama Propindo in Balongan, Indramayu, West Java.
The government saw it necessary to take over TPI to rejuvenate TPPI's refinery which was faint for a while due to a lack of capital. Optimizing TPPI, PON, and Polytama is hoped to overcome Indonesia's high dependency on petrochemical imports. Until now, the domestic petrochemical industry only covers some 40 percent of national demand.
According to government calculations, annual imports of main petrochemical products could go down to 6,200 kilo tons by 2030 should the TPPI be developed optimally. That would lead to a decrease of current account deficit, and savings on foreign exchange of up to US$6.6 billion in that same year. The finance ministry also projected a potential tax income of some US$1.3 billion, and creating employment for around 2,000 people.
On the other hand, TPI's business development also opens the possibility of solving a long-term problem at TPPI: its piling debt. Until December 2018, TPPI's debt amounted to US$888 million. This number keeps going up, and is now estimated at US$1 billion, or around Rp14 trillion by October. The lion share of the debt is to Pertamina.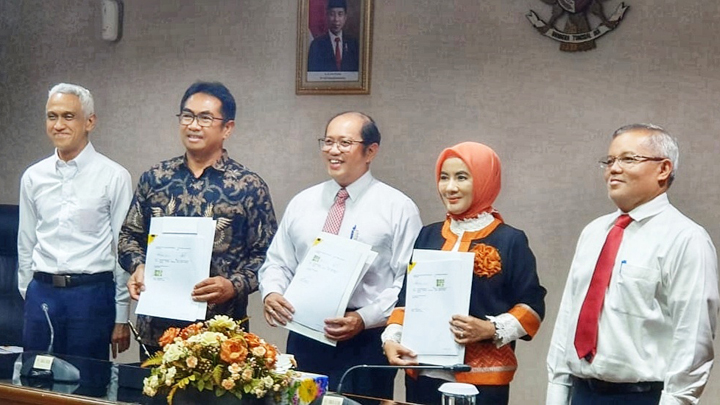 The signing of shares purchase agreement between Tuban Petrochemical Industries and Pertamina in Jakarta, November 18./ special photo
In the past decade, restructurisation efforts have not just stalled, but were also riddled in corruption scandals that remain unresolved with the disappearance of former company owner Honggo Wendratno. This legal problem has been the reason why Pertamina had not entered into TPPI's business even though the government has been pushing for this for the past five years. Pertamina's management even asked for legal advice from the Attorney General's Office.
Good news came on October 19, when President Joko Widodo signed Government Regulation No. 66/2019, which converted the government receivable of Rp2.62 trillion to TPI into state capital participation. Since then, the state's stake in TPI, through the finance ministry, is 95.9 percent. The remaining shares are in the hands of Honggo through Silakencana Tirtalestari. By absorbing all of TPI's newly issued shares, Pertamina has become the controlling shareholder with a 51 percent share, while the shares of the state and Honggo have been diluted. Pertamina is now more confident about the TPPI aromatic refinery in Tuban. "Yes, it's more secure now," said Heru Setiawan, Pertamina's director for planning, investment and risk management on Wednesday, November 27.
STEP by step, TPPI's restructuration process was completed in a relatively short time. The new cabinet worked swiftly in the past month. A week after inauguration, the President gathered all the economy-related ministers at the State Palace in Jakarta to discuss the utilization of the aromatic factory. In a small meeting on October 30 Jokowi even expressed his wish to convert the TPPI refinery into an industrial zone. "Let's just designate Tuban, TPPI, as a petrochemical zone."
The President was optimistic that products from that zone will be able to replace import goods. He even targeted that hydrogen—a side product of the refinery—could be used to develop biodiesel of B30 until B100. Currently, this side product is applied, among others, to internal energy usage.
Coordinating Minister for Maritime Affairs and Investment Luhut Binsar Pandjaitan even suggested that TPPI could become a state-owned company. "This is an order, and we will do it. The most important thing is to replace those who stand in the way of the development process," Luhut warned.
In the following week, coordinating meetings were conducted at the coordinating ministry for the economy in Central Jakarta. Minister Airlangga Hartarto invited Sri Mulyani, Erick Thohir, Agus Gumiwang, and also Nicke Widyawati. One topic they discussed was the opportunity to turn TPPI into a state-owned enterprise.
In the midst of those discussions, a number of corporate-level steps went forward. On Tuesday, November 5, while the meeting went on at the coordinating ministry for the economy, TPI conducted an extraordinary shareholders' meeting to approve the conversion of its debt notes into participating state capital. In that same meeting, it was also decided on new shares issuance.
In the same week, Pertamina shareholders agreed on a revision of its 2019 company's budget plan (RKAP). These revisions were signed by Minister Erick Thohir as a circular decision: a decision made by shareholders without organizing a general shareholders' meeting. This decision paved the way for Pertamina to finalize its purchase of TPI's new shares.
Heru Setiawan said that Pertamina's general shareholders' meeting was organized in the context of budget provisions, because the budget to buy Tuban Petro's shares was not in the 2019 company's budget plan. "Before, it was put in the 2020 budget. We pushed it forward to this year's."
Having received fresh funding from Pertamina, TPI is getting ready to carry out a number of company working plans. Its CEO Sukriyanto said that this injection of funds will be used to develop its subsidiaries, and improve its capital structure.
Sukriyanto explained that Polytama's current annual olefin production capacity has been increased to 300,000 metric tons from 249,000 metric tons. Going forward, the company will build a second polypropylene factory, which in turn will double the current production capacity. Through TPPI, Tuban Petro plans to construct an olefin and polyolefin complex in Tuban. With these developments, TPPI will become an integrated petrochemicals complex for aromatic and olefin products.
Ari Sumarno, former Pertamina chief, warned Pertamina that it should not be too focused on fuel production in operating the TPPI refinery. While oil products are needed to curb oil and gas imports, which boosts the state current account deficit, this product is not economical. "The TPPI refinery should have a petrochemical product output which is much more commercial," he said.
The company, Ari continued, should continue plans to construct an olefin refinery, which had been stalled. Funding for this project, however, is very steep at between US$1.2 and 1.4 billion. "Pertamina could invite investors for this project," he said.
RETNO SULISTYOWATI