Licensing Bribe's Trail
The KPK detained former Lippo Cikarang CEO, Bartholomeus Toto, who is suspected to be the man behind the bribery in the Meikarta project. It is suspected a higher Lippo Group official is involved in the case.
Edition : 3 Desember 2019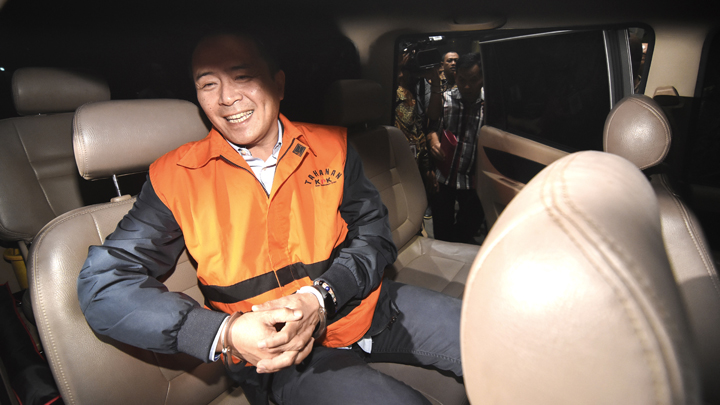 Bartholomeus heard the news that he would become a suspect in the Meikarta project bribery case in June. At that time, he was visiting his colleague who told him that the Corruption Eradication Commission (KPK) was investigating deeper the Meikarta case. "He said that from the Lippo side, only Bartholomeus Toto who would be a suspect," Toto told Tempo in September.
As it happened, the KPK named this former Lippo Cikarang CEO as suspect of bribing Regent of Bekasi Neneng Hasanah Yasin a month later. After that, he started to count the days. "I believe I would be taken to prison soon," he said.
The KPK detained Toto right after his questioning on November 20. Before that, Toto said he had submitted to his fate and asked his family also to accept it. "The Meikarta bribery would still happened even if I was not the CEO," the 53-year-old man said.
The investigation on the Meikarta bribery case has gone on since the KPK conducted a sting operation in mid-October 2018. Taryudi, a Lippo Group consultant, was the first being arrested after he gave a S$90,000 bribe to Neneng Rahmi Nurlaili, chief of zoning at the office of public works and housing. Investigators also confiscated Rp23 million and S$90,000 from Taryudi's vehicle.
That same day, a team of investigators arrested Lippo Group consultant Henry Jasmen P. Sitohang and Fitradjaja Purnama in Surabaya. The team also arrested Public Works and Housing Office Chief Jamaluddin, Fire Department Office Chief Sahat Maju Banjarnahor, Office of Investment and One-Stop Integrated Service Head Dewi Tisnawati, and former Head of the Environment Office, Daryanto.
A day later, a KPK team arrested Regent Neneng and Lippo Group's Director of Operational Billy Sindoro. The Bandung Corruption Court sentenced those eight people from 1.6 months to 5 years in prison. Later, the KPK also arrested West Java Provincial Government Secretary, Iwa Karniwa, at the end of August.
The Lippo Group officials and consultants bribed Regent Neneng to push through a detailed zoning plan for construction of an ambitious Meikarta property project on 774 hectares of land in Cikarang, Bekasi Regency, West Java. That document was a part of the validation process for the issuance of a specific land usage license (IPPT).
In order to facilitate the processing of those documents, Lippo gave Rp10.5 billion as part of a Rp20 billion arrangement. Those who received the bribery gave the money back to the KPK. "I only knew that the money was from Lippo, and I have returned it to the KPK," said Neneng Hasanah Yasin after her trial in the beginning of this year.
To Tempo Toto has denied being involved in the Meikarta licensing bribery. He claimed that he was only doing his administrative duties representing Lippo Cikarang. He said, other Lippo Group directors and officials also have the same administrative authority. "Even without me there, the administrative process for Meikarta will carry on," said Toto.
Toto's name surfaced when Lippo Cikarang Land's Acquisition and Licensing Head Edi Dwi Soesianto testified in the trial of Neneng Hasanah Yasin in February. Edi said that Toto knew and approved of giving Rp10.5 billion to Neneng. "After the IPPT was issued, it was reported to Toto. After that, the money in question was given in stages," said Edi.
He said that Toto asked him to arrange a meeting between Lippo Group owner James Riady and Billy Sindoro with Regent Neneng to 'take care' of matters. Permit was one of it.
The KPK presented the wiretapped phone conversation between Toto and Edi on January 6, 2018, at the trial. "Pak James and Pak Billy want to meet her. If not tomorrow, Monday. But be careful how you talk about it," said Toto in that phone conversation.
Based on that request, Edi contacted Bekasi Regency Zoning Head E. Yusuf Taufik in order to schedule a meeting with Regent Neneng. "Pak James and Pak Billy want an audience with her. I was asked to coordinate it," said Edi. Taufik asked who those two people were. "They are top (company) officials. Toto's superiors," said Edi.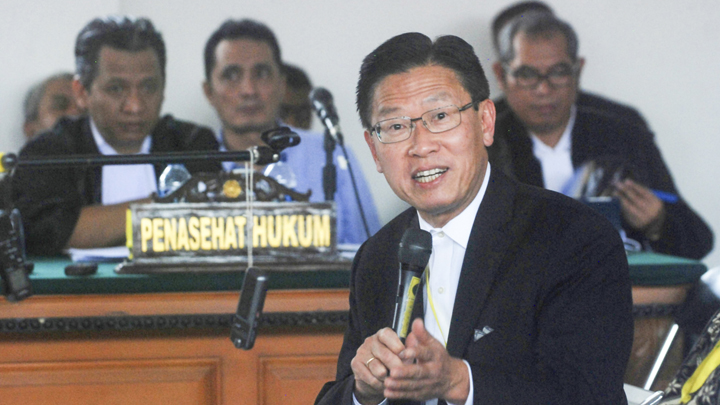 James Riady/TEMPO/STR/Prima Mulia
In the court document, a meeting took place a few days after Edi contacted Taufik. James arrived at the Lippo Cikarang office in a helicopter. James, Billy, Toto, and Edi went to Neneng's residence in one car.
However, James said that his meeting with Neneng was not planned because initially he was only stopping by the Meikarta marketing office. "I asked Toto where he was going. He said he wanted to meet the regent, who had just had a baby," said James when testifying at the Bandung Corruption Court last February.
Still from the same document, James said his discussion with Neneng, which lasted 30 to 40 minutes, was about children, education, and family. Neneng also said that Meikarta was not discussed during that meeting.
However, Yadyn, a KPK prosecutor, said that the January meeting between Regent Neneng and James was planned. They discussed the process for licensing the Meikarta project. "This meeting was verified previously by Neneng Hasanah Yasin. They showed drawings related to licensing for Meikarta," said Yadyn.
At that time, Meikarta construction was already underway. But Lippo did not have the building permit. "Those are the facts," said Yadyn.
AT a restaurant in Cikarang, Bekasi Regency, Bartholomeus Toto met Edi Dwi Soesianto and another person at the end of last June. At that time, Toto had not been named as a suspect. During that meeting held while dining on seafood, Toto explained his reason for resigning as CEO of Lippo Cikarang and that he was preparing for the worst.
He talked about Edi's testimony in court about the Rp10.5 billion given to Bekasi Regent Neneng Hasanah Yasin. He denied Edi's testimony that he was the mastermind behind the bribe. Toto said that in that meeting he explained a CEO had no authority to decide the use of company's money. The CEO, he said, is the last official to know the project permit.
According to Toto, Edi apologized at that meeting. He also said that Edi admitted to have laid the responsibility of agreeing the Rp10.5 billion bribe to Toto. From Edi, Toto also knew that someone much higher in the Lippo Group was involved in the bribery case. Toto secretly recorded his conversation with Edi.
Toto brought the two hours conversation recording to the Bandung Police Office on September 12. He considered that conversation revealed other facts behind Edi's testimony at the Corruption Court. Toto's lawyer, Supriyadi, said that his client reported Edi on the charge of suspected slander and defamation. "There were untruths in Edi's court testimony," said Supriyadi.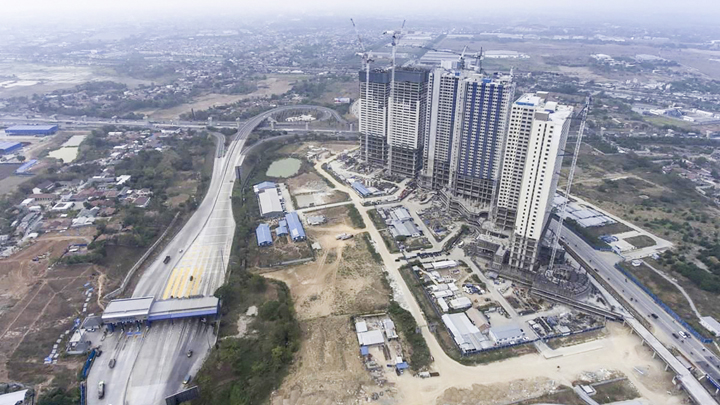 Apartment buildings construction in Meikarta, Cikarang, Bekasi Regency, West Java, October 2018./ antara/Hafidz Mubarak A
Based on Toto's report, the Bandung Police Department named Edi a suspect of slander and defamation. "After questioning witnesses and holding a case review, we raised (the case) to a criminal investigation," said Sr. Adj. Comsr. Galih Indragiri, Chief of the Criminal Investigation Unit at the Bandung Police Department.
Galih also said that investigators has summoned Edi for questioning once but he failed to show up. "We will summon him again," said Galih.
KPK Spokesman Febri Diansyah said that it was unfortunate that the police named Edi a suspect. According to him, the KPK has already made a Memorandum of Understanding with the National Police and the Attorney General's Office on witness protection. "The three institutions have agreed that a witness testimony can not be sued under either criminal or civil law," Febri said.
He also said that investigators named Toto a suspect based on sufficient evidences. "The legal process here at the KPK is definitely not based on the testimony of one witness, because we need to have at least two pieces of initial evidence," he said.
Edi did not respond Tempo's request for an interview. Edi, who no longer works at Lippo Cikarang, did not take any calls or answered our text messages.
Tempo also sent a letter asking for confirmation to James Riady's residence at the Imperial Golf Club in Karawaci, Tangerang, Banten, but he has not responded it.
Mochtar Riady, the founder of Lippo Group and father of James, was reluctant to respond Tempo's questions on Meikarta bribery case after he spoke at the Indonesia Digital Conference held at the Djakarta Theater, on November 28. Mochtar got into his car when asked about the bribery connected to the license approval for the Meikarta project.
At that forum, Mochtar had talked about the licensing process in Indonesia, saying corruption takes place in Indonesia because bribes are expected for license approvals and people pay it. KPK's job will be easier if there is no permit trading. "My question is: are there Indonesians who like paying for such a thing? No one likes to pay for it, but they are forced to," said the 90-year-old man. "If you don't have something, I don't want to issue the license."
LINDA TRIANITA, IQBAL TAWAKAL LAZUARDI (BANDUNG)