Ciputra's Love Affair with the Arts
Ciputra's love affair with the fine arts was undying. He was a master in creating beautiful housing estates.
Edition : 3 Desember 2019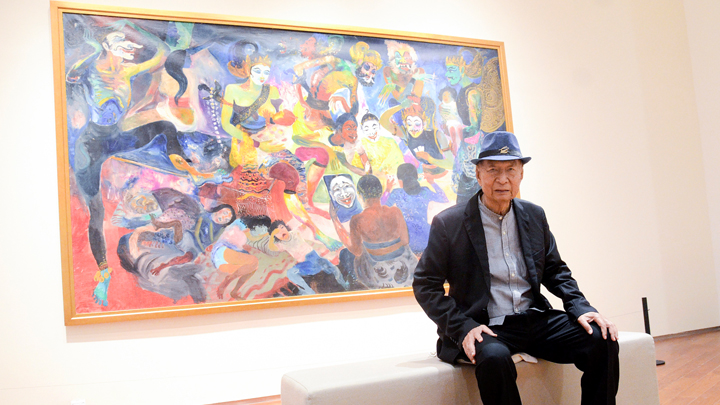 DR. (HC) Ir. Ciputra passed in the early hours of November 27 in Singapore. He shall be remembered for many things. But one outstanding characteristic, he was an avid art collector, and he was a builder of arts infrastructure offering countless possibilities.
Before he passed, these possibilities had already become interwoven into the discourse of the community. One that comes to mind was the jury deliberations of the Adhikarya Fine Arts Award 2014 by the ministry of tourism and creative economy. In the deliberations, a suggestion was proposed that Ciputra, founder of the Ciputra Artpreneur, be given an award of appreciation. The board voted down the suggestion because several jury members said further investigation was needed about Ciputra's business interconnections with the project.
Another proposal was forwarded. Two jury members reminded the team of how the Ancol Art Market established by Ciputra in 1975 had boosted laypeople's appreciation of the fine arts for at least three decades; and how the Ancol Art Market instilled entrepreneurship skills to hundreds, if not thousands of artists who were members of the Market scheme. Again, the proposal was turned down. So Ciputra and his arts institutions never made it into the August list of potential awardees in October 2014.
I am one of those who regretted that 'Ciputra & Co' never made it into the list. But Minister Mari Elka Pangestu (Trade Minister at the time) comforted me by whispering, "This award is much too small in scope for Pak Ciputra..." Then Minister of Culture and Tourism, I Gde Ardika, chair of the board of juries chirped in, "What if it turns out, it will be Ciputra who gives us an award…"
Coincidentally or not, in August 2018 Ciputra awarded the Ciputra Artpreneur Award to several institutions and individuals. Among the trophy recipients were two jury members of the Adhikarya Art Award. In his speech, Ciputra said, "This is the highest award I can bestow. That's the reason I personally designed the trophy as beautifully as I could."
Ciputra was an observer of the arts who never let up. He was an avid reader about art history and could always point out a certain historical moment to be used as momentum or to accentuate something. One of these moments was Sudjojono's sharp criticism of the Mooi Indie (Pretty Indonesia) 'school' instigated by Basoeki Abdullah. Sudjojono said the paintings of Basoeki and friends only bowed down to one thing: money. Meanwhile, Basoeki's quiet acceptance of this harsh criticism bothered Ciputra.
"I want to get Pak Sudjojono and Pak Basoeki to meet, after their enmity of 50 years," he said in 1985. The powers that be at the Ancol Art Market were taken aback by the idea. That would be slightly impossible, they said. In mapping out the possibilities, I told Ciputra that Basoeki was a hardcore aristocratic snob, while Sudjojono was a stubborn mule, meaning the two would never comply to meet. Ciputra replied, it is much like releasing a difficult plot of land, there are positive ways of doing things. He asked painter Affandi to be the mediator.
It turned out, Basoeki, Sudjojono and Affandi were 'compelled' to agree. Ciputra was overjoyed. But the feeling of triumph was marred when Affandi suddenly announced that his wife, Maryati, wanted to participate in the exhibition. "Pak Affandi said that Maryati, who it happened did not like her husband's paintings, was a fan of Basoeki Abdullah." Ciputra held a meeting to seek solution to the potential problem; that Maryati's presence could unbalance the curatorship of the historical exhibition. How seriously Ciputra organized the event was also obvious when one recalls how mad he was when the exhibition catalog, titled Three Maestros Challenge Fate turned out badly printed.
Ciputra loved being a locomotive of the fine arts. In 1996, he came up with an idea to do a sculpture design competition for several housing estates he was constructing. These sculptures were designated to become monuments, for public parks, housing complexes, and for interiors. "Select the best ones possible and as many as possible. If necessary, we'll create more prizes," he said to the members of the jury.
Ciputra's presence shocked most of the meeting participants because why should the big boss get himself involved in such nitty gritty matters? Noting that Ciputra was there personally, a jury member contacted Joop Ave, the then minister of tourism, post and telecommunication. Using whatever means, Joop suddenly appeared at the meeting. Now it was Ciputra's turn to be shocked. Seeing Ciputra at a loss for words, Joop said smoothly, "I just wanted to meet Pak Ci, the master of Indonesia's beautiful housing estates." Ciputra later was convinced, Joop was called in by sculptor Nyoman Nuarta.
A few months later, Ciputra asked me to list out the names of famous Indonesian artists (painters, sculptors, graphic artists) who had passed with a classification of their careers and the reputations of their works. Ciputra stated he wished to name the roads in his housing complexes with the names of these artists. I listed names from Raden Saleh to Trubus. Big name painters were for the main thoroughfares, while the names of those who were good but had short careers would be given to cul-de-sacs. Hendra Gunawan, Ciputra's favorite painter of all, always got a main road. Then came the bad news. The government was scrutinizing the list. Artist names indicated to have had connections with the Indonesian Communist Party (PKI) or were Sukarnoists were not to be used. Hendra Gunawan, who once was a member of the People's Culture Institute, an offshoot of the PKI, in a jiffy was crossed out. "I guess we'll just scratch this idea. We'll look at it again when the timing is better," said Ciputra in disgust.
Instances of Ciputra unable to stand not mingling with artists happened many times. Ciputra's name bubbled up several times as honorary jury member at The Jakarta Art Awards. His task was simply to look over the final decision after the jury had made their scores. But Ciputra always wanted to be right there in jurying. So he would not be the lone wolf, he dragged Fauzi Bowo, the governor of Jakarta, in. Amazingly, the governor turned up.
"Now don't think that both our assessments should in any way influence all your scores, (laughing…). We are here only to enjoy the art," said Ciputra to the jury. As I said, Ciputra and the fine arts was an undying love affair.
"When he finds a painting he likes, Pak Ci acts like someone possessed," said Agustinus Teddy Darmanto, the artist entrusted by Ciputra to handle the design of Dunia Fantasi. One example of Ciputra acting as one possessed happened when he acquisitioned scores of works by Hendra. "Pak Teddy, I wish to exhibit these painting from the ceilings in my home, so that when I'm there I can look at them all at once," he said
Teddy was confounded. But because he was an underling, he did as the boss requested. The scores of Hendra paintings were displayed looking towards the floor of his dining and meeting room at the Ciputra residence in Pondok Indah, South Jakarta. Ciputra said the display moved him more than any mural by Michelangelo in the Sistine Chapel in Rome. In the end, the paintings had to be taken down anyway because they got stuck to the paint and because of the force of gravity.
Ciputra's closeness to Hendra was documented for a spell in a correspondence between the two. I was been lucky enough to peek at this correspondence, and moreover I was given permission to photocopy the letters. Yet Ciputra asked that I never publish them. Parts of the correspondence he felt were too confidential and sensitive, particularly in the matter of price negotiation.
One day news came that the bundle of original Ciputra-Hendra correspondence had disappeared. Rina Ciputra Sastrawinata, Ciputra's daughter, found a way out: she requested copies of my photocopies. Obviously I complied, though this time, I asked permission to publish the letters. After two weeks of no news, the reply did come: "Pak Ciputra said you may."
This is an excerpt of a Ciputra-Hendra correspondence written at the end of February to the end of March,1983.
Ciputra:
Esteemed Bapak Hendra.... However largely in awe I am of your works, Sir, I cannot afford to pay Rp20 to Rp 30 million for a painting.
Hendra:
It's fortunate the one who is haggling is a man who has helped hundreds of artists, a man to whom I respect with my tears. Thus in this current purchase contract I have made a slight correction. If it's not to your liking, you may give the works back. Here are the corrections... "Odalan", 4 x 2.10 m, Rp6,000,000. "Ngonjing", 4 x 2.10 m, Rp6,000,000. "Udang", 3 x 1.45 m, Rp1,500,000. "Mekutu", 3 x 1.45 m, Rp1,500,000.
Some time after I had published the excerpts, Ciputra looked happy and commented. "I'm so pleased that Hendra's paintings never stopped gaining appreciation. A few days ago, a Hendra measuring 3 meters was sold for Rp56 billion by Sotheby's Hong Kong. Pak Agus, compare that to the price I paid when I bought some Hendra," said Ciputra in mid 2016.
AGUS DERMAWAN T., CIPUTRA ARTPRENEUR Consultant