Lagging Indonesian Education
The Organization for Economic Cooperation and Development (OECD), based in Paris, has published survey results on the competencies of Indonesian schoolkids in science, reading and mathematics. Indonesia's score is 396 for competence in science, 371 for reading, and 379 for mathematics.
Edition : 9 Desember 2019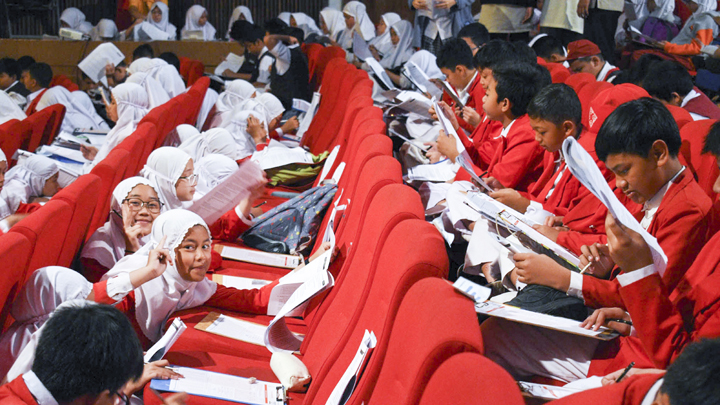 Indonesia's score is below standard against the 79 countries surveyed. The OECD does routine assessments of the quality of education throughout the world through its Program for International Student Assessment (PISA).
OECD Director for Education and Competencies Andreas Schleicher said Indonesia needs to ensure quality teaching and learning. Any student achieves high education if provided with the right teaching. "Even those students with disadvantages. Poverty is not destiny," said Schleicher in a written statement on Tuesday, December 3.
The assessment of Indonesian students' competencies in the three skills lag behind when compared to their counterparts in other Southeast Asian countries, including Malaysia and Brunei Darussalam. Malaysia obtained a score of 438 for science, 415 for reading, and 440 for mathematics. Meanwhile, Brunei obtained 431 for science, 408 for reading, and 430 for mathematics. The Indonesian assessment score only surpasses those of students in the Philippines.
Minister of Education and Culture Nadiem Makarim stated appreciation of the OECD survey results, According to him, the OECD report has provided the government with insights in the progress of the education sector in Indonesia. "The survey results are a valuable input to evaluate and increase the quality of education in Indonesia," said Nadiem.
---
Arrested for Slur Agains Ma'ruf Amin
Member of the Islam Defenders Front (FPI), Jafar Shodiq Alatas, has been arrested by the directorate of cyber crimes criminal unit of the National Police at his home in Cimanggis, Depok, West Java. He is apprehended for insulting Vice President Ma'ruf Amin while making a speech in Singkawang, West Kalimantan, on January 2, using the term "pig." Jafar is supected of violating the Law on Information and Electronic Transaction.
Police Public Relations Chief Brig. Gen. Argo Yuwono said the police nabbed Jafar with a Type A report. This report type is made internally by police experiencing, observing and directly discovering an act of crime. "The cyber directorate team immediately arrested JS," said Argo on Thursday, December 5.
Ma'ruf Amin considers Jafar's speech as hatemongering. But he claims to have forgiven Jafar and requests him to refrain from repeating hate-speechmaking. "Let's hope he realizes this and changes the way he provides his narratives," said Ma'ruf.
---
Data from Taklim Councils Criticized
The religious affairs ministry requires taklim (Qur'an study group) councils to register at the ministry office. This policy is regulated under Religious Minister Regulation No. 29/2019, published in November13.
Director of Information for the Islamic Religion Directorate-General of Muslim Community Guidance Juraidi said, the regulation is not compulsory. "We use the term 'should' administratively. If its compulsory, there would be a sanction," he said on November 30. He said the registration requirement was made to facilitate the ministry in providing guidance for taklim council activities.
Head of Tebu Ireng Islamic Boarding School, in Jombang, East Java, Salahuddin Wahid alias Gus Sholah, thinks the government should not force the community to register their assembly. "The less the government intervenes, the better. Except if the activités are really disruptive," said Gus Sholah.