As if
Identity: a fiction. A fiction shaped from without. People increasingly forget this.
Edition : Monday, Desember 9, 2019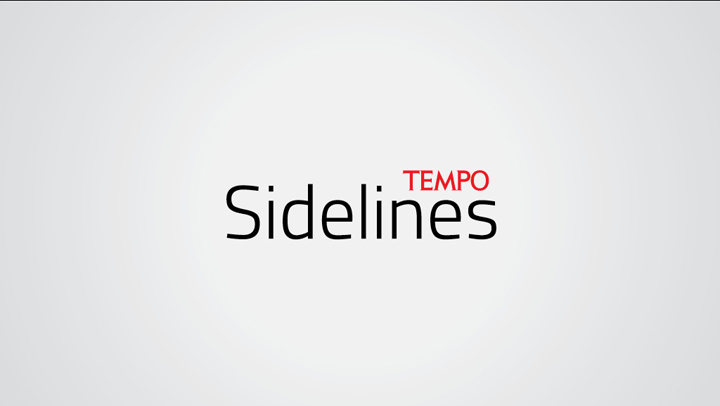 As we can see in its Indonesian language version 'jati diri', meaning 'self essence', people consider identity to blossom naturally from 'within', and therefore it is fit to describe things like 'me', 'you' or 'them'—or 'Minang', 'Bugis', 'Indonesian', 'Negro', 'Chinese'...
People commonly forget that these terms are actually formed as the combination between 'as if' and 'should'.
Take the Wedhatama, for instance. This 19th century text used to instruct young nobles in Surakarta, says sarehne sira jawi, ("because you are Javanese youth"). Clearly, implicit here is a normative statement: 'Javanese' means a characteristic that should meet some measure, and fit with an idea. Meaning, it is something ideal. The author of the Wedhatama is not speaking to the type of young men he sees every day. He is speaking to the young men he imagines to hold the seed of 'what-should-be'.
Anyway, what is called 'Java'? The anthropologist John Pemberton, in his book On the Subject of "Java", carefully but correctly writes Java in quotation marks. Because 'Java' keeps changing. The word is also an adjective based on an image compiled from a discourse begun in the center.
Discourse about what is 'Java' developed (and continues to do so today) from Mangkunegara VII's formulation in 1932. This was when Dutch political influence and manners had penetrated deeply into the Mangkunegaran world; the ruler, for instance, spoke fluent Dutch. Marginalized, and facing foreigners who were enthralled with the exotic, the 'Java' he wanted to show (so as to be recognized) was an 'extremely high civilization', zeer hooge beschaving.
W251bGwsIjIwMjEtMDUtMDggMTU6MTA6MzIiXQ
So, whenever we mention 'the Javanese' ('Indonesians', 'Negroes', 'Chinese', or 'Islam, Hindu') together with their 'characteristics', we are actually translating idealization created by and spread from a 'center'.
Kwame Anthony Appiah wrote a book that discusses this clearly, As If: Idealization and Ideals.
Appiah furthers the discussion of Hans Vaihinger, a forgotten German philosopher who lived between 1852 and 1933. Vaihinger was known for his work Die Philosophie des Als Ob (1911). A follower of Kant, he showed how we cannot possibly know the reality that actually underlies the world and all its elements. Therefore we build a thought system and assume this system to be 'as if' (als ob) fitting with the model we build.
Appiah is the right person to speak about this. A philosopher who is gay, whose father is a Ghanaian political figure and mother an English aristocrat, he is sensitive to the misconception called 'identity'. In As If he shows that identity is formulated to the extent that it is as if it holds features that are stable and based on fact. But actually 'in our theoretical hearts' we know that things like this never exist. Those features are merely 'idealizations', or a bunch of effective fictions. A 'Negro' or a 'homosexual', for instance, actually possesses incredibly complex things within his or her self, much more so than those labels imply.
To identify is to idealize and to reduce.
Seen this way, identity marginalizes what is thought improper to include in its formulation—marginalizes what is different, what is considered to be odd from what should be. In a certain sense, identity is shaped with a kind of domination, even violence.
There is a little story about pigtails.
In China in the mid 17th century, the Manchu rulers forced the Han to have a new identity: to have a particular hair style—their scalps were virtually bald, and at the back, near the nape of the neck, was a pigtail. In 1622 the Qing dynasty Emperor Taizu attacked the south and forced the population of the Liaodong Peninsula to be shaved bald and to wear pigtails. Anyone who resisted was sentenced to death.
In general, the Han submitted. They made the pigtail 'Chinese' identity for years. But occasionally they would rebel. Among them were some who secretly yearned to have long hair, and they took up arms. A European who witnessed the battle noted that "the [anti-pigtail] rebels fought more desperately more for their hair on their heads than they did for King and Kingdom."
The European was wrong: hair and identity, like King and Kingdom, is also a political matter—a fiction that can shape a group's sense of self worth. There have been times of 'identity politics' that helped the liberation of women and furthered the equality of Blacks in America. But there have also been times when 'identity politics' eroded, even wiped, personal freedoms.
In the end, 'identity politics, like the 'nationalism' based on ethnic identity in Serbia, is dead-end politics. In rejecting what is universal in human fellowship, it is incapable of appealing to the heart from all directions. It does not have the perspective that Appiah, in The Ethics of Identity, called 'cosmopolitanism'.
But even without cosmopolitanism, people will see: the fictive ties within identity will not unite humankind when the world, our common living space, is threatened with destruction. Like now.
GOENAWAN MOHAMAD