The Shoemaker's Dream
The footwear industry is one of Indonesia's mainstays in the global trade. Indonesia has an opportunity to increase exports to the United States due to its trade war with China. But Vietnam is still ahead as it expands to the European Union market.
Edition : 9 Desember 2019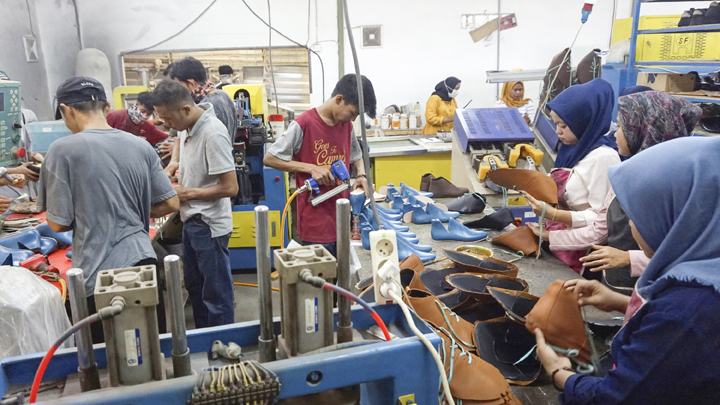 Footwear shops along Jalan Cibaduyut, Bandung, West Java, are packed with customers. Some come to retrieve their orders of two-three pairs of shoes packaged in boxes, while others contemplate shoes on display racks.
But the real bustle happens behind the shops. In workshops spread across small alleys that are too small for cars, Cibaduyut's shoemakers work to assemble footwear part by part. Amble is among the leather shoe brands that emerged thanks to Cibaduyut's expert tradesmen.
Agit Bambang Suswanto pioneered Amble in 2009 by showing a photo print of a popular foreign shoe brand to Cibaduyut's shoemakers. The price of one pair was Rp1.5 million. As it turned out, the shoemakers were able to copy the model with satisfactory quality and production cost. "The selling price was Rp130,000," Agit told Tempo on Thursday, November 12.
Agit, who was at the time only 19 years old and in his third semester at the Widyatama University, Bandung, was encouraged. With a capital of Rp1.5 million, he ordered 13 pairs of five types of men's leathers shoes. He managed to sell all of his shoes, with the most expensive type sold at Rp300,000.
One decade later, Amble now produces up to 1,500 pairs of shoes each month at prices ranging from Rp300,000 to Rp650,000. Aside from cow leather, Agit also makes use of other materials, such as synthetic leather and corduroy. With the addition of quality sneakers, Agit's shoe business has grown. "In the past, consumers bought local products because they were cheap, now it's out of pride," he said.
Like Agit, Yukka Harlanda and his partner, Putera Dwi Kurnia or Uta, are reaping the fruits of a shoe brand they pioneered in 2010 called Brodo. The business idea emerged because Yukka had difficulty obtaining large shoes. Meanwhile, foreign brands were expensive and did not meet his taste. They then ordered shoes from Cibaduyut's shoemakers. "(We) joined an exhibition and sold well, so (we) ordered more," said Yukka.
With an initial capital of Rp3.5 million to make several pairs of shoes, Yukka and Uta now lead the Brodo brand that produces hundreds of thousands of pairs each year. Their primary consumers are from the middle-income segment who are willing to pay over Rp500,000 for one pair of shoes. They also have partners for making shoe components separately, among others, outer soles, leather and shoelaces. "We have 20 partner companies," said Yukka.
Laguna Maju Semesta is Brodo's primary partner in Tigaraksa, Tangerang Regency, Banten. The factory with 60 employees can produce up to 6,000 pairs of shoes each month. They manage all stages of producing shoes, from cutting the material and packaging. The factory can also make custom shoes. "The price can many times over more expensive than the ones marketed," said Laguna Maju Semesta's shoe expert, Wahyu Priyatna.
Indonesia has a large shoe-making industry. Indonesian Footwear Association Director Firman Bakri says the demand for shoes, which are now considered a staple, increases in parallel with population growth. Over 800 million footwear were sold in 2018. Shoes are also Indonesia's top product in the global trade. "Indonesia is among the 10 largest exporters in the world," said Firman at the end of October.
Indonesia is the fourth largest footwear producer after China, India, and Vietnam. In 2018, 1.41 billion pairs of shoes were produced, with an export value reaching US$5.1 billion and the United States and European Union being the largest markets. "This industry is needed and has great prospect in Indonesia," said Firman.
The US is the largest market, making up 27 percent of all of Indonesia's footwear exports. Indonesia's greatest competitor in the US is Vietnam, which has grown into a major producer since 2000. As of September, Vietnam's footwear exports had reached US$13 billion. "Their sales growth is twice Indonesia's," said Firman.
In 2019, for the first time in a decade, Indonesia's footwear exports experienced a decline. In September, sales had only reached US$3.2 billion. A sluggish global economy and the fierce competition with Vietnam caused exports to decline by 12 percent. But Firman is optimistic that the footwear business can experience a revival in 2020, with an export value surpassing US$5.1 billion. "The potential for increased exports is still open," he said.
The trade war between the US and China presents an opportunity for Indonesia. Because the US limits its imports of Chinese products, Indonesia can benefit from footwear sales to Uncle Sam. In 2018, sales reached US$1.4 billion. Meanwhile, in the first quarter of 2019, exports had reached US$560 million. "It can be better next year. For the American market, it's still good," said Firman.
Panarub Industry CEO Budiarto Tjandra says the footwear industry is competing in a global race that is sensitive to changes. The annual increase in regional minimum wages in Indonesia has a significant impact on production cost and the competitiveness of Indonesia's footwear industry. "Wage determines the selling price of shoes. Material prices basically stay the same," said Budiarto on Tuesday, December 3.
---
With an initial capital of Rp3.5 million to make several pairs of shoes, Yukka and Uta now lead the Brodo brand that produces hundreds of thousands of pairs each year. Their primary consumers are from the middle-income segment who are willing to pay over Rp500,000 for one pair of shoes.
---
Panarub is among Indonesia's largest footwear manufacturers. The company has two shoe factories in Tangerang, Banten, and employs 11,000 workers. They produce Adidas, Mizuno and Specs sports shoes. In 2016, Panarub built a factory in Brebes, Central Java. With half the wage in Brebes, says Budiarto, they have been able to suppress their shoe production cost. "Product prices are more competitive and the opportunity grows ever greater," he said.
Panarub's factory in Brebes employs around 5,000 workers with a production capacity reaching 800,000 pairs of shoes each month. Panarub has also created a new business line in Brebes by establishing Rubber Pan Java. According to Budiarto, the factory that will begin operating starting next year will produce outer soles. "To add to the domestic footwear supply chain," he explained.
There are over 18,000 shoe manufacturers in Indonesia, 155 among them large factories. The majority of such facilities are located in the Banten province, with a regional minimum wage (UMR) of Rp4.1 million, among the highest in Indonesia. According to Firman, the high UMR prompted the relocation of several factories from Banten to other regions.
Over 25 factories have been relocated from Banten to Central Java over the last three years. The city of Semarang will have the highest UMR in Central Java in 2020, at Rp2.7 million per month. Brebes, Jepara, Salatiga, Sragen, Tremanggung and Semarang are seen as regions with great potential for developing the footwear industry. "This is the industry's effort to remain competitive," said Firman.
Despite the effort, relocating a factory requires a long period of adaptation. The company must also invest to train new workers as the numbers still fall behind Banten. According to Firman, because of the strategy to move production centers, Indonesia is still able to compete with Vietnam, a country with low production and property costs. "The prospects are pretty good. Without innovations, we would be left further behind Vietnam," he said.
Another 'threat' from Vietnam is the wide opportunity for the country to increase its exports to Europe. Vietnam has signed a partnership agreement with the European Union, which provides a long-term advantage in regard to footwear exports. Vietnam already has control of around 12 percent of European Union's footwear market, while Indonesia only controls 4 percent. "Hopefully the government can immediately conclude partnership negotiations so that the industry has more leeway," said Budiarto.