The Mute Astronaut
Despite not having even one line of dialogue, Gunawan Maryanto delivered a convincing performance as a person suffering life-long trauma.
Edition : 17 Desember 2019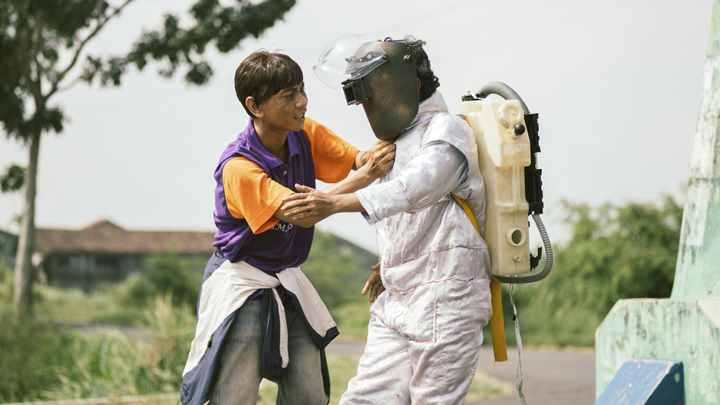 Siman's tongue is cut out. He is stunned as he witnesses a foreign crew shooting a moon landing scene on the Parangtritis Beach, Yogyakarta, in the 1960s. Blood begins to pour, staining his shirt. While paying no heed to the pain, he rides his bike swiftly across rice fields. The incident leaves him mute for life.
This is the day that changes Siman's life. He moves slowly, as if in outer space with zero gravity, like an astronaut. His friends mock him. It is as if he is on a time delay, not only when he walks but even when he is chewing food. This seems to frustrate people.
Siman lives in his own slow world, in a building shaped like a rocket—which he fashions from junk—behind his home. From a window like the glass of a washing machine, he gazes at life outside his home. The people in his village believe that he is mentally ill, especially when he wanders around wearing thick clothing, a helmet and a jerry can, like an astronaut. But he manages to entertain people with his astronaut costume when he performs with a traditional horse dance troupe.
Gunawan Maryanto plays Siman, a mute person in The Science of Fictions (Hiruk-Pikuk Si Al-Kisah) directed by Yosep Anggi Noen. In the film Gunawan does not have a single line of dialogue. Neither does he use sign language to interact with other characters. "I only relied on body language and facial expressions. An expression that shows past emotions that continue to haunt," Gunawan told Tempo at his home in Bantul, Yogyakarta, on Monday, December 2.
The skills shown by Gunawan—more familiarly known as Cindhil—has earned him Tempo's best actor of 2019. In 2017, Gunawan was also selected as Tempo's best actor for his performance in Solo, Solitude (Istirahatlah Kata-Kata) also directed by Yosep Anggi Noen. In the film, he played poet Wiji Thukul during his time in hiding in Kalimantan. Wiji Thukul that was performed by Gunawan isolated himself and was mostly silent while in hiding. Now Gunawan plays the role of Siman with no dialogue. Even so, he plays a convincing role of someone who witnesses and experiences bitterness and suffers from a lifetime trauma. He cannot verbally express his suffering, but rather he shows it through action, by moving slowly as an expression of trauma.
Gunawan's silent and slow-motion acting is placed by the director amid the bustle of the market, rice fields, horse dance, and factory. The director successfully created a good habitat for the actor to broadcast his aura of trauma. The scene where his tongue is cut out is also quite well done, and explored through motion. Gunawan managed to persuade Anggi to insert a little bit of dialogue in the early scene when Siman's tongue is cut out. At first Anggi agreed to the suggestion. But the line of dialogue was later edited out. As a result, Siman is left with no words.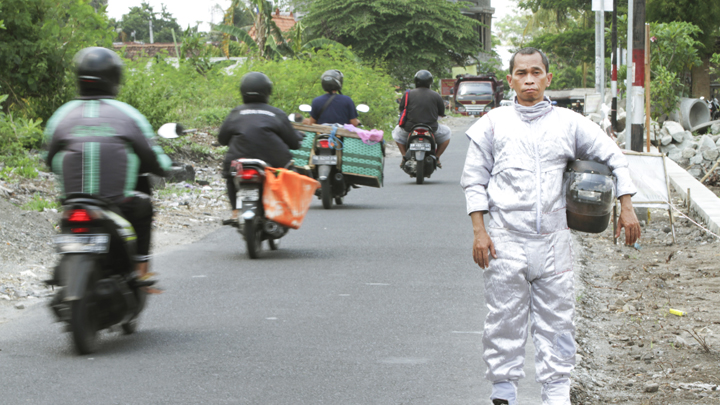 Gunawan Maryanto (right) in The Science of Fictions.
According to Gunawan, it was not easy to immerse himself in Siman's character. He had to work extra hard to use body language to play Siman, despite him wanting to tell a story about himself and the reality of his surroundings. Gunawan did not especially study muteness to learn the role. Although it is difficult for Siman to speak, he is still able to make unclear sound, which is why he does not utter a word throughout the film.
Gunawan's biggest challenge was to walk in slow motion or a floating manner like an astronaut. Most of his movements were in slow motion. For example, when Siman becomes a laborer and carries vegetables in a sack. "It's physically tougher to move slowly compared to moving at a normal speed," said the Teater Garasi actor.
He learned to imitate the movements of astronauts by observing a video of Neil Armstrong during the moon landing on YouTube. To act in slow motion is like gesturing against the body's natural rhythm. It requires extra energy to walk extremely slowly. But Gunawan's theater and dance skills proved to be an asset. He only needed to adjust his rhythm and disrupt the beauty of the theater and dance movements he was accustomed to performing on stage.
Gunawan still remembers when he had to put on the astronaut costume. The costume, designed by visual artist Hendra "Blankon" Priyadhani, was quite hot due to its parachute fabric material. He had to frequently open and close his costume. Holes were also made in several parts of the costume for air to circulate. At first, the film crew offered to place mini fans and cushions on the costume, but Gunawan refused because he was worried they would disrupt his movements and give him a cold.
According to Gunawan, eating scenes required especially hard work. It was difficult for him to chew his food slowly. Gunawan managed by chewing his food in secret so that no one would see that he was eating fast. But there are several scenes that include faster movements, for example, when Siman performs the jatilan dance with several dancers in the village. The traditional gamelan orchestra accompanies Siman as he dances like someone possessed, or when he is consumed by fury and desire.
Siman's story is out of the ordinary and it is not an easy story. Siman is faced with rejection and hatred, and played the fool. But he also gains sympathy. People sympathize with him because of his muteness and his mother's death. He is hated when he cannot control his disappointment, anger and lust—Siman's muteness does not prevent him from frequenting prostitution houses. "Siman is neither a hero nor an anti-hero but a complex character, not always a good person or a bad person," said Gunawan.