Susi Susanti's Reincarnation
Laura Basuki succeeded in becoming Susi Susanti, and presented this Indonesian badminton player's psychological dilemmas which were little known to the public.
Edition : 17 Desember 2019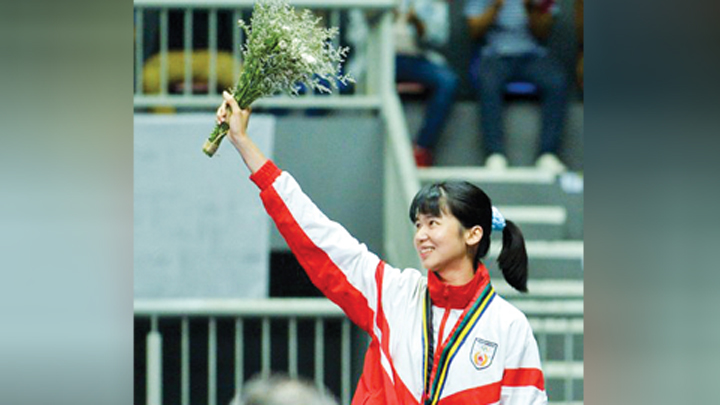 Olympic hero: this was Susi Susanti's tag. Susi, who bit on her lower lip to prevent tears from rolling down her cheeks while standing tall as national anthem Indonesia Raya played in Barcelona in 1992, is part of our collective memory. However, not many people knew the whole story. Behind the numerous titles she clinched for Indonesia, Susi's daily life was mired with racial discrimination.
Susi is a character that is torn in identity conflict. And Laura Basuki brilliantly presented Susi's being outside of the sports limelight.
In the movie Susi Susanti: Love All, Laura shouldered the intricate task of playing Susi's deepest psychological dilemma. It was obvious that Laura's toughest challenge was physical in order to play a convincing world-class athlete. However, she also had to seek the depths of Susi's complicated emotions, such as her frustrations as an athlete of Chinese descent in taking care of her Indonesian citizenship paperwork. Ironically, on the other hand the country put the heavy burden on her to always win in competitions. Laura overcame this challenge, and thus Tempo choose her as the best actress of 2019.
It is almost unthinkable to imagine the Susi Susanti character played by anyone besides Laura Basuki. One of Tempo's jurors said that it was as if Susi was reincarnated into Laura's body. Her starting service position, her gestures returning a shuttle cock while falling down, right on to her voice which almost sounds identical to Susi's. In order to achieve this, Laura did some thorough preparations. "We took six months to prepare. That is a long time for an Indonesian film," said Laura, 31, when speaking to Tempo in late November.
Her physical training was similar to the daily rituals of real top badminton athletes. From Monday until Friday, Laura had to set aside six hours for daily training. The day starts with two hours of physical exercise such as stretching, jogging, and weight lifting in the morning. By noon, Laura received technical training in service, footwork and other badminton strokes for three hours. In the evening, there is extra training for an hour. "When I decided to take on this film, I knew it would be torture," Laura said, laughing.
Thanks to the routine physical training, Laura, who is not used to doing sports, was able to imitate one of Susi's trademarks: the split. "When I was doing the split scene, I was crying," she said.
Laura was in the hands of Liang Qiuxia (sometimes spelled Liang Chiu Hsia/Liang Tjiu Sia), Susi Susanti's trainer who is now 69. Qiuxia is most likely the one person who knows Susi best, from her game style until her daily habits. From Qiuxia, Laura learned a lot about Susi both on and off the court. Qiuxia also closely monitored Laura, and corrected Laura's posture during training or on the set, so that she really resembled Susi.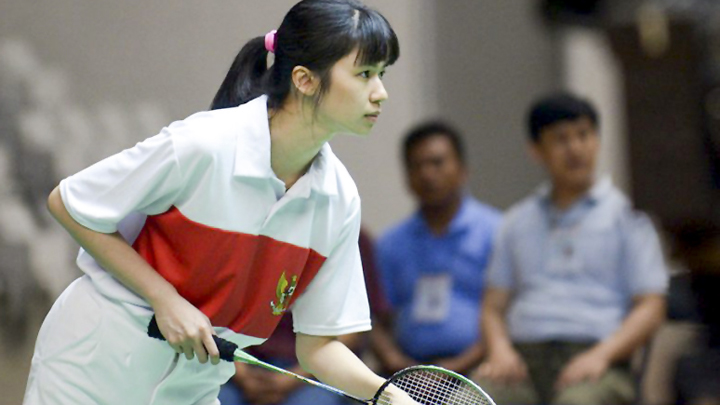 Laura Basuki in Susi Susanti: Love All./ photo: Susi Susanti Love All film
Playing the badminton legend gave Laura challenges that she had not faced in her previous roles. Laura, popular from her role in 3 Hearts Two Worlds, One Love (3 Hati Dua Dunia, Satu Cinta), was used to develop her character according to her interpretation of the script. This time, however, the character she played is a real one, so Laura was not able to stray too far from the real person. Laura spend a lot of time at Susi's home to observe and interview her, and listened tirelessly to recordings of Susi's voice. "When people see me with a headset, they'd think I'm listening to music, while I was actually listening to Ci Susi's voice," Laura said.
This whole process led to Laura personally feeling Susi's burden of constantly being pressured by the government, trainers, and of course the people of Indonesia. "Throughout the shooting process, I carried a heavy feeling of pressure," Laura said.
She used this pressure to convey complex emotions through simple gestures. Consequently, the film's strongest moments were not those where Susi was bathed in sweat during tournaments. A memorable scene is where Susi is asked by a television reporter if she sees herself as an Indonesian in the midst of the discrimination she was going through. As Susi, Laura looked straight into the camera, her jaws tightening, her eyes filled with emotion, and said: "I am Indonesian. I will always be."
A key factor supporting Laura's outstanding acting is the rich script, which went beyond ordinary sports biopics. If the script had followed the usual formula, this film would probably have underlined Susi's grueling training sessions, and ended with her winning the gold medal in the 1992 Olympics in Barcelona. However, director Sim F only brushed briefly over that historical moment. He focused more on the difficulties faced by Susi and a number of other badminton athletes who were not able to obtain their citizenship certificate (SKBRI), although they were winning gold medals for Indonesia. The SKBRI is a discriminatory policy by the New Order regime for people of Chinese descent. Without that document, they are not able to obtain a passport or have the right to vote, and cannot even get a marriage certificate. Finally, Susi, who had faced continuing problems while processing this document, could not restrain herself. She blurted out her disappointment during a press conference just before a match. One week after that emotional outburst, Susi's SKBRI was finally issued.
This focus on Susi's Susanti predicaments, which had hardly been discussed before, gives this film its added value. Laura also praised the film's producer and director for pushing Susi's identity dilemma to the forefront. This dilemma continued until 1998, when the ethnic Chinese community in Indonesia became the target of violent attacks during the country's political unrest. "I am glad that this film did not end with Susi's victory in Barcelona," Laura said.
The actress herself can fully understand Susi's struggle to be recognized as a citizen, as Laura has gone through the messy bureaucratic process of obtaining citizenship. Laura was born in Berlin from Javanese-Vietnamese parents, and automatically had German citizenship. A year after she was born, her family moved back to Indonesia. In 2010, Laura started processing her citizenship. "It was a long process, although of course not as difficult as Susi Susanti's," said Laura, who started her career as a model for designer Biyan before getting acting roles.
By playing in this film and personal interactions with Susi Susanti, Laura had the opportunity to re-examine the meaning of nationalism. She was so moved when Susi told her that there were many other, more complicated matters that were not revealed in the movie. Thus, the first thing that Laura did after the premiere of Susi Susanti: Love All is to kneel in front of Susi, who was sitting in the audience. "What do you think, Ci Susi?" Laura said, quoting to Tempo what she had asked Susi. She found Susi in tears. "Ci Susi approved (it). I don't care what other people say. What is most important is what she said," Laura concluded.