Ecotourism to Secure Hope
Hutan Harapan faces the threats of land burning, illegal logging and mining road construction. Still relying on donors' funding, this restoration company needs government support.
Edition : Tuesday, Desember 17, 2019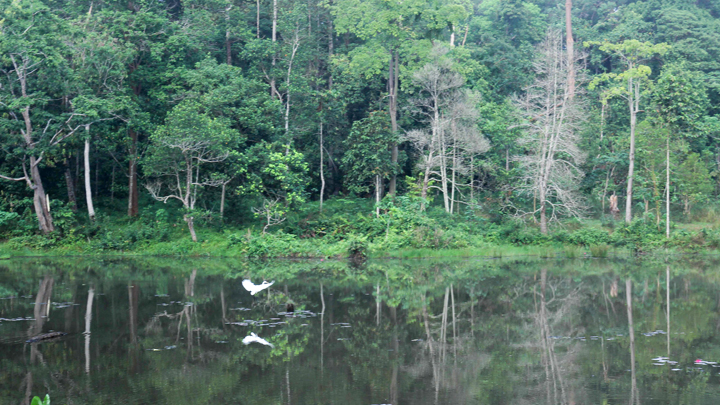 A PACK of simpai (Sumatran primate, surili) had not yet finished eating guava (Bellucia axinanthera) and shoots of bedih trees (Balakata baccata) when Musadat welcomed his guests in front of the Hutan Harapan Camp in Bungku, Bajubang subdistrict, Batanghari Regency, Jambi, on Saturday, November 30. That morning, the Ecotourism Business Supervisor of Restorasi Ekosistem Indonesia (Reki), was in charge of guiding four Japanese citizens and Tempo, who were going to explore Hutan Harapan (Forest of Hope), the former production forest managed by Reki.
Musadat, 42, is as familiar with Hutan Harapan as with his own body parts. How could that not be the case? He is a one-time employee of Asialog, a forest concession (HPH) company controlling Hutan Harapan before Reki recruited him in 2007. "Besides simpai and long-tailed macaques, if lucky enough we can watch gibbons," said Musadat while asking the visitors to pass along the bank of a lake behind the Hutan Harapan Camp.
Walking on a path covered by decomposed leaves, Musadat explained the unique trees left growing in the former HPH zone one by one. There are meranti (Shorea species), jelutung (Dyera costulata), kempas (Koompassia malaccensis) and seva (hardwood). Some trees have a diameter of 85 centimeters, meaning their age is above 85 years. Masayasu Taniguchi, a tour participant from Tokyo, was amazed to see the white sap of jelutung oozing out as the tree stem was scratched with a dagger. Musadat said the sap had been used as a chewing gum material.
Taniguchi was also attracted by a rattan cane with thorns. The senior manager of external relations of a plastic company, Sekisui Chemical Co Ltd, said in his country rattan furniture is very expensive. He visited Hutan Harapan to examine the possibility of becoming a donor. "This forest has very high biodiversity and a very large number of tree species. It is very important to save this zone," he said.
Keiko Suzeo, Representative Director of BirdLife International Tokyo, who accompanied Taniguchi, described Hutan Harapan as a very ideal location to be developed into an ecotourism destination. "This forest can open the eyes of society as a place of forest education. It is also home to diverse bird species," he said.
W251bGwsIjIwMjEtMDUtMTEgMTY6NDU6NDUiXQ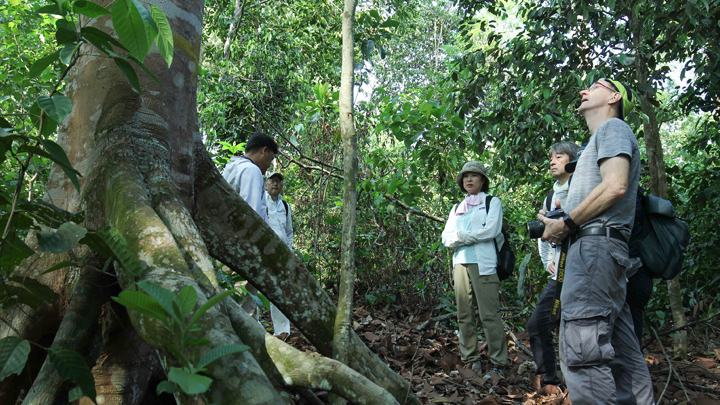 Visitors and researchers observing the interior of Hutan Harapan./Tempo/Febrianti
Hutan Harapan is the former HPH zone of Asialog and state forestry company Inhutani V covering an area of 98.56 hectares. The restoration forest is located in Musi Banyuasin regency, South Sumatra, and Batanghari regency. This zone is the only lowland tropical forest still left in Sumatra. In reality, Hutan Harapan is surrounded by oil palm plantations and timber estates.
Although part of the forest has been damaged by previous HPH activities, this area's biodiversity is very high. Hutan Harapan becomes the major habitat of 26 rare and critical species, such as Sumatran tigers, elephants, tapirs, gibbons, wild dogs and pangolins as well as various kinds of endemic birds and plants.
Hutan Harapan has over 600 kinds of flora. Its bird species total 307 out of the 626 bird species in Sumatra, 66 of which are critically endangered. This forest is also home to 64 mammalian species out of the 194 species in Sumatra. There are also 71 out of the 240 reptile species, 55 out of the 77 amphibian species and 123 out of the 589 fish species in Sumatra.
Managing Hutan Harapan as an enclave of high biodiversity obviously is not easy. During July-September, for instance, a fire broke out in an area of over 600 hectares in the Sungai Jerat sector. The area about an hour's drive from the Hutan Harapan Camp is a forest subjected to clearance by squatters for oil palm plantations.
Reki Operational Director Adam Aziz said the fire occurred in the area of conflict between his company and squatters coming from North Sumatra and Riau. It took 53 days to extinguish the blaze. The fire could be quenched after 22 squatters had been caught by the police. "The fire location will partly be planted with agroforestry plantations and the other part left to turn back into forest naturally," said Adam on December 1.
Adam said forest squatting had been a serious problem. An employee of Reki was once even kidnapped when one of the squatters was sent to the police. According to Adam, in the last decade there have been many developments in conflict handling. Eight community groups in Hutan Harapan have become partners, four from the indigenous Batin Sembilan community, three from other regions and one Malay community. The area of land managed covers 3,002 hectares in the social forest form.
Temenggung Rusman, head of the Batin Sembilan community, claimed he was the first Batin man to cooperate with Reki. Now, around 40 Batin people work with Reki as forest rangers. "In 2013, we signed an agreement with Reki. We feel secure, entering and leaving the forest while collecting forest products as long as no trees are felled," said Rusman.
Today the forest cover of Hutan Harapan that remains favorable based on satellite imaging analysis data spreads over about 72,000 hectares. Reki Chief Executive Officer (CEO) Mangarah Silalahi said during 2010-2019 his company planted 1,552,506 tree seedlings in South Sumatra and Jambi in a total area of 4,850 hectares. Since 2018, Mangarah added, Reki had grown bamboo trees in an area of 41 hectares out of the target of 2,000 hectares. Bamboo, he said, had become a source of income from non-wood forest products other than honey and ecotourism.
The other major threat is the planned opening of a mining road dividing Hutan Harapan for 31.8 kilometers. The road is proposed by Triaryani, a subsidiary of the Rajawali Group that holds a coal mining concession of 2,143 hectares in the Musi Rawas Regency, South Sumatra. The total 88-kilometer road connects the mine with the bank of Bayung Lincir River, Musi Banyuasin.
Adam said the mining road within the Hutan Harapan zone would be a big threat to biodiversity and 300 indigenous Batin Sembilan families. The ongoing forest restoration effort is also threatened. The road gives new access to forest squatters. "The location where the road will be built is the protected area whose forest is in prime condition," he said.
Adam indicated his company had urged the environment and forestry ministry not to grant a loan-for-use license involving the forest zone for the mining road construction. He hoped Minister Siti Nurbaya would not issue a road building permit. "I have no idea about its latest developments. But the process seems to be going on," said Adam.
The major task requiring huge funds in the restoration effort is the maintenance and safeguarding of the zone. According to Mangarah, the operational cost of Reki annually reaches Rp15 billion. "At present non-wood forest income can only contribute 10-15 percent of the operational cost excluding salaries," he said. "But we are optimistic that in the next five years at least 50 percent of expenses can be covered by the company's business unit."
Hutan Harapan's restoration funds are currently derived from Kreditanstalt fuer Wiederaufbau, a German bank. Previously, during 2012-2018, the funding was aided by Danida (Denmark Foreign Ministry) and other donor agencies. International attention to the continuity of Hutan Harapan is high. "They say what happens in Hutan Harapan not only has an impact here, but also in the global scene," said Adam.
Government's attention and support remain badly needed by Reki. Adam hoped the government would offer a taxation incentive. "The regulation and treatment of a restoration company should not be the same as that of timber estates and concessions, because we make no profit at all," Adam said. For tax on land and buildings, for example, Reki annually pays Rp1.5 billion and the amount increases every year.
The other problem is law enforcement. The government has determined that a forest zone whose license is granted to the private sector is fully under the responsibility of the relevant company, especially in a production forest. "I hope the class of this restoration company is placed slightly below a national park. We need support from the government for law enforcement," added Adam.
FEBRIANTI (JAMBI)