Erick Thohir, State-Owned Enterprises Minister I Am Extremely Powerful
Right after he took over the position of State-Owned Enterprises (SOEs) Minister from Rini Soemarno, Erick Thohir immediately buckled down to work.
Edition : 17 Desember 2019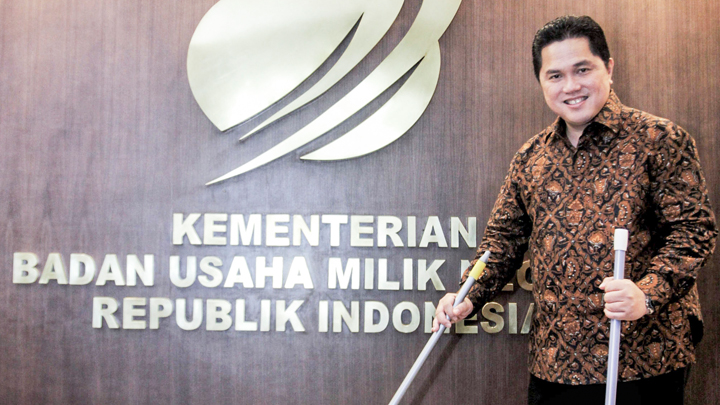 WITHIN less than two months, he has undertaken ground-breaking changes starting with the dismissal of all echelon I officials including seven ministry deputies in just one day and replacing them with three deputies to focus on managing legal, human resources and financial matters. SOEs' business matters previously handled by the deputies are now taken over by two deputy ministers, Budi Gunadi Sadikin and Kartika Wirjoatmodjo.
Erick has also cleaned up SOEs through major corporate reshuffles. He, for example, appointed former Jakarta governor, Basuki Tjahaja Purnama alias Ahok, as the president commissioner of Pertamina, and Chandra Hamzah, former commissioner of the Corruption Eradication Commission (KPK), as Bank Tabungan Negara (BTN)'s president commissioner. "I want commissioners to have more active roles in managing (their respective) SOEs," said Erick, 49, in his office in a special interview with Tempo on Saturday, December 7.
When the Harley-Davision smuggling scandal, in which Garuda Indonesia CEO I Gusti Ngurah Askhara Danadiputra was also implicated, broke out, Erick quickly stepped in and fired Askhara and four other directors. Last November, he made a surprise inspection of the national flight carrier's service quality by flying with a Garuda flight on his return from a business trip to Seoul, South Korea. "I found that the service quality, especially in the economic class, had declined," Erick lamented.
Managing 142 state companies with the assets worth Rp8,400 trillion is a herculean task especially when he has the mandate from President Joko Widodo to improve SOEs' performance by all means necessary including total reshuffles.
Speaking to Tempo, Erick shed some light on a myriad of issues that plagued SOEs, from mismanagement, legal woes, wrong business models to radicalism. A businessman himself who founded the Mahaka Group and once owned the Italian Inter Milan football club, Erick gave some tips on overcoming conflict of interest and alleged selling and buying of positions in his ministry.
W251bGwsIjIwMjEtMDMtMDUgMDg6NDI6NDYiXQ
What changes did you make to improve the performance of SOEs?
In line with the strategy, there will be monthly meetings between myself, president commissioners and CEOs (chief executive officers) of the 20 largest SOEs. The rest will have quarterly meetings either with me or the deputy minister. It's no easy feat overseeing the 142 companies, whoever the minister is. In addition to appointing two deputy ministers, I will also change the system. SOEs will be managed through corporate—not bureaucratic—governance. Then the functions of the deputies have been streamlined to handle human resources, legal and investigation and financial matters. Another measure is to push forward the role of commissioners so that they take more active roles instead of just sitting around.
Didn't SOE commissioners work optimally before?
During my term, I want them to be more active in managing the 142 SOEs. I'm currently discussing with the finance ministry. One of the topics is about the possibility of the finance minister to continue to hold the largest SOE shares. When there's the need for capital injection or share divestments, she (Finance Minister Sri Mulyani Indrawati) will have the full authority. Meanwhile, the authority for corporate decisions such as mergers, closures or acquisitions may be transferred to me. That is part of the system I mentioned. We're still awaiting regulations for that.
Oversight function over the SOEs should be carried out by commissioners but many SOE commissioners come from political parties. What is your view?
We must look at their backgrounds. As long as their backgrounds and contributions are effective, I think it's okay. Don't judge them by their clothes only. But I've issued a statement that whoever works in the SOEs must be non-partisan. There is clearly a regulation to that effect.
Including commissioners?
Yes, but there is no prohibition. For example, from this or that background. I gave you an example of what happened to BTN. The number of commissioners were reduced from eight to six, the number of directors from nine to eight. I guess there's no need to question the presence of Pak Chandra Hamzah (President Commissioner). Then there is Pak Armand B. Arief (Independent Commissioner) who previously was the director of an international bank (Bank UOB Buana). They are necessary because BTN has been embroiled in many legal cases. We need a president commissioner who is clean and understands the law.
How about other banks?
I want our Indonesian banks to return to their core business like other SOEs. BRI will focus on micro and corporate banking. Bank Mandiri on corporate banking. BTN on housing and corporate. BNI in the future must also serve other public interests besides corporate banking. We will review it later.
You mentioned that every commissioner must leave their 'party uniform' once they join SOEs. Is their presence rather burdensome?
I think they can manage as long as they are given direction and opportunity. I want to give them opportunity with clear directions. If that is not feasible, well, you just have to replace them. No big deal. Commissioners and directors can be replaced via shareholders' meetings, you see.
Is it true that the structural reshuffle at the SOEs ministry was related to the issue of selling and buying of positions?
When I started my job, I got a report saying that there were 17 ministerial employees who were also registered at SOE subsidiaries. A week before I started, there was another report about the issuance of 80 decrees for job rotations. It tickled me. Was there indeed a tour of duty or was it a booby trap set to get me. But I didn't want to think negatively so I just assumed it as a tour of duty, for now. If I later find anything political, not to mention buying and selling positions, I will clean it up.
Who are they?
I can't elaborate. The special staffer and the deputy for investigation are still studying. It's okay as long as they are for tour of duty but if they are for buying and selling posts, or worse still, for 'planting a landmine' for the minister, heads will roll.
What are the indications?
I don't know yet. It's being studied. We should not prejudge.
Who had the authority over staff placement at the ministry?
I don't know. I don't want to say it's the previous minister or his/her secretary or his/her deputy. I don't want to waste my time on that. Whoever the SOEs minister was—Pak Mustafa Abubakar, Sofyan Djalil, Soegiharto, Laksamana Sukardi or Bu Rini Soemarno—it wasn't an easy job. I guess none of them was perfect. Neither am I.
Did the President appoint you with the specific purpose to clean up the SOEs?
No. He needs someone who can balance the interests of the SOEs, not only as a development engine but from the corporate side also. Perhaps he also saw my track record, which thank God has been clean so far.
There must be a lot of both internal and external challenges in overhauling the SOEs. How do you ward off interventions from other parties?
When the Garuda CEO was replaced, several parties issued very positive public statements that the SOEs must indeed be managed professionally. It means they are supportive, right? I don't think they will be asking for favors. It's not possible to ward off interventions completely. I can only minimize them because there sure are many routes, not only through me. It could be through the employment route at subsidiaries which later would recommend (candidates) to me.
You were the chairman of Joko Widodo-Ma'ruf Amin's national campaign team (TKN). Has someone already asked for a patronage job for someone?
Pak Arya Sinulingga (a special staffer to the SOEs minister) is a former TKN member. But it's fine as long as he can deliver. I will evaluate his performance next year. But for sure I will not forget those who sweated blood in the campaign provided they want to roll up their sleeves and work. That's the reality, we are not perfect, no. I haven't checked either if there's any relative of mine among SOE directors. There are many SOEs and there could be a distant relative by marriage working there. But if he already claimed to be my relative, it's even better for me. I can't replace him first (chuckles)...
You were known as a businessman who has a brother who is also a businessman. How do you ascertain that there will be no conflict of interest?
I've resigned from all my companies and handed them over to my brother (Garibaldi 'Boy' Thohir, CEO of Adaro Energy). I think I did that since I was in TKN and some of them at the time of the Asian Games. I can assure that Boy Thohir is not someone to beg for projects. He certainly has his own tenacity to look out for his brother. Adaro has proven itself to be a credible company that clearly makes contribution to the state, even bagging a tax reward (Most Tax Friendly Corporate) last November.
House of Representatives (DPR) is deliberating the revision of the mineral and coal mining (Minerba) bill. One of the points is the restriction of a mining concession to maximum 15,000 hectare. Meanwhile, Adaro owns 35,000 hectares. What do you think of that?
I just believe that whatever we do must be objective, not based on self-interests. Excuse me but I'm now extremely powerful. But if I abuse that power for personal gains, well, I don't have to do it here. The private sector also makes contribution to the public and the government.
What is your official stance on the Minerba bill revision?
I leave it up to the DPR.
What sort of instrument has been prepared for the selection of SOE boards of directors and commissioners?
We will continue to rely on our talent pools. One of my special staffers, Prof. Nanang Pamuji, will focus on assessing the talent pools and innovations as well as reviewing the selection system so as to further improve the process.
Learning from the smuggling case allegedly involving former Garuda Indonesia CEO, what needs to be fixed?
Garuda has many problems, from negative financial performance, routes that do not generate profits to purchasing wrong aircrafts. Actually, I had a one-on-one with the Garuda CEO three weeks ago. I asked him to reevaluate the business model-whether it's better to focus on domestic and Asian routes only because they are still huge profitable markets. We don't have to be overambitious and fly to Europe. But then, the decision for Europe routes was not made by him. We must be objective.
SOEs Minister Erick Thohir and Finance Minister Sri Mulyani at the expose of evidence of the items smuggled in the new Garuda Indonesia aircraft, Airbus A330-900 Neo, in Jakarta, December 5./Tempo/Tony Hartawan
Lately, many consumers complained about Garuda's service quality.
Sometime ago, I returned alone from Seoul on a Garuda flight sending all the ministry officials and Garuda staff into a panic. Actually, I wasn't allowed to do that procedurally but that's the only way I could see the reality on site such as the quality of food in the economy class complained by netizens. I found that the quality of flight attendants' service and the quality and quantity of the food served in the economy class are not up to the Garuda standard.
Did you sit in the economy class?
I was in the business class but I went to the back to check. I checked the toilet which was not kept clean. I'm a media guy so wanted to watch a movie but there wasn't any new movie to watch. It turned out they hadn't bought new movies in the past year. The service, particularly in the economy class, has declined.
Did anyone recognize you?
Initially no because I wore jeans, a jacket and carried a backpack. No one in the economy class knew, (chuckles)...
Is there any plan to review policies of Garuda's previous management?
Yes, we can but there are 142 SOEs, you see? What will happen if I'm only busy with Garuda? That's why I need to set up a system and enhance the roles of the management and commissioners.
Besides Garuda, there is also the issue of construction SOEs tasked with infrastructure projects during the first term of the Jokowi administration that are now deep in debt.
I think it's not a complex issue particularly when there are the omnibus law and the government's plan to set up a sovereign wealth fund which needs the DPR's approval. If possible, we should find partners for great assets such as toll roads to create new cash flow for toll companies. We cannot be continued to be burdened with debt. We will revitalize with the partnership system. SOEs do not have to have dominance.
Did the President suggest certain figures to lead SOEs, particularly the first tier SOEs?
Actually, he hardly says you have to but, in several cases, he would convey his thoughts and listen to feedback. He really listens to the public. From the case of Pak BTP (Basuki Tjahaja Purnama), we noted several figures who we think are revolutionary. Managing Pertamina is very challenging and we need a figure who can follow deadlines and push ahead. That's the reason why Pak BTP was brought in.
Basuki Tjahaja Purnama is said to be picked specially by the President?
Nope. He went through the process just like other SOE commissioners.
The President never suggested his name?
When he saw the name, of course he was immediately interested. But we proposed his name alongside several others.
How about the State Electricity Company (PLN)?
PLN will also have reform figures like Pak BTP. It will be similar to Pertamina. The board of commissioners will have figures who will make sure that PLN changes its mindset and business model. PLN is to distribute, not produce, electricity. Remember if there are no new investments in the power plant in 2023, we will be in trouble. Like it or not, electricity has become an essential necessity, even more so when cars will be using electricity. It doesn't mean that the previous policies are wrong, but this is about changing the business model. With the change in the direction, we need the right commissioners and directors.
Some SOE employees have allegedly been radicalized. How do you tackle this problem?
I've discussed with Political, Legal and Security Affairs Coordinating Minister Mahfud Md. who gave me a list of steps to be taken. I said I would follow up on them but needed time as I don't have the deputy yet. He laughed. His directions are great but of course I need time.
Is it the list of employees who have been infected by radicalism and their SOEs?
I can't comment on that because it's a state secret.
You already have the data?
The data from Pak Mahfud is very detailed but I can't discuss that.
Can employees with radical ideas influence a company's performance?
Loyalty to the state and the president's vision is crucial. In the private sector, solidarity perhaps is not that important. But if you are in SOEs, you clearly need to have loyalty. Everyone is earning a livelihood here. There shouldn't be (such) differences. Even for the private sector, if they do not support that ideology (while pointing at the Garuda Pancacila emblem on the wall), well, they'd better not be in Indonesia.
How do you respond to that?
I am also a Muslim. I was born a Muslim. I don't want this issue to be blown out of proportion to accuse me as anti-Islam. I embrace the Islam I know. In my opinion, Islam in Indonesia is already an example for (other Muslim countries).
Will the matter be left to SOEs to handle or will there be a special team?
I believe there will be a special team working together with Pak Menkopolhukam (Mahfud Md). He's the expert. I can answer for corporate matters.
---
Erick Thohir
Place and date of birth: Jakarta, May 30, 1970 | Education: Master of Business Administration, National University, California, US (1993) | Career: Founder and President Commissioner, Mahaka Group (1992-2019), Director, Visi Media Asia (2011-2013), Managing Director ANTV (2014-2019), CEO, Lativi Media Karya (TVOne, 2007-2010), CEO, Intermedia Capital (2013-2019), Chairman, Satria Muda Basketball Club (1999-2019), President, FC Internazionale (2013-2018), Director, Oxford United FC (2018-2019), Minister of State-Owned Enterprises (2019-now) | Organizations: Chairman, Indonesian Olympic Committee (2015-2019), Chairman, Organizing Committee, Asian Games (2018), Chairman, Joko Widodo-Ma'ruf Amin's National Campaign Team (2018-2019), Member, International Olympic Committee (2019-now), Member, Central Board of International Basketball Federation (2019-now)