Anggi, History, And Meta-History
Tempo chose The Science of Fictions by Yosep Anggi Noen as 2019 best film.
Edition : 17 Desember 2019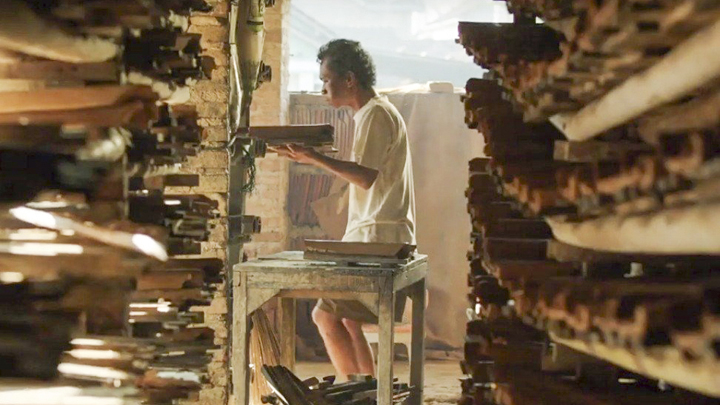 HISTORY has a beginning, middle, and ending. However, it does not always have to be in that order. As a series of events, history never starts in sequence. It only appears sequential once someone puts them in a row, based on what can be—and is allowed to be—remembered. In the right conditions and with the proper tools, anyone could write history, be it a movie director or a head of state.
In The Science of Fictions, Yosep Anggi Noen tried to simultanously do history and meta-history. He recorded history by disessambling history itself. In the beginning of the film, he showed the shooting of astronauts landing on Java. Not long after that, he played out suspected communists being hunted down in 1965.
Both are connected by Siman, a villager who accidentally came upon the moon-landing shooting location. Siman's tongue was then cut off by local officials, or he was forced to bite off his own tongue: it was unclear which was the truth. His memories are blurry. One thing was for sure: since then, he was unable to speak.
Through his muteness, The Science of Fictions spoke on many levels. As a character, Siman's silence underlined his status as a victim or a survivor in the film's historical events. As a tool, Siman's muteness forces viewers as well as Anggi Noen and the film crew to always depend on body movements and the camera as the basis of the storytelling. Unfortunately—or maybe fortunately—the visuals in The Science of Fictions are the most difficult parts to believe.
The film as a whole is sequenced through contrasts and contradictions. Parts are in black-and-white, others in color. In one scene, Siman accomodates a friend who is hiding from the communist hunters. In a different one, Siman is surrounded by people who want a selfie with him. Siman's movements are always a tad behind that of his surrounding, as if he is led by a different gravitational force. The exception is when he seems to want to speak: then his movements appear normal.
Siman's character hardly change. He is still the false astronaut until the end of the film. It is actually the people around him that change, and consequently Siman's role in it: from the village idiot to a selfie object. However, Siman is not alone in this. In his village, there is a world-weary general. From his behavior, viewers can guess that he is trying to imitate Indonesia's first president and supreme leader Sukarno. Or is he Sukarno himself?
This is never clarified. Throughout the film, the general is in at least three realms of existence. As part of the narrative, the general is like Siman: a survivor of history. However, in some other situations, he is seen on screen and on television. In some scenes, he is even seen followed by a camera in his everyday activities, creating a film-within-a-film situation. However, he can also be seen as a simple component of a film production: nothing more than an actor hired to play an actor.
Through this fake Sukarno character, The Science of Fictions takes the film's narration in a certain historical context. Using the camera as a creator of myths, the general raises questions about the writing of history itself.
In one of his novels, Julian Barnes wrote: "History is that certainty produced at the point where the imperfection of memory meet the inadequacies of documentation."
It is so interesting to see how Barnes places the word 'certainty' between two entities that would never be—and could never become—complete. Thus, history can always be repeatedly negotiated to suit the history's transcriber. Anything left from the past can be reproduced, or even engineered, until a version of the past can be coherently claimed as the official historical narrative.
Dictators know the pliability of historical writing. Every dictator seems to hold on to the same principal: 'memory starts where history ends'. At the beginning of his or her rule, a dictator will always set one version of history to censor people's memories. For Suharto in 1960s Indonesia, this history was the accusation against the communists. In public, he said that communists could not be trusted. By doing this, mass killings marked the start of his three-decade rule.
A dictator like Suharto is well aware how history can be engineered through visual imagery. From the mandatory watching of the propaganda film The Betrayal of G30S PKI (Pengkhianatan G30S PKI) to coverage of presidential events on national state television, Suharto confirmed his own version of history. Interestingly, nowadays one need not be a dictator to write his or her own version of history. Thanks to portable digital techonology, everyone could create their own platform to perform and declare their existence, and tell their own histories. Whatever that is, as long as a person is in view on screen, it can be viewed as history.
In this sense, The Science of Fictions feels relevant in the current political situation. Almost all of its characters are connected to digital devices: the general with his television screen and video camera, and Siman with his audience's smartphones. The film itself plays with facts and historical events in an almost frivolous way. One scene shows a fake landing on the moon, while another shows the 1965 mass killings. One is a hoax believed by some people as the truth, while the other is a historical fact which had been sealed off. However, through various narrations, both events seem to have equal credibility.
In The Science of Fictions, history is not always a lie uttered by the victors. In reality, no one wins in this film. The Science of Fictions ascertains that history is the story of survivors, who are neither victorious nor defeated. Through this version of history, viewers can see the tumors of our current civilization.