Police Criminal Investigation Chief Listyo Sigit Prabowo: I Support Jokowi
Inspector Gen. Listyo Sigit Prabowo's career took a major leap. In 2014, he became President Joko Widodo's aide as senior commissioner.
Edition : Tuesday, Desember 17, 2019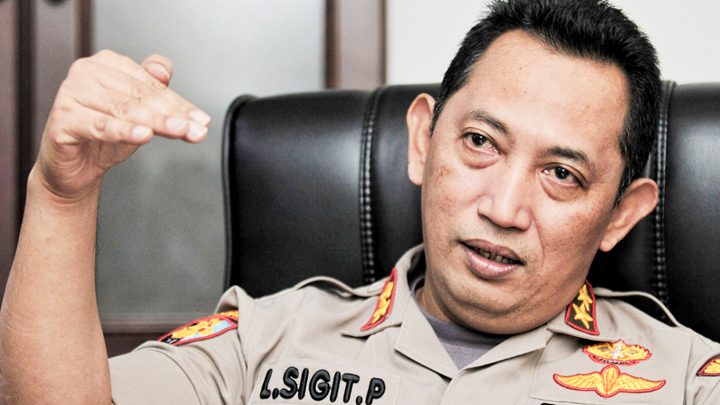 FIVE years later, he became the first 1991 Police Academy graduate to receive three stars and serving as chief of the Criminal Investigation Division or Bareskrim. To Tempo, on December 13 Sigit spoke about his close relationship with Jokowi and his priorities in helming the country's Criminal Investigation Division.
Did you become close with President Jokowi since he became Mayor of Solo?
I was not only stationed in Solo for a short year. We synergized during the regional leaders' meetings. When there were problems, we took care of them. I become chief of the police precinct during his second term. There were two successors after me who worked with Jokowi as resort police chiefs.
Are you the only one who is close with Jokowi?
You have to ask Pak Jokowi about that. I'm just doing my job.
What was the special occasion that made you close with the President?
The suicide bombing in the Kepunton Church. The incident happened when Jokowi was implementing his agenda to rebrand Solo as a tourism destination. The bombing scared tourists. We both agreed that we must not allow Solo be perceived as a scary city. I told Jokowi that if he wanted to hold international events, I would secure (the city). My point was, whatever he planned to do, I would support him.
After Jokowi was elected as president, were you asked to be his aide?
His election was around the same time I was enrolling in Sespimti (National Police Command and Staff Academy). I congratulated him and asked for well wishes. He then offered me to be his aide. Then I joined the test with three fellow police officers. I was selected.
When you became the Banten Regional Police Chief, there were rejections by the ulama (cleric) because you're not a Muslim.
Perhaps it was because they did not know me. The more they get to know me, the negative perception will decrease. I went to see clerics, and I told them "I am here to carry out security duties. I am ready to be your servant." When they had problems, we were quick to respond.
You became Banten Police chief at the same time Basuki Tjahaja Purnama's (Ahok) case surfaced.
Perhaps I was being tested. (Jokowi) wanted to show everyone that Indonesia is diverse and Pancasila.
Did you calm ulamas down when Ahok's case became big?
There were plenty of demonstrations at the time. We talked to clerics and told them that if they needed to voice their opinions, they could do in Banten through istigasah (praying for help from God). When demonstrators marched to Jakarta, the people of Banten tend to stay put and held istigasah instead.
Before the November 4, 2016 demo, did you bring Banten ulamas to meet with Jokowi?
I did. The ulamas sometimes do not understand the president. So there were barriers of poor communication.
When did you become close to the ulama group?
When I was Chief of Pati Police, I was close with Kiai Sahal (Sahal Mahfudz, Nahdlatul Ulama Executive Board chairman). While on duty in Solo, I went to Ngruki. Solo is a rather harsh area. There are many militia groups there. After I talked with them, religion was no longer an issue. When the release of Abu Bakar Ba'asyir was canceled, there was a turmoil there. I communicated with them to calm things down.
Now that you are chief of Bareskrim, what are your targets?
There are homeworks, indeed. During my time in the Professional and Security Division, I received a lot of complaints, especially about detectives. I will evaluate this; how to make the detectives give the same services. Investigators can be more humane, not discriminative, and provide legal certainty as well as justice.
Are there many naughty detectives?
Things like that are forbidden. There are many government programs that we must keep running
What about Novel Baswedan's case?
Right now, the technical team is working on it. Once I am inaugurated, I will consolidate it.
W251bGwsIjIwMjEtMDUtMDggMTU6MjI6MzUiXQ