Erick's Power Plans
Erick Thohir's planned restructuring of state electricity company PLN has been relatively drama-free. The minister also plans to transform the SOE's business model, which he believes is too focused on power plant projects. Private power producers launch old complaints.
Edition : 17 Desember 2019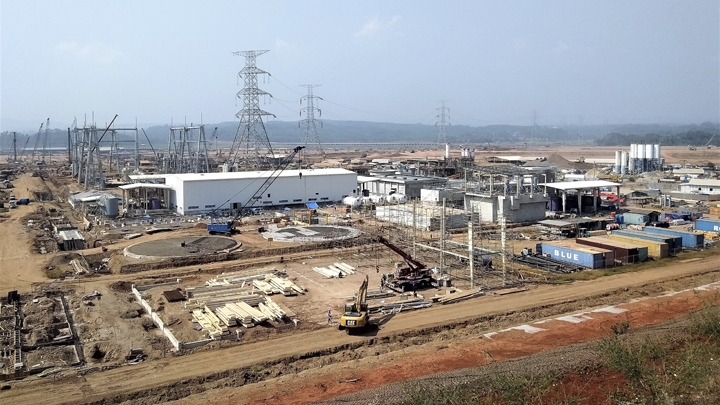 When he walked through the lobby of the Indonesia Stock Exchange, South Jakarta, in early November, Rudiantara wore a casual beige shirt. He hurried to the exit door with a bag of documents. "This is to process (my) government official's wealth and assets report," he said. "(I) reported when joining the cabinet, (I) must also report when leaving."
The 60-year-old man had been recently succeeded by National Democrat Party Secretary-General Johnny Gerard Plate as Minister of Communication and Informatics. And Rudiantara was not included in President Joko Widodo's 2019-2024 cabinet.
Several weeks later, Rudiantara made a reappearance, but in name only. He was said to be a strong candidate for chief executive officer (CEO) of state electricity company PLN, one of the country's 20 strategic state-owned enterprises (SOEs). Amid the restructuring of Pertamina and Bank Tabungan Negara's boards of directors by SOEs Minsiter Erick Thohir, Cabinet Secretary Pramono Anung gave the signal that Rudiantara's return to PLN had been given the green light by a final evaluation team chaired by the President. "Hopefully (he's) inaugurated soon. What's certain is that I've given my signature," said Pramono on Monday, November 25.
Rudiantara, who enjoyed a career in the telecommunication sector, was PLN's deputy CEO in 2008-2009. On Monday, December 9, Coordinating Minister for Maritime Affairs and Investment Luhut Binsar Pandjaitan ensured that Rudiantara would be appointed PLN's new CEO. "So I believe the President's appointment of Pak Rudi is already a very appropriate decision," said Luhut at the Sultan Hotel in Jakarta.
At first Rudiantara said his appointment as PLN's leader was mere rumor, but he can no longer dismiss the news. Still, he prefers to wait for his appointment to be made official. "The administration (process) for the general shareholders meeting is still in progress," he said when contacted on Wednesday, December 11.
PLN CEO has been a hot seat since early 2019. For over half a year, the company with Rp1,492 trillion in assets has not had clear leadership. Its previous CEO, Sofyan Basir, was dismissed after the Corruption Eradication Commission (KPK) named him a suspect in the Riau-1 Power Plant procurement case. Later on, Sofyan was given the not guilty verdict after two Golkar politicians, Eni Maulani Saragih and Indrus Marham, were already sentenced with imprisonment.
Only two days after she was named PLN's acting CEO, it was PLN Strategic Procurement Director 1 Sripeni Inten Cahyani's turn to experience misfortune. Half of Java went into a total blackout on August 4. The blackout left the capital city paralyzed. Electricity-based transportation, such as the KRL commuter line and MRT, did not operate. It took PLN two days to recover electricity in the northern region.
SOEs Minister Erick Thohir refuses to blame Sripeni, whom he feels performed her duties well as PLN's acting CEO. But after a review of PLN's business, Erick believes that the company requires an extraordinary leader. "(It) needs a great person," said Erick in his office at the SOEs ministry in Jakarta, December 7.
When asked about Rudiantara's candidacy, Erick provided an explanation but asked not to be quoted. Likewise, when he was asked about Darmawan Prasodjo, former first deputy of the Presidential Staff Office. The emergence of the Indonesian Democratic Party of Struggle (PDI-P) cadre, known as Darmo, is said to be a factor that colors PLN CEO selection.
Erick, however, believes that there is another pressing move that must be performed within the PLN. He wishes for the company to shift its focus from a power generation business model to a distribution model. "If the strategy is stuck at making power plants, owning mines, it'll be tough. The most important thing is electricity distribution," said Erick.
PLN Strategic II Director Djoko Abumanan says PLN will take up the challenge of changing its business focus, as the SOEs minister desires. He does not deny that the company has been eagerly pursuing power plant projects in the last five years.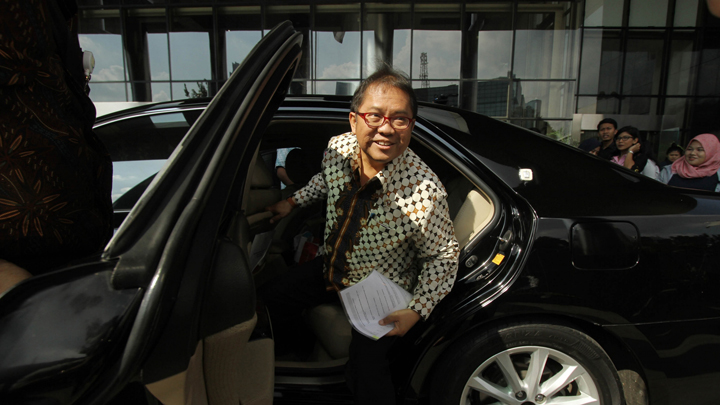 Rudiantara in Jakarta, June 2017. / TEMPO doc./Eko Siswono Toyudho
•••
PLN'S finances have not improved since Finance Minister Sri Mulyani warned the SOEs ministry about the company's potential to default on its debts in September 2017. In letter No. S-781/MK.08/2017, which was also forwarded to the energy and mineral resources ministry, Minister Sri asked the PLN to adjust its investment target as for three consecutive years, the finance ministry had had to ask the company's creditor for extensions and waivers.
The crux of the matter was in the low growth of the company's net cash flow due to the government's decision not to increase electricity tariff. Meanwhile, PLN's principal debt and interest were estimated to continue increasing as the company was tasked with ensuring the 35,000-megawatt electricity program's success.
Later on, the government postponed the program from its earlier completion deadline during Joko Wododo's first term in office. But the company's financial burden was already too great. PLN's 2018 financial report recorded a drop of 21.2 percent in the company's cash account compared to the previous year. PLN's operating expenses rose twice its revenue, causing greater operational loss. At the same time, the company's total liability reached Rp565.07 trillion, a 21-percent increase compared to the previous year.
To safeguard the company's finances, PLN relied on subsidy and electricity customers. The problem was, as mentioned in Minister Sri's 2017 letter, in the previous few years, the government prevented PLN from increasing its tariff for non-subsidized customers. In 2018, PLN placed the delay in the tariff increase in its earning from compensation at Rp23.17 trillion, which was, in fact, owed to the finance ministry as state treasurer. PLN was recorded as profiting as much as Rp11.57 trillion. But the reality was not so favorable.
The financial report also shows PLN's participation in numerous power plant projects through its subsidiaries. In the last two years, for example, Pembangkitan Jawa Bali Investasi (PJBI)—PLN's sub-subsidiary through Pembangkitan Jawa Bali—gave Rp746,08 billion in two stages for a 25-percent share in North Sumatra Hydro Energy, which was developing the Batang Toru hydroelectric power plant (PLTA) with a capacity of 510 megawatts (MW) in South Tapanuli, North Sulawesi. It was also through PJBI that PLN joined the Riau-1 steam power plant (Riau-1 PLTU) consortium, which was exposed to be rife with corruption later on.
An owner of a private electricity company explained that, recently, PLN's share participation through its subsidiaries has had to be accommodated by contractors as a requirement to be given a power plant project through an appointment mechanism. The direct appointment scheme is regulated by Energy and Mineral Resources Ministerial Regulation No. 19/2017 on coal-fired power plants, which in turn refers to Presidential Regulation No. 14/2017 on the acceleration of electric power infrastructure development. These two regulations were signed consecutively, on February 13 and 14, 2017.
Later on, the appointment model with the share participation requirement, said the source, made many independent power producers (IPPs) restless, causing them to rethink their project plans. This information was confirmed by Indika Energy CEO Arsjad Rasjid.
According to Arsjad, Indika has refrained from expanding since PLN entered the power plant business with a majority share of 51 percent because it only gave a 10-percent capital. The remaining 41 percent had to be obtained through a loan borne by the private-sector business partner. "When we learned about the model, we pulled out," said Arsjad when Tempo met him in Jakarta on Thursday, December 12. Indika now focuses on developing the 1,000-MW-capacity Cirebon 2 PLTU in a consortium led by Marubeni Corporation, which had already built Cirebon 1 PLTU (660 MW).
Another private power producer that retreated because of PLN's model was Adaro Energy, partly owned by Garibaldi Thohir, Minister Thohir's brother. Garibaldi—known as Boy—pulled out of the mine mouth Kaltim 5 PLTU project in Muara Wahau, East Kalimantan, after the company was asked to follow the same model. According to Boy, PLN also asked Adaro to release 51 percent of its shares in the mine. "Never mind then," said the Adaro CEO when Tempo contacted him on Thursday, December 12. "It's all right. Coal doesn't rot anyway (laughs)."
When he testified in the Riau-1 PLTU corruption trial of suspect Eni Maulani Saragih, former PLN CEO, Sofyan Basir said PLN chose to adopt the model to receive greater profit. According to Sofyan it was the new applied method, although businesspeople were apprehensive. "We had to use the pattern because PLN had to manage the basic needs of many. Don't let it be controlled by the private sector," said Sofyan during a court session at the Jakarta Corruption Court, December 11, 2018.
Coal will indeed still dominate the country's energy mix procurement. The 2019-2028 electricity procurement plan (RUPTL) includes a plan for 56,000 MW in additional capacity demand. Almost half would be from new PLTUs and expansion mine mouth PLTUs. Additional power from mine mouth PLTU is scheduled to enter the picture in 2021 and the plan is for IPPs to develop the entirety.
Tempo attempted to again ask Minister Erick about the complaints from electricity businesses. But as of Saturday, December 12, he had not yet responded to questions about the complaints as well as the changes he wants to make to PLN's business model.
Prior, on Saturday, December 7, Erick said changes were needed because Indonesia would run into trouble in 2023 if there are no new investments in power plants. "This is why, with the new direction, we need the right commissioners and directors."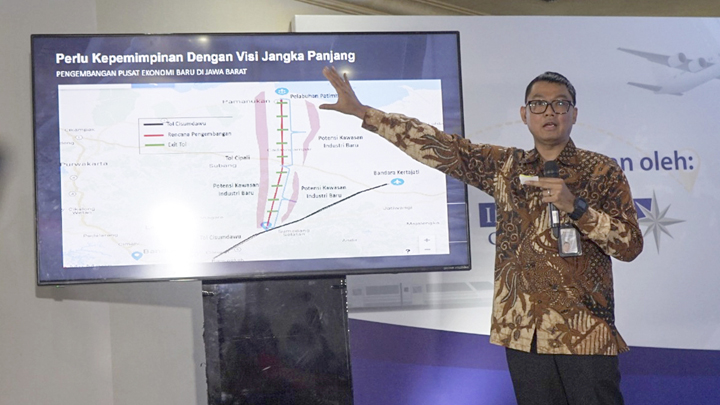 Darmawan Prasodjo in Jakarta, last August./ photo: ksp.go.id
PLN's Finances in Shambles
•••
The SOEs ministry, in fact, only named three candidates for PLN CEO. Two other candidates besides Rudiantara were PLN acting chief executive officer, Sripeni Inten Cahyani, and PLN regional business director for Maluku and Papua, Ahmad Rofiq. But at the same time, Darmawan Prasodjo's name began to emerge. Two SOEs ministry officials say Darmawan, who has been a PLN commissioner, was the earliest candidate due to PDI-P's support.
Darmawan was a member of Joko Widodo-Jusuf Kalla's transition team during the 2014 election. The 49-year-old man also ran as a legislative candidate for Central Java Electoral Region V from the PDI-P in the same year. But he did not make it to the parliament as he lost to his fellow PDI-P cadres, Puan Maharani and Aria Bima. He was then made Presidential Staff Office deputy I.
Chairman of the PDI-P campaign team, Bambang Wuryanto, says he has known for a long time that Darmawan was being named PLN CEO candidate, even long before Jokowi's second cabinet was formed. Or more accurately, said Bambang, after the government dismissed Sofyan Basir. "Darmo's name was already surfacing then," said Bambang at his office in the parliament complex, Senayan, Jakarta. Bambang—known as "Pacul"—is now deputy chairman of House of Representatives Commission VII on energy affairs.
Bambang neither denies nor confirms that his party was the one who recommended Darmawan as a candidate of PLN CEO. But, he says, Darmawan is worthy of the position due to his competency in energy finances. Darmawan received his doctorate from Texas A&M University, United States, where he focused his studies on economic resources. "He's a smart fellow, has great competence and capacity," said Bambang, promoting his own colleague. "The only things lacking from him are wisdom and understanding about life."
Meanwhile, according to two SOEs ministry officials, Erick Thohir is more comfortable with Rudiantara. "Darmo is not the right person for PLN," said one of the two officials. Even so, Darmawan's name has not been completely written off as he will occupy the seat of PLN deputy CEO and will focus on delivering electricity to villages.
Another new name on PLN's board of directors is Sinthya Roesly, who will be the company's finance director. The appointment of Sinthya, currently executive director of the Indonesian Export Financing Agency (LPEI), is not without its reasons. The two SOEs ministry officials explained that Erick chose her for the sake of gaining the trust of Finance Minister Sri Mulyani.
Sinthya is a professional who pursued a 19-year career with PLN until she moved to the infrastructure financing guarantee agency Penjaminan Infrastruktur Indonesia in 2009 and then to LPEI. The two institutions operate under the finance ministry. Erick made a similar move when he appointed Emma Sri Martini—who was previously trusted by the finance ministry to lead Sarana Multi Infrastruktur for many years—to the seat of Pertamina finance director.
When asked about his strategy, Erick explained that PLN's position, similar to Pertamina's, is closely tied to state subsidy. "So this individual—the finance director—has to have a high level of faith from the finance ministry," he said.
When contacted on Tuesday, December 10, Sinthya only gave a short response to a question about her candidacy for PLN's new finance director. "Just wait for the announcement," she said. Meanwhile, Darmawan Prasodjo has not answered Tempo's questions sent since Wednesday, December 11, including on whether or not he would leave the PDI-P after moving to Trunojoyo, where PLN is headquartered.
KHAIRUL ANAM, RETNO SULISTYOWATI, VINDRY FLORENTIN, AGOENG WIJAYA